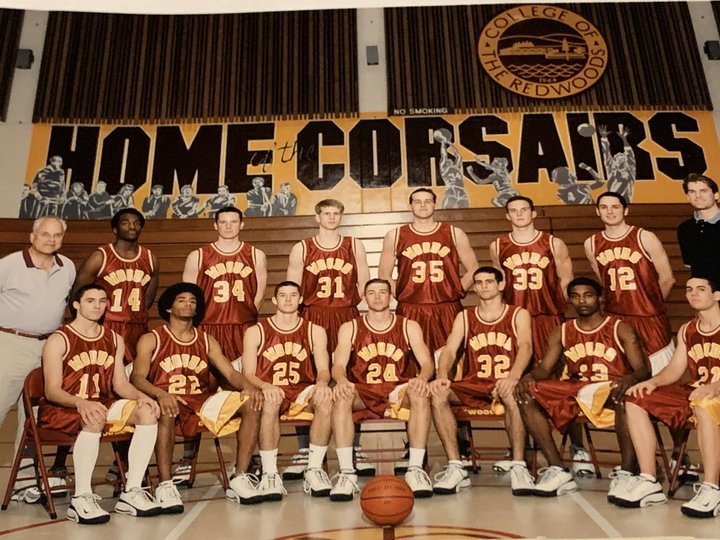 UPDATE, March 17:
Eureka teacher Jeff Bird found some time to respond to the Outpost about the letter and wanted to give more credit to past College of the Redwoods coach Bill Treglown. Read his full statement below:
The letter was to let Klay know guys like me and my buddies think he plays a beautiful style of basketball my former coach, Bill Treglown, would have loved to have seen.

Tregs influenced me and a lot of local coaches with how we see and coach basketball, Sean Molyneaux (CR GOAT and current Ferndale coach) Bisio (CR), Robby and JImmy (EHS), Isaac (St. Bernards), Dusty (Arcata), Jason Francis (PU), Colt Matthews and many more.

I think Klay appreciated me geeking out on basketball and recognizing what he does on the court other than shoot; how he creates space for his teammates, how he conducts himself and he appreciated the love and the connection with Tregs and CR bball. The current CR team, the best I have ever seen, has a lot of guys who have been taught by Tregs's ex-players and passed it down. Those kids can ball. A lot of the things CR is doing, the footwork, the shooting, the unselfishness, has similarities with the game Klay plays- just not quite at Klay's level- yet.

It has been crazy that a letter got this much attention and from the dude I have long thought is coolest guy in the world. Thinking about Tregs and playing basketball 20 years ago has been a trip. Thanks for helping me remember those long gone days. Go Woods, go Klay, and keep Raining 3's from the Trees!
###
.@KlayThompson received a letter from a basketball coach in Sonoma recently and revealed why that means so much to him as he continues his rehab from a torn Achilles. #ABC7Now #DubNation https://t.co/onwSD5gxhN pic.twitter.com/9RASf4cAY6

— Chris Alvarez (@CAlvarezABC7) March 14, 2021
Thompson gives thanks to Eureka teacher Jeff Bird.
Catherine L Zane Middle School English and physical education teacher Jeff Bird received public praise from Golden State Warriors star Klay Thompson on Sunday for a thoughtful letter he sent to the injured three-time NBA champ.

The teacher and former College of the Redwoods basketball player's recent email to Thompson was first mentioned last week by Warriors General Manager and President of Basketball Operations Bob Myers during an interview with the Bay Area sports radio station 95.7 "The Game." While discussing Thompson's recovery from ACL and Achilles tendon injuries, Myers told an anecdote about an email Thompson had received and forwarded to him "out of the blue."
"He said: 'I got a letter from a fan that was pretty cool,'" Myers told the "Steiny, Guru, and Dibs" show before directly quoting Thompson's email. "'This was a very nice gesture by this dude. Sometimes you forget what you do it for and having that reach to affect so many people makes me never want to stop getting better.'"
"That's Klay Thompson," Myers added. "He loves this game."
The Outpost reached out to Bird about the email, but did not receive a response. However, reporter Chris Alvarez with KGO-TV in San Francisco asked Thompson about the letter during a video chat interview on Sunday. During his question, Alvarez inaccurately attributed the email to a basketball coach from Sonoma County — a mixup initiated by Myers during his radio interview. Thompson cleared up the confusion and gladly summarized Bird's email.
"Oh, man. It was one of the greatest things I've read in a long time," Thompson said, pulling the email up on his phone. "My guy Jeff Bird. He played at the College of the Redwoods, and Coach Treglown — who was his coach — emphasized ball movement, player movement and being a team. Unfortunately, his coach passed away about 10 years ago, and Jeff emailed me saying [he] and his teammates from community college ball still talk to each other and they bonded over our style of play, starting with our 2015 championship run."
Ray Hamill of HumoldtSports reports that Coach Treglown won more than 500 games during his 33-year career at College of the Redwoods. Bird reportedly played for the beloved coach shortly before his death in 2005.
"[Bird] said how much Coach Treglown would love to watch our team play," Thompson continued. "He said we were the example of ball movement, player movement, great coaching [and] everybody buying in, and just to get that email from Jeff and hear how he knows how it would make his old coach feel, that made me feel real good. When you play at the community college level, you gotta love basketball and for a coach to give his time and preach the same values that [Warriors Coach Steve Kerr] did, I thought that's really special.
Thompson went on to say that Bird's email was also funny and supportive of the 31-year-old guard-forward, who will try to make a return to the NBA next season after a lengthy recovery process.
"That meant a lot to me because I know we have a great influence but you just never know who's watching and that was cool," he said.
Watch Thompson and Warriors General Manager Bob Myers's interviews in the videos embedded at the top of this story.