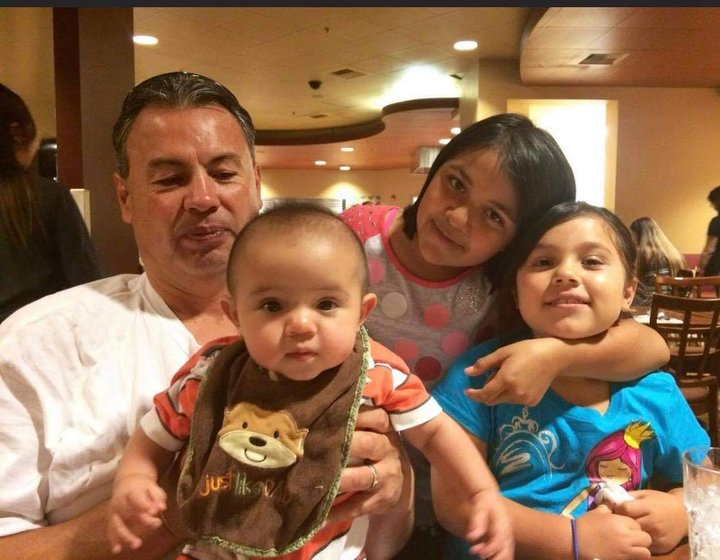 Ricky Lee Davis was born in Hoopa on July 7, 1959 and went home to be with the Lord and many loved ones on February 25, 2021. Rick was a proud member of the Hoopa Valley Tribe and a very loved son, brother, uncle, cousin and friend but most important to him was his duty to his kids as their dad. Rick had a big heart and really loved kids, keeping a close relationship with many over the years but his greatest happiness came from his own children including daughters Rayme Lee and Celestine as well as his son Jona Davis. They were most important to him and he took great joy in raising them and being their dad.
In high school Rick started working in local grocery stores before attending both Shasta College and Chico State University. Eventually he went to work on the local rivers as a fisheries worker before spending more than a dozen years at Hoopa Health/Kimaw Medical Center as an Accountant. Uncle Rick also owned a successful vending machine business at one time. Around the year 2000, he left Kimaw to become a counselor before moving South to Lake County and later Oroville, where he worked for various Tribal Organizations as both an accountant and property manager. It was during this time that Rick met and eventually married Renee (Galicia) Davis, the mother of his children.
Like countless generations before him, Rick was a hunter and fisherman who harvested many salmon and sturgeon in the Trinity River. When he was a young man he got involved in the Indian Basketball Circuit where he managed his own teams and was known to be a good player. He also took home trophies as a dirt bike racer in his younger days and could often be seen anywhere between Weitchpec and Willow Creek on his 10-speed bicycle. Rick was also a longtime fan of the San Francisco 49ers, Giants, Golden State Warriors and San Jose Sharks often traveling to watch them with loved ones. Rick had a taste for nice cars including his 280 Z and BMW and was also known for his sense of humor and ability to give lasting nicknames to people he cared about.
The family would like to thank our cousins Cindy Sylvia and Amber Baker, Rick's sister-in-law Elizabeth "Tissy" Davis and Rick's Sister Robyn Reed who went above and beyond to help Grandma Ethel provide excellent care for Ricky during the later stages of his life while he battled dementia.
Rick is preceeded in death by his Father, Reginald Davis Sr., brothers Reginald " Babe" Davis Jr., Ronny Dean Davis Sr., and Rayme Davis, sister Rori Davis, his Maternal Grandparents Gilbert Marshall Sr., and Elizabeth Montgomery, Paternal Grandparents Libby and Herman Sherman Sr. and Valin Davis, Uncles Arnold "Jimbo" Davis Sr., Gillie Marshall, and Corky Blacksmith, Aunts Pat Sherman, Mary Davis, and Phyllis Davis, nephew Arlen Williams, and niece Shana Davis.
Rick is survived by his daughters Raymy Lee and Celestine Davis, Son Jona Davis, Mother Ethel Davis, Sisters Robyn (Ron) Reed and Raylyn Davis, Uncle Herman Sherman Jr., Aunt Eloise Marshall, 18 nieces and nephews, 23 great-nieces and great-nephews, and two great-great nephews.
Pallbearers will be JJ, Jason, Ron Sr., Ron Jr., Charlie, and Ryan Reed, Joe and Junior Davis, Talon Davis, Joseph Lewis, Aaron Williams, Mike Peters, and Curtice Kane.
Honorary Pallbearers will be: Herman Sherman Jr., Duane Sherman Sr. and Jr., Tashonie Rice, Troy Fletcher Jr., Tyler Hunt, David Williams, Asa Donahue Sr., Arnold Davis Jr., David McQuillen, Dale Risling, Kevin Britton, Michael "Bubbies" Te'odecki, Damon, Aaron, and Cole Cross, Arty Jones, Charles Way, Keoki Burbank, Chase and Finnegan Gatlin, Hank Alameda Jr., Johnny Gutierrez, Jordan Allen, and Dana and Davy Davis.
A graveside service will take place at the Hoopa Tribal Cemetery on Tuesday March 2, 2021 at 12 p.m. with Weldon Hailey officiating.
###
The obituary above was submitted on behalf of Ricky Lee Davis's loved ones. The Lost Coast Outpost runs obituaries of Humboldt County residents at no charge. See guidelines here.