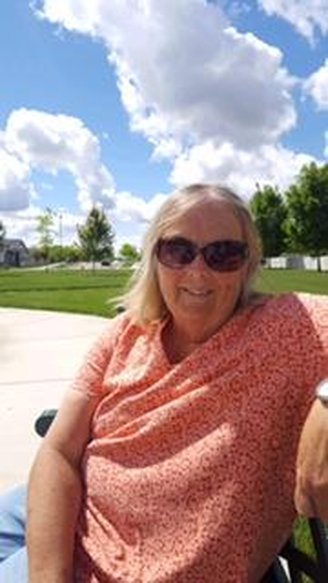 We are saddened to announce that Shirley Ann Roth, 62 years old, passed away at her home in Meridian, Idaho on March 2, 2021. She was surrounded by family and friends during her final days. She was born on September 6, 1958 in Fortuna.

She was preceded in death by her parents Floyd "Bud" and Pauline Jester; her mother-in-law, Nell Roth; brother-in-laws Ron Roth, Rich Ingraham, Bill Roth, Chris Lyons and nephew Keith Roth.

She is survived by her husband of 44 years, Tony Roth; son and daughter-in-law Shane and Gina Roth; grandchildren Jarren, Jaxon and Everly Roth; father in law William Roth; sisters Kathy English, Diane (Joe) Resendes; sister in laws, Judy Ingraham, Linda Lyons, Mona Cooke; brother in laws, Jim Roth and Larry Roth Sr.; nephews Larry Roth Jr. (Kimberly), Michael Ingraham, Aaron (Lindy) Ingraham; David Roth, Don Roth, Steven Roth and Pam Melvin. Lifelong friends; Karen Wendlandt, Susan and Dave Blevin and both of their families and numerous others she touched during her life.

Shirley retired from Pacific Union Elementary school, where she worked in the kitchen for over 20 years. Anywhere you went with her in the community she was known as "the lunch lady" by generations of kids. No matter where you were shopping with her, there were always parents or kids who knew her and thanked her for her kindness. She always had a smile, kind words and a giving soul for anyone in need.

Shirley (aka Nana) and Tony moved to Idaho to be near their son, daughter-in-law and grandkids. She shared a very special, strong bond with her family. The bond she shared with her son was unbreakable, she was always there for Shane no matter the circumstances. Her grandkids were so fortunate to have their Nana as their protector. She was so happy that she had a daughter-in-law that is such a great wife, mother and best friend to her, it brought her so much peace. She missed her California family, but seeing her grandkids grow up and being a daily part of their lives was what she cherished most. She also had a very special relationship with her nephew Larry Roth Jr. He and Shane grew up together, much like brothers, and she was a fierce protector of both boys. She attended every event for both boys, no matter what the sport, rain or shine.

If you knew her, one of the best things about her was her quick wit. She loved to make people laugh as much as she loved to give. She never left anyone in need if it was within her means to help. Shirley spent years taking care of her mother, Pauline, sacrificing so much to be there for those she loved.

Shirley will be interred at Ocean View Cemetery. There will be a Celebration of Life on March 27, 2021 from 10:00 a.m. to 2:00 p.m. at 1893 Berg Ave, McKinleyville, CA 95519. Please feel free to come by and share a memory, celebrate Shirley's special life and pay your respects to the family. This will be a casual outdoor gathering, with all Covid precautions. Due to Covid there will not be any food provided.
###
The obituary above was submitted on behalf of Shirley Roth's loved ones. The Lost Coast Outpost runs obituaries of Humboldt County residents at no charge. See guidelines here.