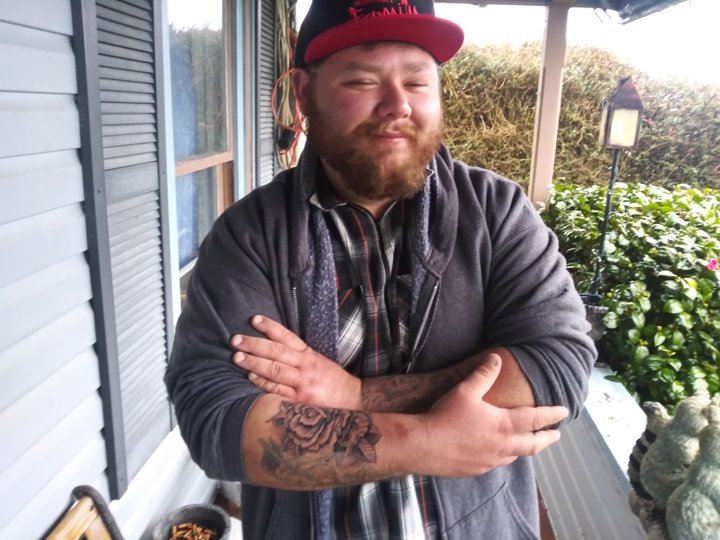 ###
Gabriel Irah LeRoy, 35, left this earth to join the Lord on Jan 21, 2021. He was born in Jonesboro, Arkansas. At the age of 12, he moved with his family back to Humboldt County, where his mother was born and raised. He spent the last 8 years living in Scotia.
Gabe (as he preferred to be called) was a unique, super-friendly guy who seemed to never meet a stranger. Gabe loved a good conversation and would take his time when getting his mail or groceries at the store as he most often was shooting the breeze with the postmaster or the butcher. He was very loving and had a gregarious personality.
Gabe was a very loving, hands-on father. His favorite thing to do was spend time with his two children, Emelia and Caine. Caine and he shared a love for Marvel movies and they would go to the threatre together to see the same one over and over, and when it was released to DVD he'd buy it and they'd watch it again, over and over! Through the years he earned a couple of black belts in karate and was excited to teach karate to his daughter, Emelia, and was teaching her to defend herself. His dream was to one day teach other children. He really enjoyed going camping and fishing at Ruth Lake with his family.
Gabe was a big kid at heart and liked to roughhouse with his kids and his friends. There are several videos of these wrestling matches! Gabe and his brother-in-law Damon Tucker were like brothers and spent time goofing off (shenanigans) and sometimes ended up breaking stuff as they wrestled all around the house. At times it got pretty loud with the kids yelling with excitement. These special times could go on for hours. So much laughter and fun.
Gabe had a great sense of humor and loved to make people laugh.
He had a very special.bond with his niece Heaven Burns. They enjoyed playing chess and also shared a love of writing. They spent a lot of time discussing her writing and he was instrumental in getting her into Academy of the Redwoods, and was very insistent she go to college and get a career.
Gabe was an incredible actor as a kid in high school. He played in several plays and was quite talented as an actor. He was able to do many types of voices and entertain his family and friends. He was such a gregarious soul.
He really enjoyed quite a variety of music and was known to put out some impressive raps of his own His all time favorite song was Landslide by Fleetwood Mac. He loved singing along to it.
Gabriel is survived by his parents Patricia Guidry & Matthew LeRoy, his children Emelia & Caine LeRoy, his sister Ryanne Tucker and his brother Noah LeRoy.
"You are no longer by our side, but forever in our hearts."
###
The obituary above was submitted on behalf of Gabe LeRoy's loved ones. The Lost Coast Outpost runs obituaries of Humboldt County residents at no charge. See guidelines here.