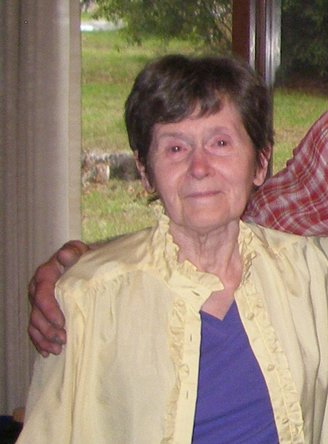 Sidney Eileen Randle
August 31, 1932 to March 12, 2021
Even into her early 80s, Sidney Randle was quite the "get around kind of 'gal'" – walking (pretty quickly) nearly everywhere. One of her favorite places to be was the Eureka Mall – where she made many acquaintances over the years of the people who worked there. Sidney could provide a great deal of detail on practically any subject and could remember people's phone numbers without writing them down. She also NEVER forgot a family member's birthday – recognizing it with a card, a gift, or a call. When prompted (and it sometimes took some prompting), Sidney could draw upon her memory to share "historical" (and sometimes hysterical) stories about the family. One of her best was the tale of how her grandmother, Anna Frost McNew, sat on a scorpion in the outhouse when she was pregnant with her mother, Dorothy (or so that story goes). There was, apparently, no damage done.
Sidney was born on August 31, 1932 in Oakland, Calif. to Dorothy Frost Randle and Clyde Randle and lived her entire life in Eureka. As a child, she and her family lived in various locations all over the Eureka area, but one of her favorites was on "Ole Hanson Road," where there was a creek that she and her brother used to play and fish in. Her father died unexpectedly at the age of 45 in 1942, after which her mother married Weldon Randle, Clyde's brother and the family bought a piece of land (after "always renting" – according to Dorothy) on Pine Hill where Sidney and her brother, Dwight (Ike) grew up with many friends in the neighborhood.
Sidney was a 1950 graduate of Eureka Senior High School. After graduation, she worked in various jobs, but eventually found her true calling as a cake decorator at, among other businesses, Jan's Cakebox. She was very talented at this and delighted her customers and her family with the "art" that she created on a cake face. She was also notorious for pulling pranks on family members – including a "fake" and beautifully decorated cake made out of a sponge that was impossible to cut, as well as the occasional candles that couldn't be blown out.
Over her lifetime, Sidney enjoyed visiting (usually with her mother) various locations that had significance to the family – including Showers Pass (Kneeland) where her mother, Dorothy, grew up; the old lumber town of Falk (with permission, of course), where her great-grandmother, Acascia (nee Gordon), her great-grandfather, Hiram, and her grandfather, Ralph Frost, had once resided; as well as Trinity County (where the family had once had a mining claim); and the Bay Area (to visit her Uncle, Leonard). Sidney relished the hot turkey sandwiches at Marie Callander's (before it closed), loved Mexican food, and was always up for a good piece of pie.
Sidney was predeceased in 2003 by her mother, Dorothy; and her uncles Jack, Leonard, and Frank Frost. She is survived by her brother, Ike Randle, her sister-in-law, Barbara Randle, her niece, Yvonne Randle (and Yvonne's husband, Eric Flamholtz), her nephew Tony Randle, (and his wife, Johnnie), and her Uncle Ralph Frost. She is also survived by her great nephew, Nick Randle and his wife, Macey; great niece Heather Randle; and great niece Kristina Randle and her husband, Adam Smith; as well as many cousins and five great-great nieces and nephews that she had the pleasure of meeting in her lifetime.
She was laid to rest with her mother, father and many other Randles in Arcata's Greenwood Cemetery.
###
The obituary above was submitted on behalf of Jerry Nelson's loved ones. The Lost Coast Outpost runs obituaries of Humboldt County residents at no charge. See guidelines here.