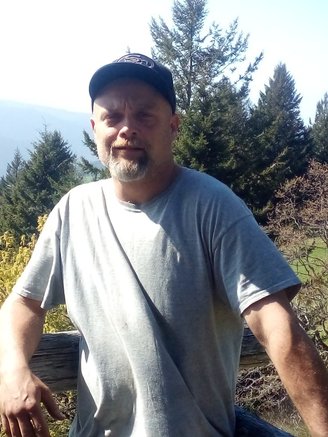 Israel David Widmark passed away on April 2, 2021.

Israel was born on March 23, 1976, in Eureka at the old General Hospital. He attended Eureka Nazarene School from kindergarten through seventh grade. From there, he entered the Eureka school system and later the McKinleyville school system. He was a life long resident of Humboldt County living in either the Eureka or McKinleyville areas.
Israel was employed by various jobs through out his life, most related to automobile or small machinery repairs.
Israel had a variety of interests. He liked working on vehicles, repairing small machinery, fishing, camping, and collecting older money. He learned about cutting and polishing rocks (lapidary) from Grandpa Boatright. It excited him to see the different rock colors, their cuts and their beauty.
He enjoyed eating fried frog legs, sushi, and grilled cheese sandwiches with tomato soup.
Israel loved his family more than anything, and advocated the importance of family. He was always ready to share what little he had with others. He had hoped to teach his children more about loving each other and showing respect. He loved small children, and liked being a grandpa. We all knew that we were loved by him.
Israel leaves behind his three children: Brandon Widmark, Jesse Widmark and Harmony Taylor. His two grandkids, Shanelle and Izaiah. His brother and friend, Aaron. His mother, Athleen Baker, and his father, David Widmark. His Aunt Asia and Uncle Levi, Aunt Melissa, Aunt Lisa, and Uncle John. Three nieces: Cora, Karly, and Taresa. And numerous cousins.
Lastly, Israel leaves behind his "buddy" Chief, his Boston Terrier.
Israel was preceded in death by his grandparents: Levi and Alvina Boatright and Elvin and Jessie Widmark.
Israel's cremation was handled by Ayers Family Cremation. The family had a graveside service on May 15th at Greenwood Cemetery in Arcata where his ashes are buried. The service was officiated by Rev. Tim Shires, who has been a friend of the family for years.
###
The obituary above was submitted on behalf of Israel Widmark's loved ones. The Lost Coast Outpost runs obituaries of Humboldt County residents at no charge. See guidelines here.