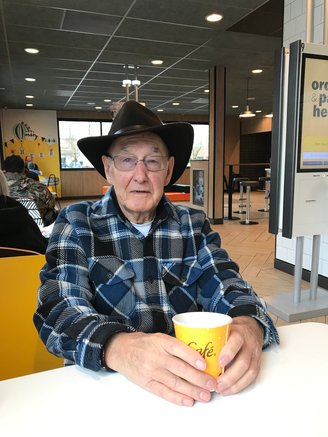 Rolland Lee "Deke" Kanen
May 29, 1932 - March 29, 2021
Rolland Kanen, known to most as "Deke," passed away on March 29, 2021 in the comfort of his home and surrounded by his children. He was preceded in death by his loving wife of 53 years, Bonnie Kanen. He is survived by his four children, Debbie Crosby, Karen Latora, Darren Kanen and Kim Worthen and their spouses, as well as numerous grandchildren and great-grandchildren.
Rolland Lee Kanen was born May 29, 1932 in Crows Landing, California. He was the youngest of six children born to George and Emma Kanen. The Kanens instilled in their children values and a love for God that remained with Rolland throughout his life. During his childhood he lived several places in Washington, the last one an 80-acre farm where many memories were made playing and working in the countryside. Most of his school years were spent at Hockinson school and Battle Ground Junior High, and in later years he rarely missed a Hockinson reunion. Eventually the family made its way to Fortuna. Rolland remained in that area for the rest of his life.
Rolland married Helen Cook in 1957, and they had a daughter before divorcing after a short marriage. In 1965 he married Bonnie Sundquist. They began their life together in Rio Dell and then moved to Hydesville, where they raised three children and entertained grandchildren and great-grandchildren for the next 50 years.
As a young adult Rolland entered mill work, working at small mills in Washington and California, including Hansen's Lumber where he spent seven years. He then joined Pacific Lumber Company where he remained for the rest of his career, retiring in 1994 after 33 years of service. Retirement suited him well. With an impish grin he would tell people, "This retirement is not all it's cracked up to be—It's so much better!"
Anyone who met Rolland was instantly drawn to his infectious, loving character. He was a man of integrity like no other, never compromising on his values and modeling a lifestyle to his children and grandchildren that was beyond reproach. Soft-spoken, yet outgoing, Rolland could strike up a conversation with anyone. After only a few minutes with a stranger, he would find some kind of connection, and the two would suddenly be chatting away like old friends.
Not to be overlooked was Rolland's somewhat mischievous side. One teacher called him a "smarty" and suggested he needed to curb his attitude if he was going to succeed in school. On another occasion he was facing a judge for racing his car 60 m.p.h. through town. When asked what he had to say for himself, he said "Hell, I was just getting started!"
Rolland enjoyed life to the fullest. An avid car enthusiast, he began working on classic cars at a young age. This love for cars eventually led him to join the Horseless Carriage Club, which he and Bonnie were involved in for many years, developing lifelong friendships. He and his 1926 Dodge Coupe were regulars in the Fortuna Rodeo Parade every July.
The CB in his room and a box of letters from around the world tell a story of a man who loved people. After dinner he would retreat to his radio, excited to see where the "skip" would take him. This hobby brought even more cherished friendships into his life.
Rolland was a creator, a beautifier, a fixer as was seen in his gardening and building and especially in his homemade tools which were improvised out of whatever parts he could find. He was the original DIY-er. He was an artist, which was realized by his children when they stumbled upon a box of his old drawings. And he was a San Francisco Giants fan. He rarely missed watching a game. And occasionally he got to travel to catch a game in person. He looked forward to Senior luncheons at Hydesville Church and Retiree brunches at Peppers. He loved country music and the county fair and Auto Expo and family get-togethers and road trips. He was always up for a new adventure.
In his later years, as activities changed and his health began to decline, Rolland joined a group of peers who met at McDonald's several days a week. He looked forward to those encounters where they would share and reminisce and enjoy each other's company over a cup of coffee.
Above all else, Rolland was a family man. He left his children with many happy memories of family travels, camping and holidays and never missed a school activity. He loved his grandchildren and great-grandchildren. They will remember his magic tricks, including the "magic star" and the "balancing fork" and that he was always up for a game of 31 or dominoes! Rolland will be greatly missed by his family and friends, but the legacy he leaves is larger than the void. He impacted everyone who knew him, and his influence left the world a better place. A Celebration of Life will be held in his honor on July 16, 2021 at 1 p.m. at Hydesville Community Church. A light lunch will be served.
###
The obituary above was submitted on behalf of Rolland Kanen's loved ones. The Lost Coast Outpost runs obituaries of Humboldt County residents at no charge. See guidelines here.