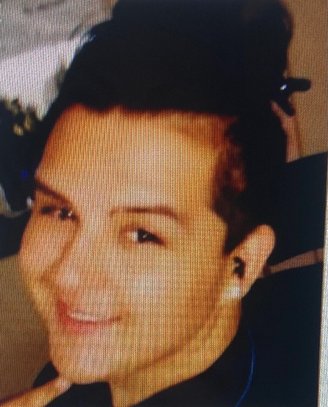 Virgil Vernon "Smackies" McLaughlin Jr. was born September 20, 1991 in Sacramento. He passed away on May 16, 2021 at the age of 29 years old.

Virgil was a Hoopa tribal member and grew up on the reservation. He graduated from Captain John High school. Virgil was very talented. He loved to bead, make traditional regalia and various art pieces. Virgil was extremely creative. He loved the holidays and loved decorating for them, birthdays and events. He was also a excellent bread-maker, something that he learned from his grandma Marg. Virgil had a beautiful smile and laugh. He took pride in what he wore. He loved fashion and had a great sense of style. Virgil was blessed with a beautiful girl that he named Jordan Chinson. She was his pride and joy.
Virgil and his mother shared a very close and special relationship — as an only child, they did everything together. His father Virgil Sr. always loved children and couldn't wait to have one of his own. The day he was blessed with the birth of Virgil Jr. was the happiest day of his life. Virgil and his late father, Virgil Sr., loved to cruise, listen to music, and attend many brushdances. Virgil had a special connection with his culture and honored and valued our traditions. He also was very close to his brothers and sisters, and treated their children like his own. Virgil had many friends whom he adored and loved, he enjoyed hanging out and spending time with all of his family and friends.
Virgil is survived by his daughter Jordan Chinson McLaughlin, mother Jamaica Suzie McLaughlin. Brother Terrance Moon, sisters Kinsa and Jaclyn Moon, Allie McCovey and Victoria Rousseau. Aunts Francine Traversie, Jaclyn and Mack Robinson, Cyd Colegrove, Sherlette Colegrove, Carol McCullough, Charlene and Kathy McLaughlin, Marjorie, Delores Moon, Rhonalda Jordan, and Mary Ann Colegrove. Uncles Richard Moon, Carl Colegrove Sr. Alex Pratt. Numerous cousins, Roxie, Big Time, Royal Robinson, K'Oden , Kayden White, Cheyanne Norton Jr., Jackson and Rogan Moon, Rachel and Rocky Colegrove, Michael and Ulysses McLaughlin, Raylene and Jess McLaughlin, Carl Ziggy Colegrove, Paul James, Sonya Colegrove, Henry, Shane, Leonard McCullough. Kevin and Colette Colegrove, William and Charlotte Franks, EFC Colegrove, Sugi, Carlyle Colegrove, Robert Wolfies, Panther, Christian Punky and Cecelia Colegrove, Daniel, Arliss and Carlene Pratt, Alyson Heskcock, Dania Colegrove, Rudy, Francis, Dawn Colegrove, Deacon Ferris, Ardie Jones.
Special friends Chelsee Cooke, Marcee Thompson, Michelle Bradberry, Leslie Grant.
Preceded in death by his father Virgil McLaughlin Sr., grandparents Terrance Traversie, Marge Colegrove, Fred Moon, Eugene and Lucille McLaughlin. Aunt Sandra Sciacca, Joyce McLaughlin, Darla McCullough, Agnes Colegrove, Helen Pratt, Pearl Peters. Uncles; Mike McLaughlin Sr. , Eugene Fada Colegrove, James Colegrove Sr., Daniel Colegrove, Special cousin and sister Lottie Nez.
Pallbearers: Terrance Moon, Mack Robinson, Mike and Uylliss McLaughlin, Rocky Colegrove, EFC Colegrove, Marcee Robbins-Thompson, Wolfies Colegrove,. Delavin McCovey, Jacob Castaneda, Nathan Edwards, Doug McCloud.
Honorary Bearers: Carl Colegrove Sr., Carl Ziggy Colegrove Jr., Alex Pratt, Richard Moon, Jess McLaughlin, Menot and Derik Moon, Greg White, Neil Moon, Howard O'Neill, Kevin Colegrove, Robert, Punky, Wolfies, Carlyle, and Sugi Colegrove, William Frank, Jay Mullins, Daniel Pratt, Rudy Colegrove, Cheyenne Norton Sr., Lawrence Taylor, James Marshall, Matthew Marshall, Henry McCullough, Leonard McCullough, Tom Cooke, Deacon Ferris, Ardie Jones, Sam Jones.
Virgil was loved by many and will be greatly missed.
Family viewing will be held May 21, 2021 from 10 a.m. to 12 p.m. at Paul's Chapel in Arcata. Graveside Services will be held at the Hoopa cemetery at 2 p.m., Shane McCullough officiating. Reception will be held at Pookey's Park immediately following.
###
The obituary above was submitted on behalf of Virgil McLaughlin Jr.'s loved ones. The Lost Coast Outpost runs obituaries of Humboldt County residents at no charge. See guidelines here.