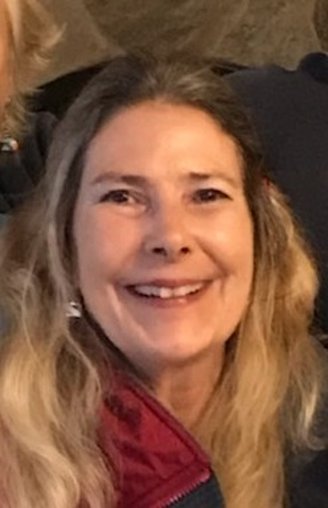 Susan Elizabeth Early Cobb, also known to some as Suzy Kuzy, left our earthly world unexpectedly on April 15, 2021. She was born on a Monday, September 10, 1956 in the land of enchantment, Alamogordo, New Mexico to her Mom and Dad Marj and Chuck Early. In Alamogordo she would make lifelong friends with her parents friends;' children, Shelley and Michael.

After learning how to eat snow in the New Mexico desert during winter storms and play in the scenic White Sands, her family moved to Cocoa Beach, Florida, where Dad worked at Cape Canaveral and Mom took her and her brother to the beach every day. Yep, every day, what a life! She loved the sea and after a year of the Atlantic Ocean, the family was on the move again across the country in an old Chevy station wagon headed for Santa Maria, California which was conveniently located next to Vandenberg Air Force Base. While rockets and satellites kept food on the table, the family went to a lot of beaches that were off limits to the public. One time, we got stuck and had to wait for low tide to get around back to the car. She loved going to Pismo and Shell beach for the day and exploring tide pools.
She attended Joe Nightingale elementary school there in Santa Maria until fifth grade. She received her first Holy Communion on April 19, 1964. The family made many trips with our friends from New Mexico to the Sierras. A favorite trip was Twin Lakes and Kings Canyon. Susan enjoyed the outdoors and went on many camping trips during her life. Another favorite family destination was San Diego to see Shelley and Michael at their parent's home in La Jolla hills. Sea World and the San Diego Zoo were Susan's favorite places to visit.
In 1968 the family was on the space race move again, this time to Cupertino, before it became Silicon Valley. Susan started 6th grade at Regnart School and met another lifelong friend, Denise. They shared a love for horseback riding and spent a lot of time riding in the hills by Stevens Creek Reservoir. Susan went to Kennedy Junior High School and graduated from Monta Vista High School in 1974. Another of Susan's close friends, Kathy, went on a camping trip with her brother and father to the Trinity Alps. Dad had his gallon jug of burgundy wine for the trip and Susan and Kathy (both 14 at the time) decided to sneak some while we stayed at a Motel 6 in Redding before hitting the trail head the next day. Well, let's just say a red wine hangover and Buckhorn summit in 1970 wasn't too much fun for a couple of 14-year-olds.
A favorite tradition our family had was to invite our New Mexico family up for Thanksgiving. While Susan and Shelley's Moms spent all day making the stuffing for the turkey, us kids would have a great time hiking, biking and working up an appetite for a big thanksgiving dinner. Our parents seemed to always like their meat very rare, and soon after Susan became a vegetarian for the rest of her life. After high school, Susan sold her yellow Volkswagen super beetle to finance her jaunt to Europe with Shelley. They had a blast and I think Shelley stayed on for a few years. When Susan returned, she lived at a commune in Los Gatos for awhile before meeting future husband Pat Cobb. They lived in Mountain View and Sunnyvale, where she worked in a semiconductor fab for a few years.
At some point she got tired of the corporate b.s. and married life and went back to school to get her associate's in science with high honors at Foothill Junior College in Los Altos. She became a registered dental hygienist in 1984. She practiced her trade in the Bay Area until she and her Mom Marj decided to move up to Humboldt in July of 2000. Her Mom, a resident artist, made room in her house for Susan where they lived as roommates and friends for 17 years until her Mom's passing. Susan worked for various dental offices in the area as a hygienist until her shoulder problems caused her to scale back to working as a registered dental assistant. She worked for Open Door at the Burre Center for 12 years until her retirement in 2018. Her favorite place was Trinidad where she lived for a year on Patrick's Point Drive. She and friend David loved hiking Trinidad Head.
Susan was a very skilled artist and loved drawing wildlife. Her place had lots of critters and she left us many impressions of her interaction with wildlife. She could be found at Clam Beach and College Cove, especially when the tide was out. Susan loved a good strong cup of Joe and her veggie smoothies.
She is survived by her brother Mark and his wife Rhonda, her nephews and their spouses, Justin and Jasmine, Ryan and Tyler, and her great niece Kaitlyn. Susan was sweet soul and touched many lives. A celebration of her life will take place in September.
###
The obituary above was submitted on behalf of Susan Cobb's loved ones. The Lost Coast Outpost runs obituaries of Humboldt County residents at no charge. See guidelines here.