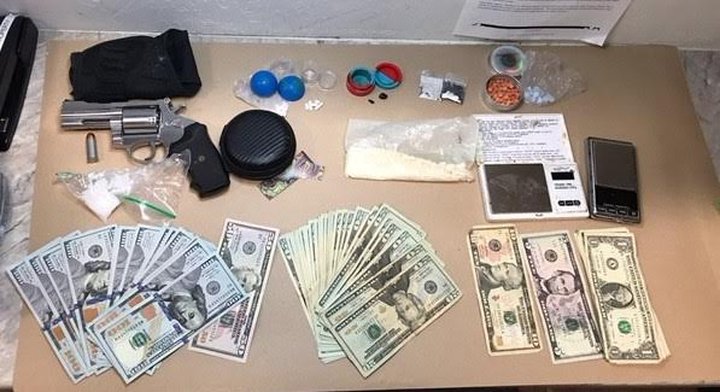 Eureka Police Department press release:
On May 6, 2021, Detectives with the Eureka Police Department's Problem Oriented Policing Team (POP) responded to an apartment complex on the 3100 block of California Street in Eureka to serve a search warrant after receiving numerous complaints that 38-year-old Travis Michael Anderson of Eureka was selling narcotics and was in possession of firearms. Anderson is a convicted felon and is prohibited from owning or possessing firearms and ammunition. Anderson is also on felony probation for being armed with a firearm while in possession of narcotics.

Upon arrival, Detectives observed Anderson drop a bag containing a loaded pistol out of his bedroom window. A records check revealed the pistol had been reported as lost to a Bay Area law enforcement agency by the owner of the firearm in 2020.

During a search of the residence detectives located, ninety-six LSD (ACID) pills, two sheets of LSD containing forty-eight individual doses, one ounce of MDMA, ten grams of methamphetamine, a small amount of cocaine powder, Xanax, heroin, and over $2,000 cash suspected of being proceeds of narcotics sales.

Anderson was booked into the Humboldt County Correctional Facility for felon in possession of a firearm, felon in possession of ammunition, two counts of possession of controlled substance for sales and violation of probation.

Anyone with information on ongoing drug and/or nuisance activity within the City limits of Eureka is asked to contacted the POP team at (707) 441-4373.