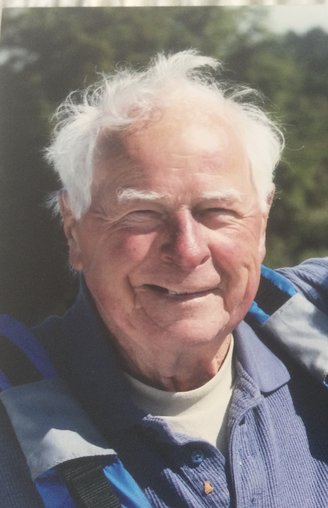 Edward Fracker
Oct. 26, 1928 – Sept. 7, 2021
Edward Fracker is the only son born to Mary and Edward G Fracker. His sister, Eleanor Van Wagner of Florida, 104 years old, tells us that he was a bit spoiled.
Ed was introduced to sailing at a very young age. A local Staten Island newspaper clipping he kept reads, "Ed Fracker, age 12, gains fame racing sailboat as a skipper." Soon sailing, designing and making sails became his passion.
He grew up on Staten Island, N.Y. and graduated from New Dorp high school, where he played football and continued sailing boats. One of his winter time passions was ice sailing contests.
Ed was very proud of his forefather Thomas Fracker who was involved with the Tea Party of December 16, 1773. He actively protested taxation without representation.
Edward was drafted into the 279th Infantry Regiment, 45th Infantry Division, I Company. Ed was wounded in Korea on top of Mt Baldy on July 3, 1952. Only 71 of the 172 men from Company I were able to walk down that mountain. His life was saved by a bulletproof vest, an incredible story in itself. He was later awarded the Purple Heart for being wounded that day.
After the war he was able to use the GI Bill to go to college. He attended Wagner College and graduated with a degree in chemical engineering.
Soon after he was married to his first wife Ann Shaff. They had three children — Mark, Eric and Christen. His first job after graduating was at Columbia Gas. Ed and Ann decided to start their own business, Fracker Sails in Cleveland Ohio. This is where Ed designed and patented a patch for sails. Business went well for them but they shut up shop in the '80s.
Ready for a change, Ed left Cleveland and moved to Seattle where he found a job at Ulmer Sail Loft. His passion for sailing made him many friends using the Sloop Tavern Yacht Club as his base.
Ed met his second wife Sharon in Seattle and ended up marrying her near her home in King Salmon. They spent many years living aboard their beloved boat "Fluffy." They explored the West Coast from Canada to Mexico, often on other friends boats.
When they were done living aboard they settled into Sharon's cottage in Eureka. Ed created his own sail loft and started Sails West making custom sails and doing repairs. During this time he also delivered boats, one from Seattle to Micronesia, another from South Africa to the East Coast.
Ed started volunteering for the VA driving veterans to doctors in San Francisco and locally too. He received a certificate of Special Congressional Recognition for his volunteer driving, 2001-2010.
Ed was active in the Humboldt Yacht Club. He loved sailing aboard Ed Matsen's boat, probably because they won a lot. He was involved in the Junior Sailing classes at HYC. He also spent many hours volunteering on the "Golden Rule," a boat used for education and promotion for the Veterans for Peace. He mostly did rigging and was frequently hoisted far up the mast in the boatswains chair. He did this well into his 80s. He loved sharing his knowledge about sailing and would share his wisdom freely.
He was amazingly healthy until the last year and a half of his life. He slowly lost his memory until it turned into extreme dementia. He contracted pneumonia about a week before he passed.
He is survived by so many friends and family and we all miss him. We love you, Eddie.
###
The obituary above was submitted on behalf of Ed Fracker's loved ones. The Lost Coast Outpost runs obituaries of Humboldt County residents at no charge. See guidelines here.