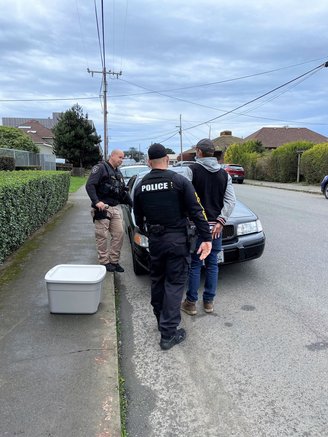 Press release from the Eureka Police Department:

In response to rising retail theft reports, The Eureka Police Department (EPD) has coordinated undercover operations with the assistance of EPD patrol officers, the Community Safety and Engagement Team (CSET), the Problem Oriented Policing team (POP), non-sworn personnel, and an Agent from Alcohol Beverage Control (ABC).

Over the past two weeks, undercover operations have been conducted at local retailers due to the on-going theft related activities throughout the City of Eureka. During just two operations, 10 total individuals were detained and 9 were ultimately arrested for burglary and shoplifting. For some, additional charges included being in possession of controlled substances, burglary tools, drug paraphernalia, resisting arrest, providing false ID to a peace officer, misdemeanor and felony warrants.

"We hope these ongoing retail theft operations not only provide support to our community's businesses and their employees, but also deliver a strong message to would-be-shoplifters that their unlawful conduct won't be tolerated in Eureka," said Eureka Police Chief Steve Watson.

As Black Friday approaches and holiday shopping is in full swing, the Eureka Police Department will continue crime fighting efforts, including undercover operations. We'd also like to remind those holiday shopping, to not leave shopping bags in your vehicle while you go store to store. Make stops at home or carefully secure in a trunk. If you opt for online shopping, track your packages and limit the time they spend on the porch. Ideally have them sent when someone will be home to receive them.