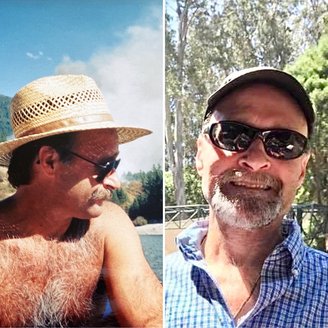 Born on January 23, 1952, in Scotia, Larry was welcomed, along with his twin sister Chérie, by his parents E. W. "Rocky" and Janice LeRoy and older sister Roxanne. He passed away peacefully in his sleep on the morning of November 18, 2021, in Eureka. He was 69 years young.

Larry was, above all else, a fighter, with amazing inner strength, true grit and an upbeat, positive outlook on life. He was a 17-year cancer survivor, having been diagnosed with stage 4 melanoma in 2004, followed by brain cancer in 2008. His doctors called him the "miracle man," as he was blessed with so many bonus years beyond his original prognosis.
Larry was a devoted husband, loving son and son-in-law, cherished brother and brother-in-law, grandson, uncle, nephew, cousin, and a friend to many. To his family, he was our hero, and to all who knew him — a true inspiration.
He attended local schools, graduating from Eureka High School in 1970. He then attended College of the Redwoods, with a major in Forestry. Larry's interest in forestry led him to pursue a career in the local timber industry. He was employed by Schmidbauer Lumber Co. for more than 30 years and took great pride in his work as a highly skilled loader operator. He reluctantly took an early medical retirement in 2014.
He inherited his father's hard work ethic & "can-do" approach to everything in life. Larry earned the nickname "MacGuyver," as he was always tinkering and fixing things, and loved working on his cars and pickups.
Larry was happiest being outdoors in nature. Over the years, he spent many happy times at his Ruth Lake property, which he shared with dear friends, Ed and Linda Arnold and Dave and Michele Hubbard.
He also enjoyed traveling outside of Humboldt County with his wife "J." They took numerous trips to Hawaii, his other "happy place," and loved exploring different beaches and snorkeling on the Big Island, especially the Kona and Kohala coasts.
Some of Larry's favorite pastimes included spending time with family & friends, collecting guns, 4-wheeling, riding motorcycles and heading to the hills to ride quads, often with his dad Rocky & "Uncle" Abe Sousa.
He was always willing to lend a helping hand to those in need. Along with his father, Larry was a proud member of the Humboldt County Sheriff's Search & Rescue organization. He spent countless hours helping to locate missing persons.
He had a soft spot in his heart for all animals, especially his beloved dogs over the years, which he loved to spoil. He leaves behind his beloved kitties Melia & Iniki.
Larry liked nothing better than a good cup of hot coffee and was known to enjoy a cold beer from time to time, often while listening to his favorite song, "House of the Rising Sun."
Larry was a kind and gentle man, quiet and soft-spoken by nature, yet always friendly to everyone he met. He was a true-blue loyal friend, making strong connections and lasting relationships wherever he went - whether through his work at Schmidbauer, with his HeathSport workout buddies, and most recently, endearing himself to his fellow residents and the staff at Granada.
Larry is survived by his wife of 13 years, Jadine "J" Berg; twin sister Chérie Zygaczenko and her husband Alex of Eureka; younger sister Suzanne Allen and her husband Craig of Eureka; nieces Natasha Zygaczenko of Eureka, Danielle Allen and her partner Saj Khan of Sacramento; nephews Joey Zygaczenko of San Francisco and Darren Allen and his wife Olivia of Fortuna; and his loving in-laws Hank and Judy Berg of Fullerton.
He also leaves behind his LeRoy/Haughton cousins on his father's side, his Aunt Adie Hindley of Ferndale, cousins Linda Newman of Eureka and Lonnie Partout of Idaho, his Great-Aunt Donna Cross of Redcrest, and numerous other cousins and extended family members.
Larry is also survived by his adopted "Uncle" Abe Sousa of Eureka, his former Schmidbauer "family," and many special lifelong friends who were so special to him.
He was preceded in death by his parents, Janice and Rocky LeRoy of Carlotta; older sister Roxanne LeRoy Hayes of Eureka; maternal grandparents, George and Arlene Partout of Bridgeville; paternal grandparents H. Wade and Lois LeRoy of Carlotta; and many other dear family members.
Larry's family would like to express our appreciation to all the doctors and medical personnel, both locally and at UCSF, for the care he received over the years, as well as to the staff at Granada Wellness & Rehabilitation Center in Eureka for their care of Larry over the last year and a half.
If you would like to make a contribution in Larry's memory, please consider donating to his favorite local charity, Miranda's Rescue, 1603 Sandy Prairie Road, Fortuna, CA 95540, or to the American Cancer Society.
Larry will be missed beyond measure, but his spirit will live on in the hearts of all those who knew and loved him. Rest In Peace, Larro! Big hugs! XOXO
A small family Celebration of Life will be held at a later date.
###
The obituary above was submitted on behalf of Larry LeRoy's loved ones. The Lost Coast Outpost runs obituaries of Humboldt County residents at no charge. See guidelines here.