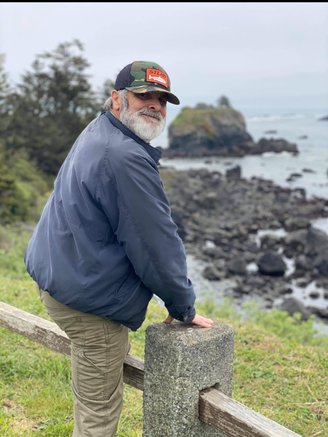 On November 3, 2021, Tony Ray Sanderson passed on to his next journey peacefully at his home of 24 years next to the ones he loved. Tony was an amazing father, grandfather, son, brother, cousin and friend — he was loved by many and had a community full of friends and neighbors that adored him. Tony was a very solid, brave, loyal, honest, truthful man; if he said he was going to do something, he surely would.

He was honest in all he did in life — strong, courageous, and he never let anyone down. Tony raised two beautiful daughters, (Teal Dawn and Brook Lynn), and a wonderful step-daughter (Raven Marie). Tony was their backbone. He was a loving grandfather to Brysen Everett Ray Moody, who was named after his grandfather; Tony who really looked forward to meeting his newest grandchild, Raelynn, will also have a namesake with his very first granddaughter. He was the best papa around and was always passionate about being a part of their lives as well as passing on his knowledge.
Fishing, clamming, gold panning, gold dredging, hunting, gathering — you name it, he did it! His knowledge of the plants, trees, animals, mushrooms, the forest and mountains he roamed his whole life was wise beyond measure. Tony was a very well respected man. He spent his life working hard as a logger, timber faller, heavy equipment operator, guide fishing service, commercial fisherman and his most important job as a loving father.
He had a small number of close friends and was a very simple man. He spent a large amount of time at the beach with his dog (Baby Girl) and was never spotted without that dog by his side; she was a very special companion to him in his later parts of his life. Tony was a good man to all and will be missed deeply.
Tony is preceded in death by, his mother (June Francis Tehan), his father (Donald Ray Short), his step-fathers (Georgie Maciel, and Neil Sanderson), his Granddad (Harry Tehan), his cousin (Michael Tehan) and numerous friends that held a special spot in his heart. It is with peace that we know he has reunited with those amazing souls once again.
Tony is survived by his daughters, Teal Dawn Sanderson, Brook Lynn Sanderson, and Raven Marie Sanderson- his Grandson, Brysen Everett Ray Moody, and unborn granddaughter Raelynn White. His dog, Baby Girl, His Sisters, Robin Sanderson Cypret, Jackie Sanderson, and Jennifer Sanderson Brocato, His very special cousin and best friend Jeff Tehan, as well as his uncle Donald Tehan.
He is also survived by many nieces and nephews as well as great nieces and nephews.
Funeral services will be held in Rio Dell at the Rio Dell Baptist Church ran by his family on November 12 at 3 p.m. Memorial Services will be held in Klamath at The County Club on November 13 at 1 p.m., potluck style.
Tony will be missed dearly and forever in our hearts, in lieu of flowers please feel free to plant your favorite tree to honor him as he loved the land and being in the old growth forests most of his life.
Aawok Tony Ray Sanderson.
###
The obituary above was submitted on behalf of Tony Sanderson's loved ones. The Lost Coast Outpost runs obituaries of Humboldt County residents at no charge. See guidelines here.