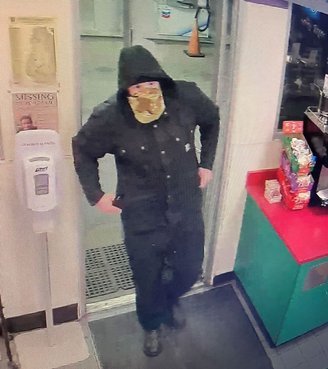 Press release from the Humboldt County Sheriff's Office:

On Nov. 29, 2021, at about 6:22 a.m., Humboldt County Sheriff's deputies were dispatched to a gas station on the 200 block of Main Street in Trinidad for the report of an armed robbery.

According to an employee, a male suspect entered the business and brandished a firearm, demanding money from the register. The suspect then fled on foot towards Patrick's Point Drive, taking a small amount of cash from the business.

The suspect is described as a white male adult, last seen wearing a black hooded Carhart-style zip-up jacket, black pants and a camouflage neck gaiter mask.

This case is still under investigation.

Anyone with information about this case or related criminal activity is encouraged to call the Humboldt County Sheriff's Office at (707) 445-7251 or the Sheriff's Office Crime Tip line at (707) 268-2539.