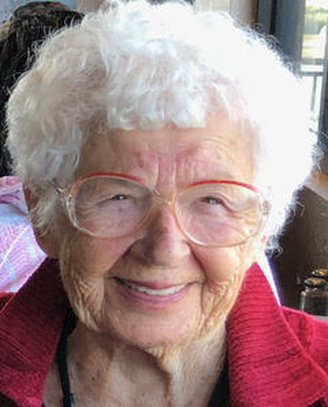 Libby Ann Cerny passed away on Wednesday, November 24, 2021. She was born on July 24, 1925 in Berwyn, Illinois the daughter of Francis and Anton Gabriel; both parents were originally from Czechoslovakia.

The family moved to Eureka when Libby was about three years old, as her parents assumed jobs for Hammond Lumber Company. The family lived on the logging camps at several camps above Cranell and Fieldbrook where her parents ran the cookhouse for the camps. There was Camp 1, Camp 20, Camp 46 and so on. Anton was the primary chef for the Cookhouse and known across Hammond Lumber Company for his famous flapjacks and the feasts feeding the hungry lumberjacks. One of Libbys early memories was being propped up in the cookhouse kitchen and turning the big wheel coffee grinder, which she thought was fun. Living in the lumber camps they moved a lot all by rail car, cookhouse and all. All of the family belongings fit in one steamer trunk at that time. The two main lumber camps they lived on was in Crannell and lastly was Big Lagoon.
Libby attended pre- and elementary school in Crannell, Arcata High School and graduated from Humboldt State attaining her teaching credentials. She taught in Orick on a substitute basis, the elementary school in Crannell, and primarily taught 4th Grade at Cutten Elementary School before retiring after 37 years in 1984.
She married her childhood sweetheart Frank Joseph Cerny on July 4, 1948. Prior to being married, Frank was already in the Marine Corps, stationed in Yokuska, Japan for World War II. When Frank was deployed she would anxiously await news from Frank and for when he would be home on leave. He was placed on military reserves at the end of World War II in 1945. It was during this time they both attended Humboldt State. Shortly after being married their first child, Frank Joseph Cerny, Jr., was born on April 25, 1949. Frank was called from the reserves to active duty in 1951 for the Korean Conflict. Frank was able to attend officer training in Quantico prior to being deployed to Korea. Libby and two-year-old Frank Jr. moved to Virginia while Frank attended officers school. Once he was to be deployed they drove back across country and Libby and Frank Jr. joined her parents during the time Frank was away. In 1952 Frank returned home and they moved to Samoa. Son Tony was added to the family in 1953. Libby and Frank built and moved the family to their new Eureka home in 1956.
Libby is survived by her son Tony and his wife Janice Cerny, nephews Bart Christen, Mark and his wife Tina Christen and their children Frankie and husband Dustin Flores, Hannah and AJ Christen; niece Susan and husband Steve Aherns; cousin Dennis and wife Leeann Fleishman; several nieces, nephews and cousins in the Czech Republic. She was preceded in death by her husband Frank Cerny, her eldest son Frank Cerny Jr.; father Anton and mother Francis Gabriel; sister Antoinette (Toni) and brother-in-law Al Christen; and sister-in-law Mary Peterson.
Frank and Libby were married for 72 years and both lived a long and loving life. For the past 9 months Libby was residing at Alder Bay Assisted Living and received excellent care from Alder Bay as well as Hospice of Humboldt. Per their request, no services are planned, however donations may be made to Hospice of Humboldt who provide dignified and amazing loving care.
###
The obituary above was submitted on behalf of Libby Cerny's loved ones. The Lost Coast Outpost runs obituaries of Humboldt County residents at no charge. See guidelines here.