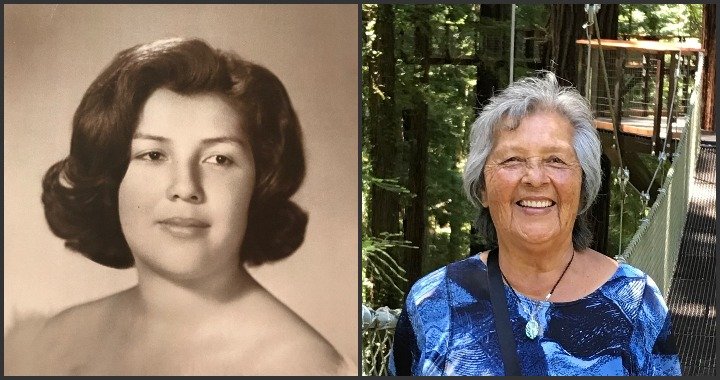 Melva Duclo passed away peacefully at her home in Loleta on the morning of November 4, 2021, with her loving daughters by her side.
Melva was born to William and Loreta Seidner on June 21,1943 in Fortuna. She married Donald Duclo in 1961 and together, enjoyed raising their two daughters, Lee Ann and Donnell. Donald and Melva recently celebrated their 60th wedding anniversary this past summer with at BBQ in Eureka surrounded by family and friends. Melva and Don worked for the Eureka City School District in the building and grounds maintenance department for 18 years until both retired.
Always the eager traveler, Melva rarely passed up an opportunity to visit new places, even on short notice. In a matter of minutes, she could be packed and ready to head out the door. Over the years, she enjoyed going on numerous cruises, taking short weekend trips and visiting far away destinations like Ireland, Great Britain, Canada, Mexico, Alaska, and many East Coast cities. Melva also enjoyed traveling to Sacramento as often as possible to visit her daughter Donnell and two grandchildren, Joshua and Lindsey Abernathy.
In addition to travel, quilting and gardening were Melva's passions. She was a member of both the Eel River Valley Quilt Guild and the Redwood Empire Quilters Guild. She loved to volunteer at quilt shows and enjoyed sharing her love of quilting with her friends and like-minded quilters from everywhere. Over the years, Melva donated many of her quilts to the Sutter Breast Cancer Quilt Auction in Sacramento, California.
Melva took great pleasure in gardening. She had a natural gift when it came to cultivating fruits and vegetables and making just about any kind of plant flourish. A couple of small fishponds were nestled amongst her plants, and she would spend hours tending to the garden and caring for her fish. She was a member of the Humboldt Botanical Garden and often volunteered at their fundraising events. One of the member's benefits is a reciprocal membership in over 300 botanical gardens across the country. That gave Melva a chance to do two of her favorite things – travel and visit beautiful gardens.
When she wasn't traveling, quilting or gardening, Melva also enjoyed meeting and talking to people at many of the events she attended with Lee Ann and Gary Moore of Oceanside Jams. It was a great way for her to catch up with people she hadn't seen in a while.
Melva is survived by her daughters, Lee Ann Duclo-Moore, Donnell Duclo, grandchildren Joshua and Lindsey Abernathy, sisters Leona Wilkinson, Marian Seidner and Cheryl Seidner, and many beloved extended family members and friends.
She is preceded in death by her parents William and Loreta Seidner, brother William Seidner and husband Donald Duclo (October 17, 2021).
A special thank you to Hospice of Humboldt for their outstanding care of our mother. Her end of life journey was handled with compassion and dignity.
Melva requested a graveside service only and wished that all her family and friends could attend. The service will be held at the Table Bluff Cemetery in Loleta on Thursday, November 11, at 1 p.m. The address is 2293-2399 Singley Hill Road, Loleta.
In lieu of flowers, contributions can be made to the Humboldt Botanical Gardens at PO Box 6117, Eureka, CA 95502 on behalf of Melva Duclo.
###
The obituary above was submitted on behalf of Melva Duclo's loved ones. The Lost Coast Outpost runs obituaries of Humboldt County residents at no charge. See guidelines here.