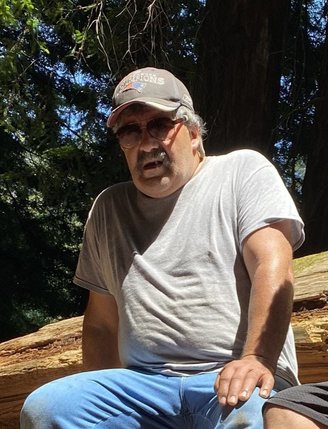 Mario Reveles
Born November 16, 1960
Died August 25, 2021
Mario Andres Reveles was born November 16, 1960 to Anastacio and Margarita Reveles at Redwood Memorial Hospital in Fortuna. He was part of the second set of twins ever born there. He died August 25, 2021 of complications stemming from having contracted Covid/Pneumonia. He was an altar boy at a young age and attended St. Joseph Elementary School as well as Fortuna Town School. Having grown up in Fortuna, he played on a variety of sports teams including little league baseball, Babe Ruth baseball, where he played on the All Star team, and Pop Warner football where he played on an undefeated team. High school football was a sport he excelled in as well. He also helped coach the Junior Giants, a team from Willits Ca., composed mainly of under privileged kids, some with physical disabilities. They played brilliantly for him all season long. They never lost a game.
A certified arborist by trade, he learned his craft working for Davey Tree Surgery in the East Bay where he ran crews and was a patroller for many years. He was also a district supervisor in San Ramon. He attended the Davey Tree Institute of Tree Services in Kent, Ohio. He could recite the Latin names of many trees and shrubs by heart. He met a good many people in the Fortuna area where he lived in his later years and he had a real talent for making his clients' trees look beautiful. He was a Union Hod Carrier in his young adult days.
Most of all, he loved his family, friends, and music. Learning to play the guitar at a young age, he often gave free lessons to people and worked on their guitars to keep them tuned. He was a kind, gentle and funny man who was loved by everyone he met.
He is preceded in death by his mother and father, Margarita and Anastacio (Andy) Reveles, Brothers Efren, Joel, Carlitos, and Jorge Reveles. He leaves his lovely daughter Raevyn Reveles of Fortuna. He is survived by siblings Alberto Reveles of Pahrump, Nevada, Hector Reveles of Vacaville, Ca., Alicia Linfoot of Dos Rios, Ca. and Carlos Reveles of Fortuna. He is also survived by various nieces, nephews, and cousins.
A service will be held at the St. Joseph Catholic Church in Fortuna at 10 a.m. on Saturday, October 16, 2021 followed by a graveside service. A celebration of life will be held at 1800 Kenmar Road in Fortuna following.
###
The obituary above was submitted on behalf of Mario Reveles' loved ones. The Lost Coast Outpost runs obituaries of Humboldt County residents at no charge. See guidelines here.