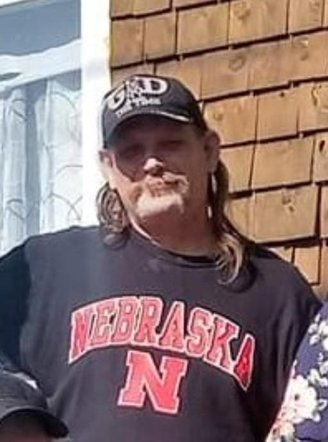 Joel Landon Johnston
August 15, 1967 - August 3, 2021
On August 3, 2021, Joel Landon Johnston was invited by his Maker to join Him in paradise where his older brother, Todd Eric Johnston, has been waiting for him since May 3, 2020. The day before and the day he passed, he said that he had put up a good fight but he felt that Jesus was calling him Home. Jesus knew it was time. He had suffered enough.
Joel was born in Omaha, moving to Eureka at a very early age. At the time of his passing, he was still residing in Eureka with his loving son, Jeremiah Johnston.
During Joel's early youth and through his young childhood, he loved to go fishing and crabbing every chance he got. That pretty much ended when he grew into adulthood and became a father to his beautiful son, Jeremiah, who then became his whole world. When he accepted God as his Savior, he lived a life as a devote Christian. He once told his son that Jesus was #1 in his life and Jeremiah was a very close #2. Jeremiah followed his dad when he also accepted Jesus as his savior.
At a very early age, Joel dealt with some major medical problems which we, as parents, helped him overcome those we were able to, but then as he aged he had to suffer through other medical problems that would have brought anyone to their knees. If it weren't for Joel's strong faith in his Lord, he wouldn't have been able to endure the great pain he had to deal with almost all the time. As parents who witnessed his health and body deteriorate, it was devastating. Joel's son was at his side all the while helping as much as he could. Their bond with one another was something to witness … very special.
Joel was also able to discuss Jesus with his niece, Savannah, who decided she wanted to join him and his son at various times when they went to worship. He was very pleased with that. He also rejoiced in the Lord when his other 2 nieces, Kasidy and MaKinzie and his nephew, Alex were baptized in their church.
Just a note: When your children are little, you wonder what kind of a person they will turn out to be but I think most of all, you just want them to be a kind, considerate and loving person.. What we witnessed in Joel was the unconditional love he showed for his son and the great love he had for his Savior. Our expectations were fulfilled and we feel we were very blessed to have him in our lives.
Preceded in his death was his older brother, Todd Eric Johnston; both of his paternal grandparents, Robert Johnston and Dorothy Johnston-Sharp, and both of his maternal grandparents, Chester Phifer and Astrid Carolyn Phifer-Lucas; his aunt and uncle, Dianne and Chuck Utter of Iowa; and his cousin; David Crockett of Wasilla, AK who recently passed away September 14, 2021 — David joined him in paradise as they were one with the Lord. There were also numerous other aunts, uncles and cousins who preceded him in death.
Joel is survived by his son, Jeremiah Johnston; Jeremiah's sister, April Rasmussen, of Utah' his parents: Patricia and Joe Leo of Eureka and William (Bill) and Joan Johnston of Ankeny, Iowa; his sister Rachelle (Shellie) ahd her spouse, Darin Taylor and their children, Joshua Johnston and Savannah Taylor; his brother Patrick Johnston and his children Alex, Kasidy and MaKinzie. He is also survived by his 3 loving nephews: Eric, Christopher and Matthew. Eric — his spouse Jeannette (Jennie) and their three children, Caleb, Kadence and Mariah from Tacoma, Wash., Christopher, his spouse Shalico and their two children, Lashyla and Jayden from Fortuna, Matthew and his loving partner, Heather Hardwich, from Eureka.
Joel's graveside memorial service will be held at Ocean View Cemetery on Friday, October 22, 2021 at 2 p.m. Please wear masks and practice social distancing. Thank you.
###
The obituary above was submitted on behalf of Joel Johnston's loved ones. The Lost Coast Outpost runs obituaries of Humboldt County residents at no charge. See guidelines here.