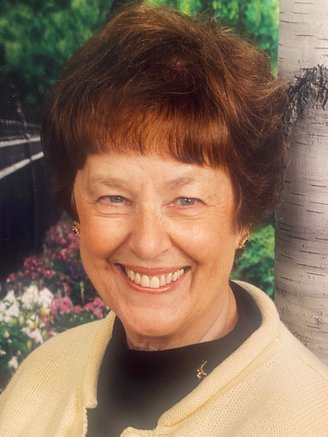 Mary Brady (Peggy) Kirkpatrick passed away peacefully on the morning of October 2 in Eureka at age 85.

She was an amazing friend, teacher, mentor, spouse, mother, and grandmother. She led a fulfilling life and will be missed. The family would like to thank her many friends who supported her throughout her life.
She was the daughter of Martin Brady (1883-1967) and Belmeta Filippe (1903-1981). Her parents lived above the Brady Café that they owned in Fort Jones, and after her mother went into labor, her Aunt Agnes drove Belmeta to the Yreka Hospital in a rainstorm to give birth to Peggy on January 17, 1936. Her father Martin was a cook and a restaurateur, and he moved the family many times during Peggy's childhood in a fruitless search for prosperity, taking them from Fort Jones to Norden, Truckee, Wolf Creek, Oregon, Montague, Bogus, back to Montague, Happy Camp, Eureka, Blue Lake, Hoopa, and finally Eureka. In the spring of 1943, while living in Montague, her dress accidentally caught fire while she was playing with matches in the backyard, and she spent three months in a hospital recovering. The experience gave her a resilience that remained with her throughout life.
She later attended Eureka High School and was inspired by both her mother Belmeta and Sarah Carter, her English teacher, to pursue a career in teaching. Sarah became a lifelong friend, and Peggy later attended Sarah's 100th birthday party in 2004. She married Robert Kirkpatrick on September 4th, 1955 at St. Joseph's Church to begin their 66 years of marriage together. Peggy received her Teaching credential from Humboldt State University in 1957 and began her teaching career at Grant Elementary School.
She took a leave from teaching in 1960 to become a mother, raising her three sons Kevin, Craig, and Ken. Summers were spent at the family cabin in Willow Creek, an idyllic setting for three feral boys near the Trinity River and the Dawson family cabin. She returned to teaching in 1972 at Franklin Elementary School as a Special Education Teacher, and later moved to Lafayette Elementary School after the closure of Franklin. Unlike her own childhood, the family only moved once, going all the way across town from Edgewood Road to H Street.
Peggy loved teaching, and in 1988 she was honored as the California Resource Teacher of the Year. Lafayette Elementary also honored her with Peggy Kirkpatrick Day on January 29, 1990 to celebrate her 30 years of teaching, her commitment, and her love for her students and profession. After retirement from Lafayette, she began a new career in the Humboldt State University Education Department, helping to train and launch hundreds of reading specialists. With her husband Bob, she established the "Peggy and Bob Kirkpatrick Special Education Credential Scholarship" fund through the Humboldt Area Foundation to help aspiring teachers at HSU, and she continued to teach there until she fully retired in 2017.
In later years she looked forward to annual family reunions with her children and grandchildren in Willow Creek and socializing with her many friends, including her Birthday Group and her Rosary Group.
Peggy was an icon in the community. She was gentle and kind, helpful to many people, and she made a real and lasting positive mark in the world. She was an active member of Sacred Heart Parish since its founding in 1964, and she loved her family, her friends, her colleagues, her students, and reading the last page of the book first. She did not like eggs, milk, or bats.
She is preceded in death by her parents Martin and Belmeta, and by her brother-in-law Don Vanni. She is survived by her husband, Robert, sons Kevin (Lisa) from San Carlos, Craig (Amy) from Moraga, and Kenneth from Key West, brother James (Mary) Brady from Auburn, sister Barbara Brady (Don) Vanni from Arcata, grandchildren Lauren Kirkpatrick, Julianna Kirkpatrick, Evan Kirkpatrick, and Colette Kirkpatrick, nephews Mark Vanni, Michael Vanni, Mathew Brady, and niece Barbara Brady Brooks.
A Requiem Mass will be held at Sacred Heart Church on Saturday, November 6th at 2 p.m., with a reception to follow on the church grounds. The family requests that all attendees be fully vaccinated. Her final resting place will be in the Kirkpatrick family plot at Ocean View Cemetery in Eureka. In lieu of flowers, donations can be made to St. Vincent de Paul, P.O. Box 1386, Eureka CA 95502-1386, or the Betty Kwan Chinn Homeless Foundation at https://www.bettychinn.org/donations.html.
###
The obituary above was submitted on behalf of Mary Kirkpatrick's loved ones. The Lost Coast Outpost runs obituaries of Humboldt County residents at no charge. See guidelines here.