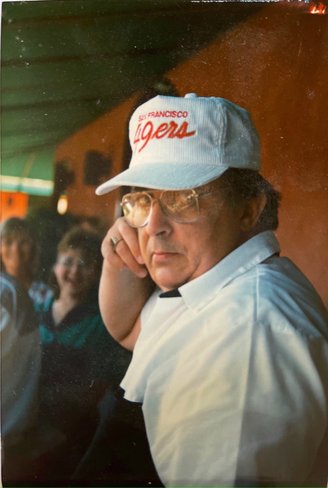 With extreme sadness, our family and friends have lost James Francis Gerace, "Jim." He passed away on September 6, 2021 at the age of 82. Jim was survived by his wife, or "angel" as he called her, of 60 years, Donna Gerace, and five children — Jimmy Gerace, Vickie Grammer, Ginger Rotbergs, Joseph (Dominic) Gerace and Jennifer Lewerenz. Jim had ten grandchildren, six great-grandchildren with one on the way, and his faithful canine companion, Queenie.

Jim graduated Patterson Park High School in Baltimore, Maryland in 1957, then joined the Army, where it took him to Korea for a brief stint. He became very prolific in Morse Code, holding a very high security clearance.
After Korea, Jim was stationed at Two Rock Ranch in Petaluma. That proved to be the move that changed his life and the start of his legacy. While on a week-end leave, he and a friend went to a local bowling alley in Petaluma, where Jim said to his friend, "See that girl over there? "That is the type of girl I'm going to marry". Two weeks later, Jim and his friend were at a local drive-up, where he saw "that girl" again. This time, Jim got her phone number. They were married three weeks later.
Jim and Donna moved their family to Eureka in the early '80s, where Jim transferred locations with PG&E as a meter-reader. Jim tirelessly worked his way through the ranks for 35 years and was a budget coordinator when he retired. Jim had a strong work ethic, which is why retirement did not last long. He found a small local security company, Initial Security in Eureka, where he could observe and report from his vehicle. With Jim's analytical mind, and professional office demeanor, he found himself running the local branch after only five months into his employment. Jim did this for 12 more years, then retired again.
Although Jim was a very dedicated and hard worker, he was more dedicated to his family. Jim had a very huge personality and was very heart-warming and welcoming to anyone that walked into his home. Jim was a foster parent to many, and a second Dad to many others. He also had a propensity to pick-up stray cats along the way and bring them home. He also loved the America he grew up in, NASCAR, Racquetball, eagles, and sweets! Jim's other passions included chess, where his analytical skills shined. He also taught chess to local youth. Jim loved agate hunting, wherein one particular day it led to him getting pulled out into the ocean by a rogue wave. At the last minute he grabbed onto a rock and held on.
Jim — a husband, a dad, a grandpa, a friend — was our rock, that solid personality that you could turn to for real talk and great advice, which truly came from the heart. We will forever hold on to that. We will always remember his favorite saying, "Loyalty above all else, except Honor."
Services will be held on November 21, 2021, 3 p.m., at First Methodist Church banquet hall in Eureka, where Jim will be honored and remembered in the company of family and friends. Feel free to bring your favorite dessert dish or Jim's (rhubarb pie).
###
The obituary above was submitted on behalf of Jim Gerace's loved ones. The Lost Coast Outpost runs obituaries of Humboldt County residents at no charge. See guidelines here.