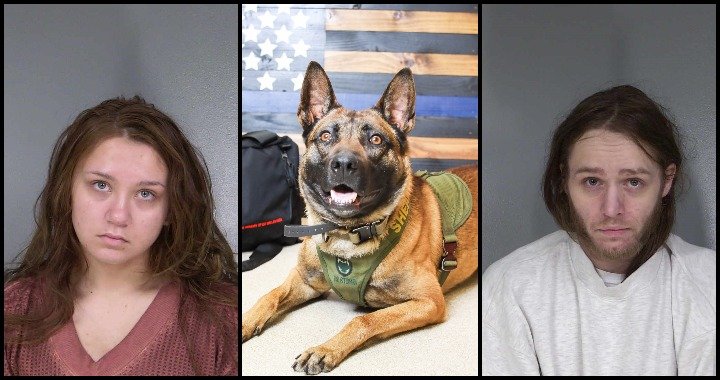 ###
Press release from the Humboldt County Drug Task Force:
On October 28th, 2021, special agents with the Humboldt County Drug Task Force (HCDTF) attempted to serve a search warrant and arrest warrants at an apartment in the 2500 block of Alliance Rd. in Arcata. Suspect Matthew Williams (29 years old) had two active felony warrants and Lila Perry (20 years old) had one active felony warrant. Agents had a signed search warrant to look for narcotics as well.

Agents performed knock and notice at the front door of the apartment and then made entry inside. Perry was arrested without incident and a second unrelated person was escorted out of the apartment. At the time information was obtained that Williams was hiding in the back of the apartment and was possibly armed. Agents requested a K-9 from the Humboldt County Sheriff's Office (HCSO) to assist.

HCDTF Agents made several clear announcements inside the apartment over approx. a 30-minute time period ordering Williams to surrender to arrest. Agents did not receive a response from Williams. HCSO K-9 Yahtzee was deployed in the apartment and located Williams hiding in a closet off the back bedroom. K-9 Yahtzee apprehended Williams with the assistance of his K-9 handler and agents. Williams was transported to Mad River Hospital for medical treatment related to the K-9 apprehension.

Agents conducted a search of the apartment and located quantities of suspected methamphetamine and heroin that will require further testing. Agents also located ammunition in the area where Williams was apprehended. Agents did not locate a firearm.

Perry was booked at the Humboldt County Jail for her felony warrant. After receiving medical clearance Williams was transported to the Humboldt County Jail where he was booked for his two felony warrants as well as a new charge of resisting arrest.

Anyone with information related to this investigation or other narcotics related crimes are encouraged to call the Humboldt County Drug Task Force at 707-267-9976.