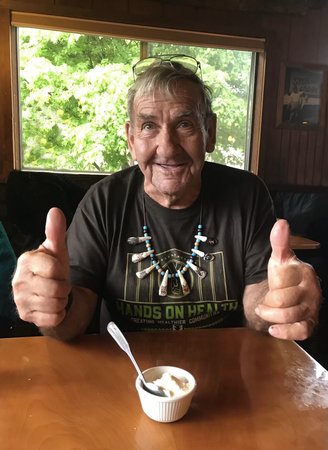 Donald W. Duclo was born on April 28, 1941 in Vermont, the son of Donald and Emma Duclo. Donald passed away peacefully in his sleep during the evening of October 17, 2021, in his home in Loleta.

He was born in Ludlow, Vermont and moved with his family to California when he was seven years old. To his sisters, he was known as "bug" because he was always bugging them. He joined the Army as a teen and served in Germany in 1959. As a young man, he worked hard in lumber mills from Scotia to Orick. Don was later employed by the Eureka City School District as a groundskeeper, where he and his wife Melva worked together for 18 years until their retirement.
Honest, hard work was a way of life for Don. And when he wasn't working, he enjoyed many outdoor activities from hunting deer, elk and ducks to fishing, eeling and crabbing. Don also loved harvesting abalone in Shelter Cove and Fort Bragg. He thought the world of teaching his girls how to harvest abalone since they were not interested in shooting animals that had eyes that stared back at them. He also worked along side his daughter Lee Ann harvesting wild berries for her Oceanside Jam business.
While most people slow down after retirement, Don spent his golden years carving redwood fence posts and grape stakes by hand, cutting firewood, and maintaining his property. He was always ready to help his family and friends in any way he could. He volunteered at the annual Inter-Tribal Gathering & Elders Dinner, Loleta Craft Fair and Swauger's Station Days.
Donald also enjoyed working in the Oceanside Jam booth at many of the Eureka and Fortuna area events and craft fairs with his daughter Lee Ann and her husband Gary. He loved seeing people he had not seen in years and delighted in telling them his numerous berry-picking stories. Always the kidder, when people would ask what his favorite berry was, he always said, "Strawberry," with a grin, "it's the only kind I don't have to pick."
Without Donald's drive and dedication to his family, Oceanside Jams would be a hobby and not the business it has become today. Donald was instrumental in growing the business as he harvested wild berries on a daily basis throughout Humboldt and Del Norte Counties from April to October each year. He harvested more and more berries as the business grew so everyone can enjoy the bounties of our area. He was so proud of how the jam business developed and the satisfaction and memories it provided to customers as well as himself. We often received letters, emails and phone calls encouraging us to continue because our Wild Berry products reminded them of their mothers, grandmothers, aunties and others jams they had when they grew up. The countless miles of walking, stinging nettles, poison oak, rugged terrain and ticks never foiled Don's berry picking! Don and Melva were married in 1961 and celebrated their 60-year wedding anniversary on July 31, 2021, with a BBQ at his daughter's house in Eureka. Don really enjoyed the opportunity to see all his friends and family, never missing an opportunity to tell a joke or funny story.
Don and Melva had their first child, Lee Ann in 1962, and their second child Donnell in 1963. Lee Ann is retiring from Oceanside Jams and a Program Budget Analyst at HSU. Donnell is retired from the California State Auditor's Office in Sacramento. Don was so proud of his "girls."
Don is survived by his wife Melva, his daughters Lee Ann Duclo Moore and Donnell Duclo, grandchildren Joshua and Lindsey Abernathy, sisters Joanne Machado and Margie Hooker, and many beloved extended family members and friends. He was predeceased by his sisters Shirley Nunes and Rosalie Johnson.
In his passing, Don didn't want anyone to stand around grieving for him and requested that no funeral services be held. Instead, he wished for people to remember him as they visit Table Bluff beach, enjoy fresh cooked crab or salmon. He spent a lot of his time on that beach, that was his happy place.
If you would like to make a donation on behalf of Donald Duclo, please send donations to the Loleta Volunteer Fire Department, PO Box 766, Loleta, CA 95551. Don could often be found burning brush on his property, and several times had the privilege of the Loleta Volunteer Fire Department assisting in extinguishing those fires.
###
The obituary above was submitted on behalf of Don Duclo's loved ones. The Lost Coast Outpost runs obituaries of Humboldt County residents at no charge. See guidelines here.