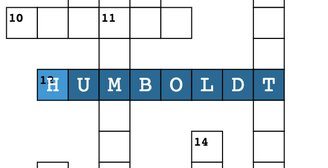 It's Thursday morning. You've got stuff to do. But not so fast! You have not yet attempted LoCO's super new "Humboldt Places" crossword puzzle, the result of someone at LoCOHQ saying, "What if we had a crossword?" and then someone else googling a way to quickly make that a thing. We were successful in making an OK looking crossword and now your day is delayed. Tough!
DO LoCO's HUMBOLDT CROSSWORD NOW.
Fair warning: Only the most grizzled of Humboldt insiders and/or old timers will be able to complete this crossword, so don't feel bad when you decide you'd much rather go count banana slugs in the yard. If you get stumped, call your grandma or your county supervisor. Go!
-LoCO's HUMBOLDT PLACE NAMES CROSSWORD-
# # #
Wow! That was so fun. So much so that now you're thinking, "When is LoCO going to ruin my morning with another one of these?" Hey, maybe. Why don't you give us a topic!?