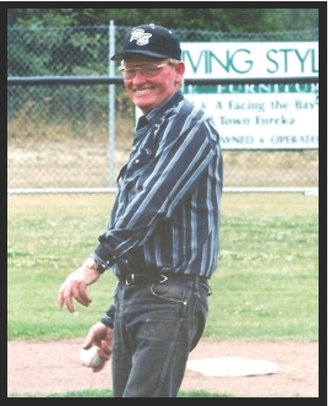 Richard "Rich" Olson, 81, was born December 20, 1939, in Hettinger, North Dakota to Rose Wandler and Wriley Irwin. He passed away peacefully Friday October 1, 2021, in his Eureka home with his family at his side.

Rich and Linda were married in Daglum, North Dakota on December 4, 1960, and moved to Eureka, where they have resided ever since, shortly after. Rich worked as a laborer/carpenter for many years for various people. He joined Eureka Construction, working for Pete Gill, until 1974 when he started RAO Construction.
Rich was a hard-working, dedicated man with the vision of building his company to what it is today. In 2002 he was named construction person of the year by Humboldt Builders Exchange, as well as receiving the Lifetime Achievement Award in 2016 and the 2011 Contractor of the Year from the Ingomar Club.
His legacy and work ethic continue through his three boys and grandchildren.
He was a member of Eureka Faith Center and the Eureka Elks Lodge.
Rich was an amateur boxer at the age of 21 and enjoyed golf and stock-car racing, but really kept himself busy with work. From his love of racing, Rich decided to pave the track at Redwood Acres Raceway and promoted racing for 26 years.
Rich was survived by Linda Olson, his wife of nearly 61 years; three sons, Rick (Suzi) Olson and stepdaughter Kasidy; Randy (Debbie) Olson and their children Randy Jr, Lacey and great-granddaughter Sophia; Rusty Olson and his children Shelby, great-grandson Laykin, Richard "Al" Olson II, great-granddaughter Ember, Rusty Jr, Alexus, Ricky, Royce, Jaylee, Vinitee and Halle; three sisters, Veronica "Ronnie" Ward, Paulette Papageorge, Pat Nichols; one brother, Merle Olson; sister-in-law Renae Heidt, and numerous nieces and nephews; many friends he considered close family: Bill and Terri O'Neill, The Marcelli Family, Ralph and Dorene Egerer, and Londa (Coy) and Tom Moore.
He was preceded in death by his parents, Rose and Einar Olson; mother- and father-in-law Emil and Frances Wendling; brother-in-law Tony Heidt; four brothers, Marvin Wilson, Jim Wilson, John Olson, and Larry Olson; three sisters, Mona Holt, Charlotte Horn and Martha Knorr; and good friends Gary Coy and Mercer "Old Man" Lawson Sr.
The Olson family would like to give a special thanks to Kristina Ellsworth and grandson Al for all their help allowing us to keep Rich at home and comfortable during his last few days.
In lieu of flowers the family is requesting donations be made to Redwood Fields for an honorary plaque for Rich's involvement with youth sports. Donations can be mailed to PO Box 327 Cutten, CA 95534.
A memorial will be held on Sunday October 24, 2021, from 2 p.m. to 5 p.m. at the Redwood Acres Fairgrounds Home Economics Building located at 3750 Harris St., Eureka.
###

The obituary above was submitted on behalf of Richard Olson's loved ones. The Lost Coast Outpost runs obituaries of Humboldt County residents at no charge. See guidelines here.