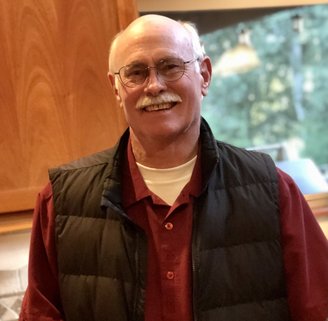 "Obrigado" is the Portuguese word for "thank you." While in Portugal, Dad couldn't remember that. He did, however, remember the Japanese word of the same meaning, "arigato." So, in true Dad fashion, he was constantly - and mistakenly - saying "thank you," in Japanese, slight head-bow included, to each and every encounter we had. It gave us all a good laugh, but also taught us that being kind is more important than being right.

Stephen James Hunt was born September 16, 1952 in Denver, Colorado. After moving around a while, his family settled in Los Angeles just before he turned two years old. There, he grew up on the beach, body surfing and playing volleyball, banging drums for his band, "Mother's Intuition," and was a member of the Junior Lifeguards and local YMCA. He attended South High in Torrance, where he played football and eventually met the love of his life, Diane. They married February 15, 1975 and a week later headed north to start their new life in Bayside.
His deep love of nature led him to earn a degree in biology from Humboldt State. Soon after, Diane gave birth to their children, Jessica "Spunky" Jean and Tyler "TDawg" William - the most adored and beloved gifts of his life. Many of those early years were spent camping and fishing with his buddies, playing beer league softball with "The Slugs" and starting his first business as The Mudman Drywall Company.
In 1986, they moved back to Los Angeles so that they could be near family and Diane could attend college. This led to more time on the beach and countless trips to Lake Mead with old friends and their aptly named boat "Ona Whim." After six years in LA, they returned to Humboldt and found their home in McKinleyville. Steve earned his General Contractor license and created Alternative Design & Development where he rejoined the building community as an early adopter of steel stud framing. He loved doing commercial and residential work.
Steve worked tirelessly to provide for his family. He absolutely adored his wife and would constantly remind his children how lucky he was that she chose him to be her life partner. Together they traveled to many places including Alaska, Hawaii, Mexico, Belize, Spain and Portugal. Although his immediate family was small, his extended family of friends gave him a big circle whom he loved greatly.
Steve's life energy defined him in many ways. Always going, always laughing, working hard and playing even harder. Whether it was on the racquetball courts, out on a boat, golfing or poker nights with the guys, he always found time to make the most of each day. Many referred to him as the "Energizer Bunny."
He always enjoyed listening to music and taught himself to play guitar in his 40's. A good blues album and cold beverage made him a happy man. His absolute favorite pastime was dancing with his bride.
Some of our fondest memories range from camping trips to Trinity Lake to winter trips to Mt. Shasta and Mt. Bachelor. Steve was always there with a dad joke, an unfiltered observation or a helping hand. He loved his friends and was a selfless giver. He absolutely adored his children and made sure to always let them know.
Most of his summers were spent on Trinity Lake with family and friends, camping on "The Island" and eventually joining the Redneck Yacht Club as a house boater and captain of the "Pura Vida." He turned countless first time lake goers into wakeboarders, enthusiastically welcoming them into the "Shredder's Club." Every morning, he started the day with a dive into the freshwater. He would often reflect, on a quiet sunset on the water, how beautiful this life, the nature and the calm were to him.
One highlight of his later years was helping Diane with her pepper jam business, with his signature chili-pepper shirts and that never-ending smile. They were regular fixtures at local fairs and festivals and made many fans and friends from these adventures.In 2010, he started working at HSU as the Lead Painter, a job which held until he retired. He loved working in the university setting and the camaraderie of the department in which he worked.
Upon retirement in 2019, Steve was diagnosed with Parkinson's Disease, a heavy blow to everyone. Despite this, he held a positive outlook and never stopped dreaming or holding onto the good. That battle ended quietly, at home, in his sleep on August 19th, 2021. He was a kind and energetic soul and will be greatly missed by all that knew him.
Steve leaves behind his wife of 46 years, Diane; his children, Jessica (Tavis), Tyler (Ali); grandchildren, Davin and Dylin Cain and Marzo Hunt; his mother, Louise Sowerby and many other beloved family members.
A celebration of life will be held in October at the home he built for his daughter. Please contact the family for more details.
In lieu of flowers, please consider donating to Parkinsons.org or a charity of your choice.
###
The obituary above was submitted on behalf of Stephen Hunt's loved ones. The Lost Coast Outpost runs obituaries of Humboldt County residents at no charge. See guidelines here.