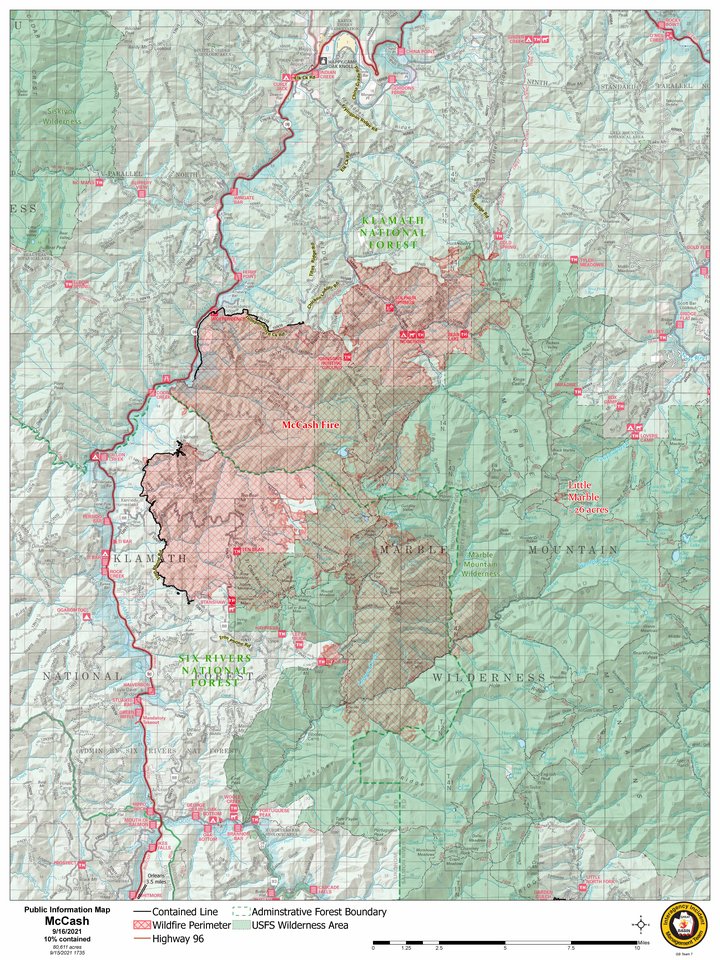 U.S. Forest Service press release:

The McCash Fire has grown to 80,611 acres. Increasing 1,799 acres from yesterday and is 10% contained. The Little Marble Fire is 26 acres and 100% contained.

Total Personnel: 632 | Crews: 10 | Engines: 19 | Dozers: 5 | Masticators: 12 | Watertenders: 11 | Aircraft: 8

Containment lines along the western edge of the McCash Fire continue to hold as firefighters work to secure them further with mop up. Helicopters cooled the edge of the McCash Fire that is encroaching the 2017 Ukonom burn scar and doused spot fires in the area.

The fire continues burning near Elk Creek and is making its way down into the Bishop Creek drainage. Hotshots have set up pumps and hose lines in Bishop Creek and are working to knock the fire down. Firefighters are looking at implementing alternative holding lines off Titus Ridge to give them additional strategies to utilize in the coming days.

Helicopters supported firefighters along Doolittle Creek Road as fire activity picked up yesterday afternoon. Unlike previous days, fire activity subsided near Huckleberry Mountain. Fire managers are scouting out holding options closer to the northeast edge of the fire.

The Highway 96 Structure Group will continue contacting property owners to assess and prep structures in the Lewis Creek, Butler Flat and Somes Bar areas. Prep includes brush clearing and installing hoses, pumps and sprinklers to protect homes and other infrastructure.

Fire managers are looking at potential places for handline to hold the southern edge. They are considering Portuguese Peak and Wooley Creek trails. Recent fire history is inhibiting fire growth to the east.

Little Marble firefighters are continuing to mop up and fully extinguish the fire. They will start back hauling gear today.

Meteorologists are predicting wetting rains for Saturday, which firefighters hope will support them in suppression operations.

Closures: Check for closures on the Klamath NF and Six Rivers NF websites. Please be cautious if you are in the area for your safety and firefighter safety.

Evacuations: Siskiyou County Sheriff's Office Facebook: @SiskiyouCountySheriff

The Shasta-Trinity National Forest will remain closed until 11:59 P.M. on Friday, September 17, 2021. The Monument Fire area closure will remain in place, along with other local closure orders. All Shasta-Trinity National Forest closures can be viewed on the forest website. Before going into the forest, please check the website and know what areas are open and where the forest is closed for public safety.

For questions about the River Complex Fire, please call the River Complex Fire Information Line at (707) 596-6075 or email 2021.river@firenet.gov. Information about the River Complex can be found in InciWeb at www.inciweb.nwcg.gov/incident/7760

COMMUNITY MEETINGS: There will be two face-to-face community meetings today. The first will be at the Hyampom Volunteer Fire Department in Hyampom at 11 A.M. The second will be in Hayfork at Hayfork Park off Highway 3 at 3 P.M. The meetings will be outdoors and include operations information about the Monument and Knob Fires and an opportunity for the public to ask questions.

There will be a virtual public meeting on Saturday at 6 P.M. People will be able to attend on the Shasta-Trinity National Forest Facebook page, on Zoom or by calling in. Links and additional information will be available tomorrow.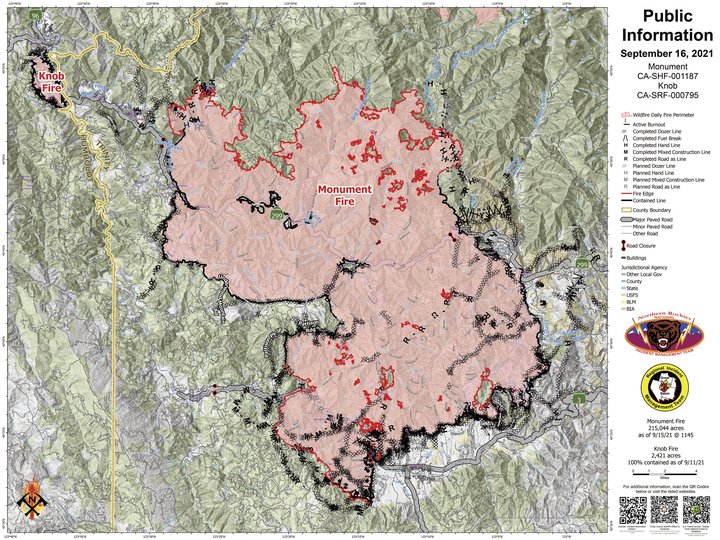 MONUMENT FIRE:
Resources: 1,402 personnel, 26 hand crews, 95 engines, 12 helicopters, 16 dozers, 12 water tenders, 16 masticators

Current Situation: The Monument Fire is approximately 215,944 acres and 50 percent contained.

Yesterday fire behavior was active in the afternoon, after the smoke inversion lifted at approximately 4 P.M. Fire flanked west into the wind above Hyampom Road and actively burned in pockets of green fuel inside the fire's edge on the north side of the Hayfork Creek drainage. The northwest side of the fire in the New River area began active burning earlier than other areas because smoke lifted and winds were brisk on the ridge tops. The clear air allowed aircraft to get over the fire, and fire retardant and water drops were successfully made in that area. Fire spread was limited in the drainage between Limestone and Backbone Ridge due to the north-northwest winds and smoke coverage but remained active.

Overnight the fire continued to be active until 4 A.M. this morning, when it moderated somewhat. Crews were deepening containment lines on the southwest portion of the fire and caught and lined around one spot that went over the line. Burning debris rolling down hill near Hyampom Creek caused a 7-acre spot fire. Crews worked to prevent rollout in the Backbone Ridge area. Burning around the Denny road was more moderate than other areas of the fire.

Today crews will continue to hold and mop up current lines, working to get ahead of rollouts and slop overs from last night, and preparing for an increase in fire activity once the smoke inversion lifts and winds increase this afternoon and evening.

KNOB FIRE: The Knob Fire remains at approximately 2,421 acres and 100 percent contained. Fire behavior continues to be primarily isolated low-intensity surface fire within the control lines. No growth has been reported as the fire slowly consumes unburned fuels within the containment lines.

WEATHER AND FIRE BEHAVIOR: Today the weather is expected to continue with similar temperatures and relative humidity as yesterday. Smoke is expected to moderate conditions again until early afternoon. Winds will blow from the west, so the first clearing and increase in winds is expected on the northwest corner of the fire near Trinity Village. The inversion is expected to lift on the northeast side of the fire an hour later. Winds may gust up to 20 miles per hour. A low-pressure trough will move through this weekend and is expected to cause gusty winds on Saturday and with a probability of some rainfall Saturday night and early Sunday morning.

ROAD CLOSURES AND RESTRICTIONS (Trinity County):

· Denny Road is closed at the intersection of Ziegler Point Road.

· Hyampom Road is closed between St John Road/Forest Service Road 10 and Lucky Jeep Trail (between Little Creek and James Creek.)

· Tule Creek Road at Jesse Road is closed to everyone except those with proof of residency.

· Big Creek Road, Soldier Creek Road, Barker Valley Road, Barker Creek Road, and Carr Creek Road are closed.

· Big French Creek Road and Big Mountain Road are closed.

· A segment of State Route 299 between mile post 7.4 (near Burnt Ranch at Berg Road) and mile post 36.3 (just west of Helena) is open to through traffic and residents on the following schedule: Monday through Sunday, from 7 A.M. to 7 P.M., an escort vehicle leads traffic through the closure every 1.5 hours. Overnight, from 7 P.M. to 7 A.M., the road is open only to residents with proof of address.

EVACUATIONS (Trinity County): The following information was taken directly from Trinity County Sheriff's Office Facebook page. Evacuation orders and warnings can be issued or change suddenly; if you have questions about evacuation boundaries, call Trinity County Sheriff's Office at 530-623-2611.

· Order: All areas along Denny Road northeast from Zeigler Point Road through Denny proper to the Trinity Alps Wilderness boundary

· Order: All areas along Hyampom Road from Grassy Flat Road west to St. John Road. This includes Bar 717 Camp. All areas south of the intersection of FS Road 10/ St. John Road south to Sydney Lane. From Sydney Lane northeast through FS Road 10/ St. John Road to Oak Ridge

· Order: Intersection Tule Creek Road at Jesse Road, south along Tule Creek Road to intersection FS Road 31N31, west on Tule Creek Road/FS Road 10 to FS Road 7, west of FS Road 7 along Tule Creek Rd/FS Road 10 to Oak Ridge to FS Road 3N08. All areas along Tule Creek Road/FS Road 10 through Indian Valley. Roads and areas included are Land Acre Road, Mule Lovers Lane, Buck Gulch, Cow Gulch, and Tule Divide

· Order: All areas along Hyampom Road between Lucky Jeep Trail and Halfway Ridge

· Order: Helena/East Fork Road, Hobo Gulch Road, Big Mountain Road, and Big French Creek Road