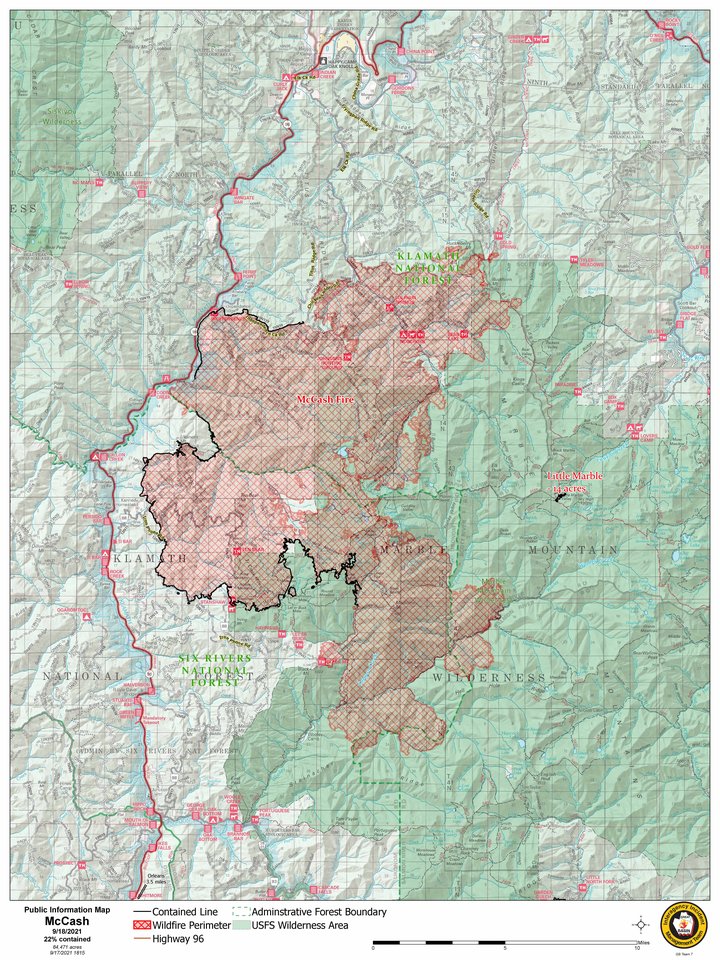 U.S. Forest Service press release:

The McCash Fire does not have an updated acreage. It was last mapped the evening of Sept. 17 at 84,471 acres. Containment decreased to 22 percent because of fire growth that occurred before rain came through Saturday.

Yesterday, cool, wet weather tamed the fire and brought relief to firefighters. Rain showers brought almost an inch over some areas of the fire. The weather also brought debris and rock slides that will have to be cleared by heavy equipment from the roadways. Firefighters continue to patrol the fire area and engage where they can.

Rain showers are expected to continue through the morning, then dissipate in the afternoon. Fire activity will be minimal today and likely the next few days. Logs and trees will continue to smolder and burn. Another week of hot, dry weather is expected, which will awaken the fire. Firefighters will take advantage of the subdued fire by directly engaging it, specifically along Titus Ridge, and reinforce containment lines.

Today, Great Basin Incident Management Team 7 will begin transitioning with Alaska Incident Management Team 1. Thank you for welcoming us into your community. Alaska IMT 1 will assume command of the fire Monday, Sept. 20 at 6:30 a.m.

Total Personnel: 675 | Crews: 12 | Engines: 22 | Dozers: 5 | Masticators: 4 | Watertenders: 10 | Aircraft: 8

Evacuations: Evacuations that were implemented Friday, Sept. 17 south of Mile Marker 2 on Elk Creek Road have been downgraded to a warning. Siskiyou County Sheriff's Office Facebook: @SiskiyouCountySheriff

Closures: The Six Rivers National Forest and Klamath National Forest have implemented a closure for the McCash Fire area. This includes the Marble Mountain Wilderness. Please respect the fire closure for your safety and firefighter safety. To view the closure order and map visit the McCash Fire Inciweb website.

Fire Restrictions: Fire Restrictions remain in place. Please visit forest websites for more information.