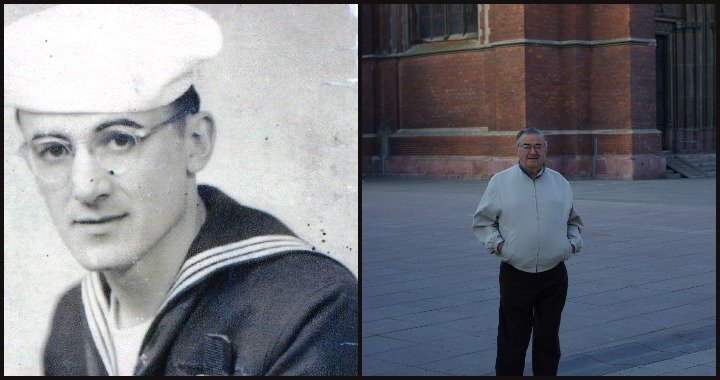 Eli Jurkovich went with God, during his sleep, early morning September 6, 2021, at the age of 92 at his home, in Eureka.
Eli and his 10 siblings were 1st generation born Americans to immigrant parents – Vaso Jurkovich and Stana Perovich from Montenegro and Serbia. He was born in Red Lodge, Montana, August 19, 1929. His father worked as a coal miner in Red Lodge and nearby Washoe.
Eli started working when he was around 10 years of age setting pins at the local bowling alley and that work ethic stayed with him his entire life.
Other childhood jobs included working in a bakery with a deaf mute who taught him sign, picking and sorting coal, and selling newspapers. After graduating high school, he went to work at the Yellowstone Inn, where he met his future wife and mother of his children, Patricia Ann Kinsella. When the Inn closed for the winter, Eli bell hopped at the exclusive Goodyear Resort in Goodyear. Arizona.
When the Korean War broke out, Eli volunteered for the U.S. Navy. Before going to sea, he married Patricia in San Diego, December 23, 1950, at the Naval Training Station.
After four years in the US Navy, Eli took a job with Stuart Floor Company, located in Redwood City, as a hardwood floor sander and finisher. Within a short period of time, he became foreman of a crew 100 strong, who floored much of the post-war South Bay area growth explosion.
Eli was not only the hardest worker in his day job; he took a second job cooking burgers at night to get ahead. His frugal wife saved and they were able to buy into partial ownership of Eureka Floor Company in 1959. With his hard work and drive to succeed, the business thrived.
He retired at age 65 and pursued a new love in life – horse racing. For a decade and a half, he was a fixture at the Turf Club where he made new group of friends. In the weeks preceding his death, he attended the horse races at the Humboldt County Fair – He loved the long shots and the trifectas.
Eli was generous with many charities. He particularly liked helping fellow veterans. If anyone is moved to make a donation in his name, The Veterans of Foreign Wars would be a good one.
He is survived by his ex-wife Patricia Kinsella, his eldest son Mike Jurkovich, his daughters Patty Hoskins, Mary Ann Wick, Marty Jurkovich Curtis, his youngest son Robert Jurkovich, his youngest brother Nick Jurkovich, 8 grandchildren, and 14 great grandchildren. And, his loving companion for over 30 years, Barbara Randle.
There will be no funeral or memorial service as per his wishes. His family will take his ashes back to Red Lodge, Montana to be buried in the family plot with the ashes of his heart dog Joey.
Every time Eli would leave his mother's home, she would always tell him "Go with God." It is hard to know if it was just a coincidence that his final journey occurred on Labor Day.
He will forever be in our hearts.
###
The obituary above was submitted on behalf of Eli Jurkovich's loved ones. The Lost Coast Outpost runs obituaries of Humboldt County residents at no charge. See guidelines here.