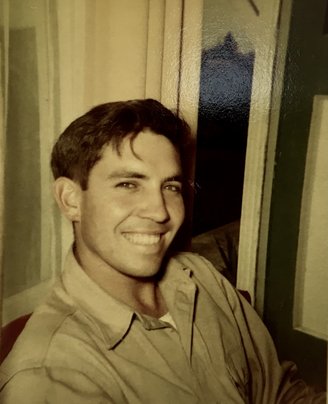 On March 18, 1926, James Cruz was born in Eureka to Jose and Rosalina Cruz, natives of Obidos, Portugal. On September 17, 2021 on a Friday night, after a long week of love, surrounded by dozens of his offspring and with his devoted wife Colleen Cruz by his side, Jim took his last breath, and went to join his family in heaven. Jim was 95 and a half years old.

Jim was the youngest of six children born to Jose and Rosalina. His older brothers Joe and Mario were both born in Portugal before his parents were separated by World War I. Jose immigrated to the United States before the war, and then immigration was halted until the war ended, meaning Rosalina was left behind in Portugal with her two young boys. When Rosalina was finally able to reunite with her husband, she made that trip alone with her son Joe, as young Mario had passed away at age six from the Spanish flu.
Jim recalled, thinking of his mother during her travels, "Just think of that trip from Ellis Island. She came all the way to Eureka on the train. Without any English. Joe was only seven; he didn't have much English. She must have had to make quite a few connections on her own."
Rosalina and Jose Cruz settled in Samoa, California. They went on to have four more children, Frank, Jack, Mary and Jim, the youngest.
Jim was well known as an expert carpenter, a successful contractor, an avid gardener, a faithful servant to his beloved parish Sacred Heart Church, a lifelong volunteer of Saint Vincent de Paul, and best of all the father of thirteen kids, and 'Grandpa Jim' to oh about seventy or so grandkids, great grandkids and two great-great grandsons.
Jim was a proud veteran having served in the US Navy in World War II.
One night shortly after he got out of the service in May, 1946, Jim's life changed. He went to a dance with his friend Max, and met a dashing beauty by the name of Colleen Atwell.
Colleen's sparkling eyes and mischievous smile caught Jim's eye, and that rascal of a girl told young Jim that she was seventeen (she was really fourteen!). On June 7, 1947 at "about 9 p.m." Jim and Colleen had their first date at a Portuguese festa.
According to Colleen, "He was too shy to come over and meet my mom and dad for a while. My mother took one look at him and said, 'Oh! He'll want to marry her!' My dad liked him because he was a carpenter."
Jim and Colleen Cruz have been sweethearts for seventy-five years.
Regarding their engagement, Colleen recalls, "He got me a ring for my birthday, He came over with that chicken sh*t grin, and I knew he had something going on."
Jim said, "She wanted to get married sooner, but her dad wouldn't let her. He wanted her to finish high school."
So that vixen Colleen finished high school a full year early, graduated on a Friday and got married the next morning at 10 a.m.
Jim and Colleen were married at St. Bernard's Church, in Eureka on June 11, 1949. This past June they celebrated their 72nd wedding anniversary, those show offs!
On April 4, 1950, their first daughter, Jeanette was born. Joined (shortly) after by a row of beautiful little girls, Vera, Marla and Connie. Then in 1956, their first son Mark was born. Jim and Colleen went on to have thirteen kids in all, Dan, Tim, Andrea, Matt, Teresa, Tony, Monica and their final baby boy Jeremy Jon was born in 1971.
It is said that what you leave behind is not what is engraved in stone monuments, but what is woven into the lives of others. Well, Jim Cruz did a lot of weaving in his ninety-five years, and his family and friends will carry his love in their hearts forever.
Jim Cruz is survived by his wife Colleen, his sisters-in-law Anita Brazil and Joan Golbov, his daughters Jeanette Cruz (Marc Matteoli); Vera Cruz; Marla Sanders; Constance Mangels; Andrea Murillo; Teresa Rasmussen (Jeff); Monica Barnum (Bill); and sons Mark Cruz (Liz); Dan Cruz (Terrie); Tim Cruz (Julie); Matt Cruz; Tony Cruz (Ida); and Jeremy Cruz (Kate). He is survived by grandchildren Mason, Maria, Janna, Jaime, Mario, Jordan, Joelle, Michella, Bethany, Ryan, Tara, James, Aleta, Kenny, Katie, Cody, Jed, Mickey, Tyson, Jake, Joe P. Jesse, Kelsie, Emily, Lindsey, Brandon, Ross, Alyssa, Joe C., Amanda, Chase, Jarae, James Q., Aurelia, and Sofina. Jim is survived by thirty-four great grandchildren and two great-great grandsons (and counting!).
A celebration of Jim's life will occur at Sacred Heart Church in Eureka on Saturday, September 25, 2021 at 10 a.m.
In lieu of flowers, donations can be made in Jim's name to St. Bernard's Academy.
###
The obituary above was submitted on behalf of James Cruz's loved ones. The Lost Coast Outpost runs obituaries of Humboldt County residents at no charge. See guidelines here.