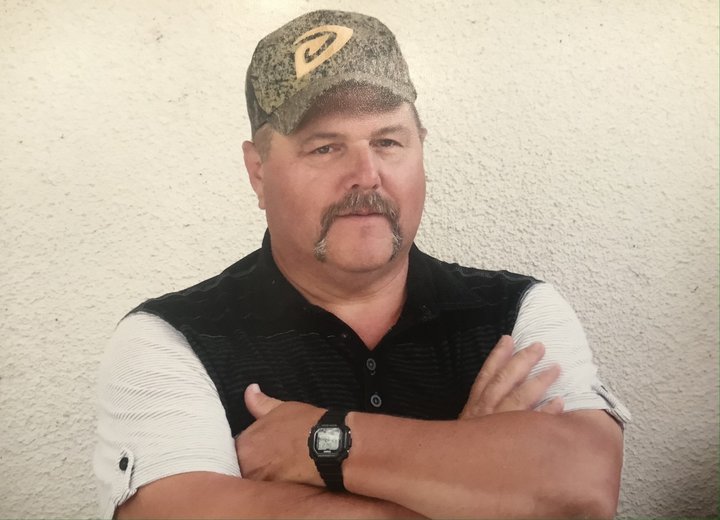 Roger Neal Coleman Sr. passed away August 3, 2021 at Petaluma Valley Hospital from sudden illness, at the age of 61. He was born on July 23, 1960 to Larry and Veltha Coleman of Blocksburg. Roger grew up in Blocksburg and went to Casterlin Elementary School. He attended South Fork High School after, where he played football and wrestled, graduating in 1978. He spent his summers going to rodeos riding bulls, working on local ranches and one summer, working for CDF fighting fires. Roger loved the excitement of fighting fires. He eventually went on to do logging for Lonnie Johnson.
Roger met his wife, Bonnie Baskin, through mutual friends in 1980 and they were married in December of 1981. They lived in Orleans where their three children were born. In October of 1990, when the logging outfit Roger was working for moved to Idaho, he and his family followed. They stayed in Idaho for five years, soaking up all the outdoors had to offer…hunting, fishing and horseback riding. When Roger wasn't working or in the outdoors, he was busy watching his children play sports. The love he had for his children was big!
In the fall of 1995, he moved his family back to Blocksburg and continued logging. Roger and his two brothers had their dreams come true in 2003, when they started their own logging business. Roger also helped to start the Alderpoint Fire Department in 2007, becoming a founding member. At the time of his passing, he was still an active member of the fire department. Helping others was very important to him and he would give the shirt off of his back to anyone who needed it.
While his kids were growing up, Roger always supported them, going to every sporting event, even cheerleading for his daughters. You would never see him in the bleachers, instead he was on the sidelines, rooting his kids on. Many friendships were formed on the fields in Miranda that became like family. Roger loved spending time with his family! Anytime someone would ask "what do you want for your birthday?" he would simply say that he wanted time with his kids and grandkids. He enjoyed metal detecting and loved taking his grandkids with him to find 'treasures'. Being a grandpa was Roger's pride and joy! He would do anything for his grandkids. He supported them and went to all of their sporting events, from basketball and t-ball to softball and ballet recitals. Roger loved taking all of the grandkids to the Humboldt County Fair, soaking up every moment with them that he could, spoiling them "just as Grandpa should!"
Roger had planned on retiring when he was 62, spending his days in the garden, on the lake and with his grandkids. One of his favorite pastimes was fishing and going to tournaments with his son Roger Jr. He and his son did good in many of the tournaments they attended and often came home with trophies, which Roger proudly hung on his living room walls. Anytime spent on the lake with his kids or his grandkids made Roger happy. He was the best cook and could often be found by the BBQ at get-togethers and family dinners. His meat was always cooked to perfection and delicious. Roger was also 'Mr. Fix It'. If anyone needed anything fixed, from small items to big diesel engines for the logging company, they would come to him and he could fix it. He would fix broken toys to stop the tears of children and anything around the house. Roger could also sew and had hurts dogs brought to him to be stitched up on more than one occasion. There was nothing Roger couldn't fix! He was a hard worker, providing for his family in ever way he could. Roger was a true hero to many!
Roger is survived by his wife Bonnie, his son Roger Jr. (Cheyenne), his daughters Stacy (Jed) and Amanda (Calvin), and by his grandkids Mackenzie and Leila Coleman, Brooklyn and Keegan Willis, and Ailana, Taylor and Sterling Kercher. He is survived by his mom Veltha Coleman, his brother Ricky (Kelly) Coleman, his sisters Jackie (Glenn) Lipscomb, Shanna Humphrey, Sharon (Kevin) Walker and by numerous nieces and nephews, along with great-nieces and great-nephews, and friends. Roger is proceeded in death by his father Larry Coleman, his brother Russell Coleman and his sister Rebecca Coleman.
A celebration of life will be held on October 17, 2021 at the Alderpoint Firehall at 1 p.m. in the afternoon. Meat will be provided, please bring a side dish. The family requests that anyone who is sick or has been around someone who is sick, as much as you want to attend, please stay home to keep others healthy.
###
The obituary above was submitted on behalf of Roger Coleman's loved ones. The Lost Coast Outpost runs obituaries of Humboldt County residents at no charge. See guidelines here.