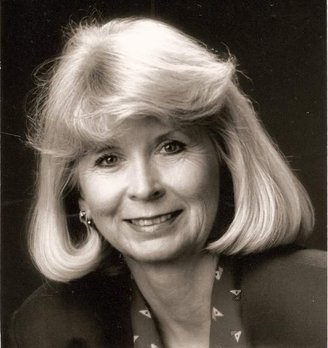 Sally Jo Arnot was born Nov. 8, 1938, in Eureka to Dick and Ida Watson. She was married to Philip M. Arnot for 64 years, passing away early in the morning of Sept. 15, 2021. She was a loving mother to her sons Michael and Stephen Arnot, and a supportive sister to her brothers, Rick and Chris Watson.

Sally was a passionate advocate of the arts in Humboldt County. She was the President of the Humboldt Arts Council for many years and spearheaded the purchase of the Carnegie Library, now the Morris Graves Museum of Art. Sally committed years raising and donating funds to retrofit and restore the museum. Sally was appointed by Governor Deukmejian to the California Arts Commission, where she was able to highlight the rich arts community in Humboldt County. Sally also served on the board of directors for the Bank of Loleta, prior to its merger with US Bank.
After her marriage to Philip in 1955, she worked as an escrow officer at the Humboldt Land Title Company, owned by her in-laws, Jocko and Lucille Arnot. While Phil attended law school in San Francisco, Sally worked for California Pacific Title Insurance Company and Draper Company real estate. She loved the Bay Area. A little-known secret about Sally was that she did not want to leave San Francisco. Instead, she made a deal with Philip that upon returning to Eureka, they would continue traveling each and every year. Sally and Philip have been to more than 50 countries during their marriage. And so, the adventure began, and did not end until their recent move to Lake Oswego, Oregon, to be closer to her two sons and five grandchildren.
Sally was known as "mom" or "grandma" to the family. She was the backbone of the Arnot clan, always giving of her time. She was a strong advocate and cheerleader for her children and provided that motherly guidance from her life experiences. Yet, she also knew when it was time for her children and grandchildren to learn from their own life experiences. Sally believed, "It is not what you do for your children, but what you have taught them to do for themselves that will make them successful".
Her untimely passing came as a surprise to all the family, especially given her good health and great attitude. But as she always said, it is better to leave this life worn out, exhausted yet fulfilled with memories than with regret. Sally accomplished just that and even though she leaves behind her husband of 64 years, both sons and younger brothers, this impression will never fade.
Sally Arnot was a special lady who captivated you with her elegant style, beautiful smile, and vivacious personality. You will be missed, and your impression, like a masterpiece, will never leave us.
Sally is survived by her husband, Philip Arnot, her sons, Michael and Stephen and his wife, Andrea, her grandchildren, Eloise, Samuel, Camille, Nicholas and Alexis Arnot, her brothers, Rick and Chris Watson and numerous nieces and nephews
There will be a graveside memorial service at Ocean View Cemetery on Friday, Sept. 24, 2021, at 2 pm. Friends and family are welcome to attend. A "Celebration of Life" honoring Sally will be held at the Morris Graves Museum of Art. Details to follow.
In lieu of flowers, the family respectfully asks that all donations be made to the Humboldt Arts Council - Morris Graves Museum.
###
The obituary above was submitted on behalf of Sally Arnot's loved ones. The Lost Coast Outpost runs obituaries of Humboldt County residents at no charge. See guidelines here.