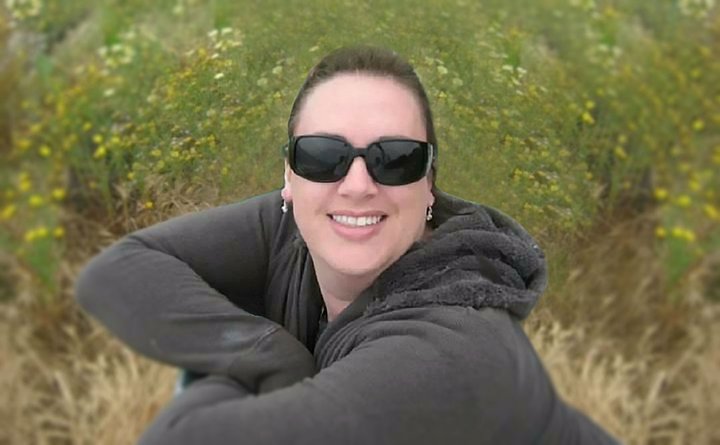 Carole Ann Marie Morgal passed away peacefully in her sleep August 29, 2021, after a fast, yet brutal, battle with ovarian cancer. She was just 44 years old.
Carole was born prematurely to parents Richard Frederick Morgal and Mari-Lynn Irene in Huntington Beach. Her father took many photos of Carole during her first year of her life with his brand-new camera. Carole was not interested in smiling for the camera, so her dad had a huge collection of photos with everything but a smile. For this reason, he nicknamed her "The Curmudgeon." Then when Carole was barely a year old, he lost his own battle with skin cancer. When Carole was four years old, her mother, Mari, passed away from respiratory issues, and Carole ended up living with her aunt, uncle and cousins.
Carole's childhood was filled with many activities. From the age of 5 until 18 she participated in Camp Fire Boys and Girls. This is where she learned to be an excellent crafter using found objects. She enjoyed mentoring the younger kids and teaching them how to create things. Carole attended Lakewood High School for her first three years, where she played soccer, volleyball, was in drama, and took honors classes. After her junior year, Carole moved to Bend, Oregon to finish her senior year at Redmond High School. After high school Carole furthered her education at Humboldt State University. She majored in journalism and quickly started working at KRFH – "Radio Free Humboldt."
After college Carole moved to Cologne, Germany for two years. When she came back to the states, she moved to Leucadia to be near her brother, Richard, and that is where she met her future husband, "Ric."
Carole left Southern California and returned to Humboldt, and Ric followed shortly after.
In 2006 Carole Ann was hired by Patrick Cleary at Lost Coast Communications to be the first live DJ on KWPT The Point. Carole poured her full self into it.
Carole was determined to get the station's name out into the community, so she designed crazy parade floats (single-handedly, in her off time, from her garage), with live bands playing music for the Rhododendron Parades for many years, along with crazy costumes that she created as well. She participated in many different community events, such as Pastels on the Plaza, where she would knock out amazing artwork of outstanding classic rock artists, or the Shuck and Swallow oyster-eating contest. She built sand sculptures for Friends of the Dunes. Over the years, she created a lot of art and creatures including rock and roll Gnomes, Christmas oddities and she added more events each year. Carole also invented the Food for Fido event on The Point radio station, which was a fundraiser for local animal causes and agencies in Humboldt. She was a huge fan of all animals, big and small. Really the only animals she did not enjoy were snakes and wild rodents.
Carole was extremely intelligent but rarely boastful. Her often mismatched socks in color or length was by personal preference. She was tenacious, and rarely left any project unfinished. If you were a true friend of Carole's, she was loyally in your corner forever. And if you crossed her, you would likely end up in the other category, with no hope of ever exiting.
Carole could find treasure in many of the local thrift stores and upcycle it with all sorts of doodads, hot glue and glitter. Many trophies were made by Carole for her coworkers and for the local bands of the Classic Cover contest that she created to get live and local music onto her classic rock station.
Carole and Ric were married in May of 2011 in an intimate outdoor wedding overlooking the ocean in San Diego, with just a few friends and family present.
Carole became the programming director for all four radio stations at LCCI. The vision, innovation and tireless creative energy that transformed The Point made her perfect for the new position.
Carole was always a great cook. She was also very giving and generous to marginalized and handicapped people. During the holidays she would often cook larger meals to include extra guests at her home. During the pandemic, she and her best friend Kelly began baking together via Zoom. Occasionally family and friends would get together over Zoom for game and trivia nights.
There was one more game night after Carole and Ric went to San Diego to receive treatment for cancer in June. No one knew they would be saying goodbye to her before the end of August.
Carole Ann was preceded in death by her father, Richard; her mother, Mari; grandfather Paul and grandmother Dorothy. She is survived by her husband, Ric; her brother, Richard; nephew, Jasper; many cousins, aunts and uncles; and her two sweet cats, Nigel and Maggie.
There will be a Celebration of Life and spreading of her ashes at a yet to be determined date. Carole loved the Redwoods and the river, and it will be near them that we will gather when it is safe to do so.
Carole Ann's husband is now left with all the medical bills. If anyone wishes to donate, a GoFundMe page link is here. Also, if you wish to listen to a 10-minute audio snippet from Carole's tribute day on The Point radio station and a photo sampling of the art and creatures she made, visit the KWPT The Point Facebook page.
###
Ed. note:
We at the Lost Coast Outpost — KWPT's sister site on the Internet — worked with Carole Ann for the last 10 years and some, and we just want to say that it's hard to imagine the company without her energy, without her bugged-out eyes and her aggrieved outrage at the world's injustice — to The Point, to classic rock in general and to herself in particular. It was the fuel that fed her remarkable furnace.
She could laugh at herself as easily as she could laugh at you, and that made her a very fun person to be around at company-wide meetings and holiday parties and the like. We will miss her very much.
###
The obituary above was submitted on behalf of Carole Ann Morgal's loved ones. The Lost Coast Outpost runs obituaries of Humboldt County residents at no charge. See guidelines here.