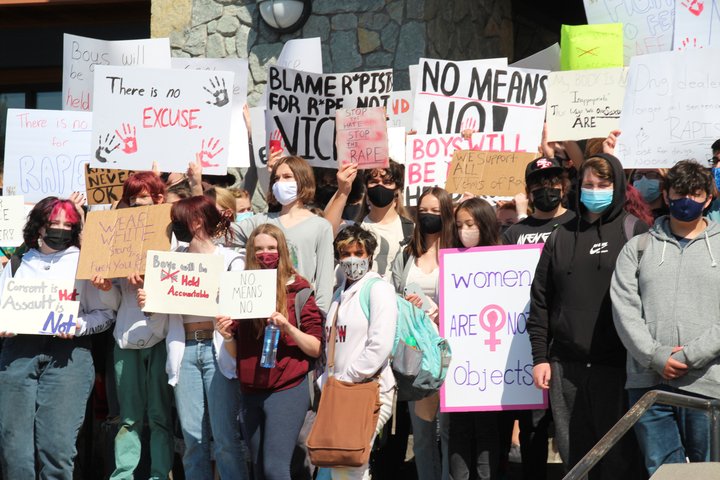 ###
Following a string of high school protests in Fortuna, Eureka and McKinleyville, students from Academy of the Redwoods walked out and marched yesterday afternoon to call attention to sexual assault.

First reported by Kym Kemp for Redheaded Blackbelt, the walkouts were organized in support of a student enrolled at Fortuna High School who was allegedly sexually assaulted by a fellow student and football player at a party last month, and another student at a high school in Eureka who was also allegedly sexually assaulted by a peer. Both students felt they were not supported by their schools once staff was made aware of the alleged assaults, and the Fortuna High student said she faced backlash from some students once the story started spreading.
"[We are marching] so their voices are not silenced like they are trying to be," Academy of the Redwoods student and walkout organizer Mina Morris told the Outpost. (Academy of the Redwoods is a part of the same school district as Fortuna High School — Fortuna Union High School District.) "No matter what the school has to say, we stand with the victims."
Dressed in white and carrying signs that read "Sorry doesn't fix it," or "Stop silencing victims," students marched through College of the Redwoods, which shares its campus with Academy of the Redwoods. Afterward, the students gathered together and, facing Fortuna Union High School District Superintendent Glen Senestraro and AR Principal Arnold King, took turns speaking for about half an hour.
"Things like this is not taken seriously, and it needs to be, because that girl's life is changed forever. We're asking you to take [the alleged assailant] off the [football] team," one student said.
"People can't keep getting away with this. We're tired of seeing it. It's so normalized, and it's not okay at all. We need to be here for victims and support them and let them know that it's not normal what they went through, and for them to stand up and talk about it is incredibly brave. And we just want to see some justice. We want to see change."
Several students recounted their own stories of being sexually assaulted, sometimes on school campuses. A few students were moved to tears.
One student, Anna Klobucar, spoke of a friend who was raped by her boyfriend, another football player. After the protest, Klobucar told the Outpost that her friend has also faced what she felt is a lacking response from the school district once staff was made aware.
"They need to at least do something as simple as taking them off the football team," Klobucar told the Outpost after the protest. "I understand when there is not proof, but they can at least take these kinds of actions against it."
During the protest, speaking to her superintendent and principal, Klobucar said: "I want you all to know that we're going to keep fighting for justice until we get it. This isn't just gonna be a walkout that happens one time. Rgardless of how we do it, we're going to get justice."
The students repeatedly asked for the two students who allegedly sexually assaulted their peers to be removed from the football team, and asked Senestraro to respond.
"I appreciate you guys being peaceful and keeping it not vulgar," Senestraro said. "I appreciate that there's not a lot of angst in what's going on. I'm not saying anything, not because I'm being rude, I'm just listening. That's my job, is to listen. Alright, so I'm trying to listen to you guys so everybody gets heard. I would also say your signs — I appreciate most of your signs — they didn't get off track, the message is there, and I appreciate that. So I wanted you guys to know that I appreciate that."
"Do you plan on taking any actions, though?" the students asked.
"I'm here as a listening session, like I said. I can't comment on that."
After more pressing from the students, Senestraro said: "There's nothing I can share at this point. I'm not asking you to agree with it or like it, I'm just saying, I've sat here and I've respected you guys, I've listened to what you say, I can't say anything other than what I've said.
"When I get to a point that I can answer, I certainly will."
When a student reports a sexual assault, Fortuna Union High School District's policy is to pass the case along to law enforcement. The Humboldt County Sheriff's Office is investigating and the district does not know any details, Senestraro told Redheaded Blackbelt Monday.
In an email to Academy of the Redwoods families, AR Principal King wrote that the district has offered the student victim with "opportunities for support and counseling."
In an interview during the walkout, King told the Outpost that plans are in motion to bring more resources on campus.
"I know one of our teachers was working on the North Coast Rape Crisis Team to come speak. I can't confirm that that's happening at this point, that's still in the planning phases," King said. "And we'll have some follow-up discussions in their various classes regarding civil disobedience."
Though King said he does "not support the disruption of instructional time in this manner," he is pleased and impressed with the student organizers.
"What's most important to me is the safety of all students," he said. "I will say that I have been concerned about some of the experiences that students are having outside of school and off at college when it comes to sexual violence. And so I want to see this conversation continue productively."
See photos and video of the walkout below.
###