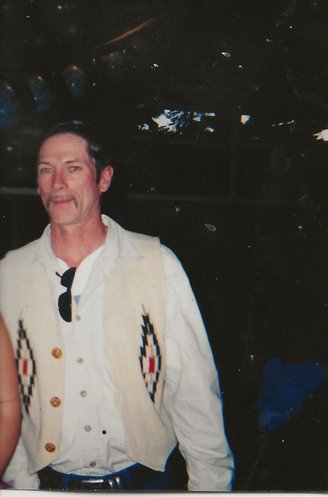 Ronald Grover Sanderson (aka) Ronnie/Turtle was born on December 30, 1957 to Violet Zicosh and Jack Sanderson in San Francisco. He moved to Orleans when he was six years old and his family stayed with Ferris' through the '64 flood. Ronnie attended and graduated from Hoopa High School. He then went on to do construction, working as a carpenter and also working on building and repairing bridges up and down the river.

Ronald met Cindy in the summer of 1983, where they fell in love. Later they had their first child, a baby girl who he absolutely adored — he carried her around the house constantly, never letting her cry. Then, three years later, they had their son, their baby boy, his Sanderson son to carry on his name. The baby of the family, Perry, was very close with his father throughout his adult life. Ronnie helped raise Cindy's two children for 12 years, Sara and Awok Julio, He loved all his children very much. Ronnie had an incredibly special place in his heart for his grandchildren. He had a very extremely strong bond with his granddaughters War-yes and Maylene. They loved him so very much. He did everything for them, from school drop-offs to homework to fixing their bikes, making them homemade basketball hoops, taking them fishing, or to whatever else they needed. He was an extremely proud grandpa and loved all of his grandchildren very much.
Ronnie was a diehard Raiders fan, always decked out in fan gear! He loved watching football and went to a few Raiders games with Robert Starritt and Awok Julio where they made great memories to last a lifetime.
Fishing was one of Ronnie's all-time favorite things to do, also cruising with some of his favorite music blasting.
Ronnie is survived by his Children Sierra & Perry Sanderson, grandchildren, War-yes, Maylene & Creation Grover, Masin, Natalia, Perry Dale Jr. Sanderson and Emma Mabry, Step daughter Sara Hass, Great Nieces, Lucette and Angelina Sanderson, His sister Kate Sanderson, and many cousins that he loved very much.
Ronnie is preceded in death by his father Jack Sanderson, Mother Violet Zicosh, Grandfather Grover Sanderson, Brothers, Jack and Randy Sanderson, Step-son Julio Henderson, Niece Sadie Sanderson.
Pallbearers: Terrance McCovey Sr., Barry McCovey Jr., Loren (Long Gone) McCovey, Robert Starritt, Masin Sanderson, Loyde Woodman, Kurt Hillman.
Honorary Palbearers: Moses Cliff Hurly, Jaimie Melondy, Victor Starritt, Custer Jackson, Archie Super, Matt Douglas, Frank Woodman, Gunner Erickson, Dennis Donahue, Ulysses Mcglaughlin, Phillip Coleman, Gene White, Littleman Tripp, Corky Vanpelt, Tahn Blake, Mawah'che Blake, Kenek Turner, Shawn Turner, Stanley McCovey , Joseph (Hurkie) McCovey, Kevin Latham, Martin Cervantes, Boozer Hostler Jr., Jeff Peters, Willy Harrison, Loren Offield, Cart McCovey, Chiefy McCovey, Waymond Starritt , Ben Saxon, Butchie Reed, Nels Nelson, Darrell Obie, Ross Colegrove, Dean Powell, Greg Perry, Gooby Perry, Eugene Coleman, JayJay Reed, Jason Reed.
We are sorry if we have forgotten to mention anyone during this challenging time, please forgive us and know that Turtle loved you!
Services for Ronnie will be held at DNR (the old Karuk Council building) on Saturday September 4, 2021 at 12 p.m. Ronnie will be laid to rest at the Karuk Cemetery on Old School Road. A reception will be held back at the DNR building directly after.
###
The obituary above was submitted on behalf of Ron Sandersen's loved ones. The Lost Coast Outpost runs obituaries of Humboldt County residents at no charge. See guidelines here.