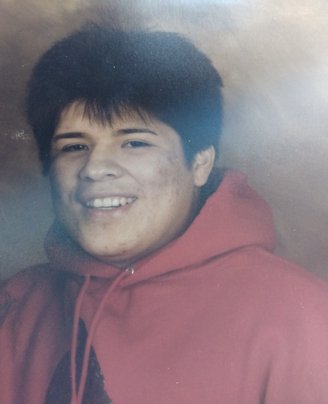 On September 16, 2021, Seeley Spott Sr. went to be with the Lord at the age of 50 years old in Santa Rosa. He was born in Crescent City on March 9, 1971 to Kathleen Sherman and Seeley Spott and raised by Dennis Sherman Sr. Seeley was the youngest of four children to Kathy. Seeley was a resident of Loleta, living with his best friend and sister Mary.

Seeley was a loving dad, brother, uncle and grandpa. He enjoyed spending time with his family, his brothers and sisters on the streets and being on the phone. Seeley — also known as Jr. — was a proud Yurok tribal member and was know for his perfect beaded keychains, feathers and his drum-making skills.
Seeley was a proud dad and was proud to become a grandpa, when Tyler was born he made sure to make his phone calls to tell everyone about his baby. He made many trips on his feet to Eureka to make sure he went to go see him and his "B". There wasn't a time you wouldn't see Jr. and wouldn't go out of his way to say "Hi, I love you" or make a comment that would make you shake your head. He may have made you mad but he never walked away without saying I love you no matter what.
Jr. loved his family and was proud of each and everyone of them and loved making phone calls to tell you what he was doing or that he loved you. He was always going to Long Beach or Crescent City. Many times he never made it but he always knew where home was, with his sister Mary.
Seeley was the best dad. He made sure he mentioned his kids in every conversation to tell you everything they were doing. He was always in their corner like any father would be, and always went out of his way to make sure he would go see them, argue with them or again make sure he said I love you. His highlight of his life was having his children. They were the ones who put the smile on his face. Then came Grandson Tyler, he swore he looked like him when he was born. He was proud of Brittany for having baby and times you would see him in Eureka standing next to Spotlight waiting for B to bring him his baby. His visits were a weekly thing if not daily — let that be a lesson that never let anything stand in your way to be there for your loved ones. He showed his love by traveling miles hitchhiking or walking to make memories and put that smile on his face.
Seeley was a favorite uncle who made sure he called you on your birthday, or call just to say I love you no matter if you were on good or bad terms he didn't care as long as he said I love you he meant it. Being the youngest of our siblings Jr. was a brat and knew how to push his siblings' buttons, but you couldn't help but love him more. Seeley spent many years away from home. When he fell in love with Donna, he adored her.
Jr. will be missed and never forgotten. He is our eagle that will fly high and watch over each and everyone he came across over his 50 years.
Seeley is survived by his children Brittany Spott (Shawn Taylor), Seeley L. Spott III, Edward Tucker Spott (Shyleen Ross), Grandson Tyler Taylor, Brother Anthony Peters Sr. (Rose), Sister Mary Spott, Sister Laura Spott-Biondini (Brandon). Nieces Teresa McGinnis (John), May-Shum-Tray Gibson, Dawnetta Carpenter, Anthony Peters Jr., Dennis Sherman II (Jessica), Kathleen Spott, Alicia Spott-Jake. His loving Great Niece Cecilia Lee Lopez who woke up daily and said "UNC outside" and there they went to spend many hours outside exploring and playing, many more great nieces, nephews and his love Donna.
Seeley is preceded in death by his mother Kathleen E. Sherman, Father Seeley L. Spott and Step Father Dennis L. Sherman Sr., Nephew, Hugh Grant, IV, Favorite Aunt Alveretta Green, Uncle Tony & Samuel Peters, William Wilson, Aunties Laura Dolittle, Alberta Wilson, Carol Wilson, Brother-in-Law Hugh W. Grant III, Neice Pook-a-Yamch Spino.
Family & Friends are invited to viewing on Monday, October 4, 2021 at 10 a.m. at Goble's Fortuna Mortuary, 560 12th Street, Fortuna. Internment will follow at the Laura Young Cemetery in Pecwan. We will gather for food safely, please bring your favorite dish to share. We ask please wear masks and be safe and respect those who want their space.
Pallbearers Carl Wilson, Lonnie Wilson, Robert Wilson, Jim Bowie, Gusto Bowie, Derek Donahue, Quintin Donahue, Rick Moorhead, Melvin Farmer Sr., Dennis Sherman Jr., Den Den Sherman, Anthony Peters Sr. Anthony Peters Jr., Chris Peters, Seagull Jordan, Santee Martin, Seeley Spott III, Edward Tucker Spott, Brandon Biondini, Charley Haden, Herman Albert, Eric Ammos, Patrick Kennedy Jr. DJ, JC, Joe Reed.
###
The obituary above was submitted on behalf of Seeley Spott's loved ones. The Lost Coast Outpost runs obituaries of Humboldt County residents at no charge. See guidelines here.