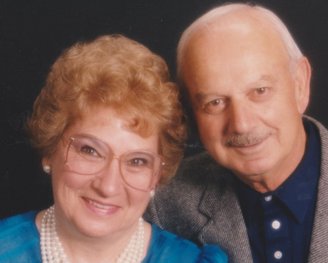 Kathryn Gay Fusi
May 13, 1924 - Aug. 26, 2021
Kathryn passed peacefully in her sleep after having chosen to end her years of dialysis treatment. As always, she did things her way.
Kathryn known to her friends as Katie or Kate, was born in San Francisco but raised by her divorced mother in Humboldt County. She recalled of moving frequently because her mother loved to decorate and fix up a home. Once one was completed they needed to find another. She recalled that until high school she never attended a school two year in a row. She graduated from Arcata High is 1941.
In 1942 Katie married her high school sweetheart Ralph. Early in their marriage both worked at the Barrel Factory in Arcata, as did most of their lifetime friends. In 1950 they moved to Ferndale to be dairy farmers. They were successful until the flood of 1955 when they lost everything. The family then moved to Arcata, Ralph going to work at Humboldt Flakeboard and Kathryn the homemaker.
She loved her job in the Humboldt State Library Technical Services and was always taking under her wing her student assistants who were far from home. Kathryn studied book binding and manuscript restoration at Capricornus Bookbinders in Berkeley. She made hand bound books and did rare book restorations for private clients.
When she no longer had younger children to take care of she took in children for day care. She was very attached to the children she cared for, following their lives long after they had outgrown her.
When Ralph decided to learn to fly and bought a plane, he insisted she be able to land it if something should happen to him in the air. She went to CR Ground School with him and did simulator training. Luckily, she was never put to the test.
Prior to his retirement, Kathryn and Ralph spent weekends at their Willow Creek house. She spent many hours canning and preserving the fruit from their orchard. She did not herself retire until her ostomy surgery in 2003 after Ralph passed. She was still working at the age of 79. She went back on occasions when called upon even in her 80s. She actually went to work a few hours in the morning before her surgery, a shining example of the work ethnic they had passed to their children.
Kathryn loved to garden and was always planting slips from friend's yards or taking cuttings from hers for others. Her fuchsias and rhododendrons were her pride.
A woman of many interests, she took up oil painting, creating dozens of landscapes; learned to crochet, making afghans for her children; and studied ceramics with Grace Alden. An avid believer that you're never too old to learn, she took numerous cooking classes; became a quilter at the age of 80, making several beautiful quilts; and even studied bonsai.
Anyone who knew her, knew she was a self-proclaimed "tough old bird", surviving cancer twice. After her 2003 stroke she had to relearn to walk, talk, read and write. It was a long comeback, but she did it.
In 2015 she had to start dialysis. Her electrolytes were continually off and after 5 hospitalizations, dialysis was the answer. Later in 2015 she had a massive heart attack. Even though the hospital wanted to move her to palliative care, ever the phoenix, she was released and recovered.
The family wishes to thank Christopher Lee for his years as her physician, taking her on as a patient when it looked like she would not survive and giving her the will to live.
Katie's children have no words to express their gratitude to Dr. Allan Mathew, her nephrologist and his staff for giving them more than 6 additional years with her that would not have been possible without his outstanding care and compassion. Dr. Mathew absolutely saved her life on several occasions. The support he gave to Kathryn and her family is immeasurable.
Kathryn was preceded in passing by: her parents, Reid and Wilma Beam; her husband and love of her life, Ralph Fusi; and lifetime best friend, Patricia Hawkes.
She is survived by her children Dennis Fusi Downey; Linda Fusi Arcata/San Pablo; Ron Fusi Arcata; and Randy Fusi Tetonia Idaho. Grand children Shelby Fusi San Pedro, and Ian Fusi Arcata; Great-grandchildren, Shelby's son Rudy and daughter Alissa San Pedro ; and her sister Lois Pappas of Stockton. And the second set of boys, her "adopted boys" through the years: Clint Hunter; Charles Compton; and Wendell Larkin.
In lieu of flowers the family asks that you tell a member of your family you love them.
Because of the COVID situation, there will be no celebration of life at this time.
###
The obituary above was submitted on behalf of Kathryn Fusi's loved ones. The Lost Coast Outpost runs obituaries of Humboldt County residents at no charge. See guidelines here.