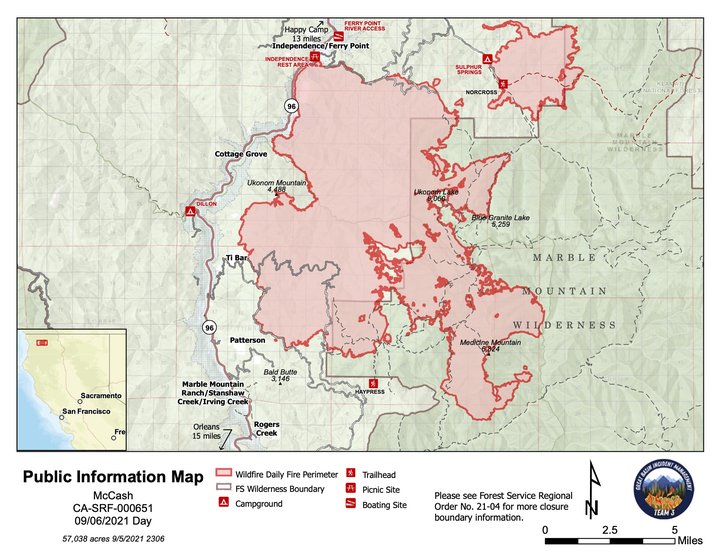 U.S. Forest Service press release:

Total Personnel: 489
Crews: 6
Engines: 19
Dozers: 5
Masticators: 10
Water Tenders: 8
Aircraft: 5

An infrared flight over the McCash Fire showed the fire is 57,038 acres. The fire is 13 percent contained thanks to weeks of hard work by firefighters. There are 489 people assigned to the incident.


Today is a shadow day for Great Basin Team 7, the incoming Type 2 incident management team. Team 7 will work with their counterparts from Great Basin Team 3 to learn about the ongoing operations to suppress the McCash Fire. Team 3 will transfer command of the fire to Team 7 on Tuesday at 7 a.m.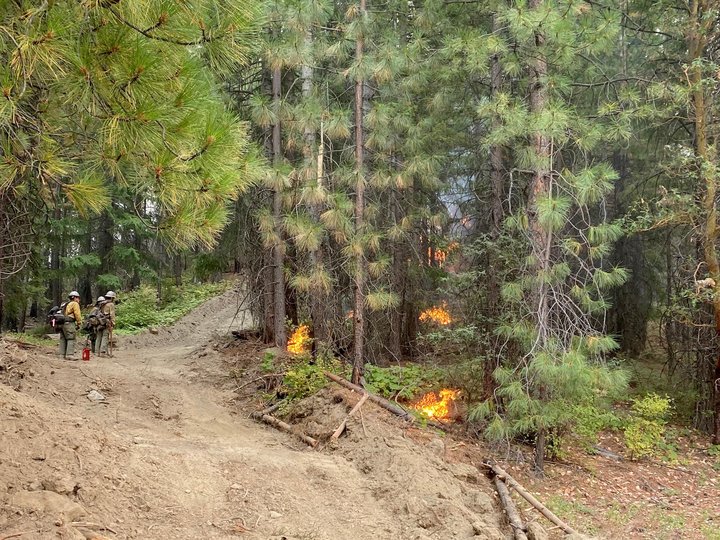 Several sections of fire line were declared contained at the end of shift yesterday. These sections include Carter Creek Road to Ukonom Lookout; Dutch Creek to Independence/Ferry Point along banks of the Klamath River; and Independence/Ferry Point to the midpoint of the northern containment line.

The fire continues to move to the east along the containment line in the area of Johnson Hunting Ground. Crews will work today to limit the fire's spread to the north, identifying hotspots along the containment line and extinguishing them. Crews continue to improve the Chicken Ladder Road (15N13) and Titus Ridge Road (15N10) by hand and with heavy equipment.

The Highway 96 Structure Group worked yesterday with a local firefighting crew to perform mitigation work around cultural sites along the highway corridor. They will continue this work today. Patrols will also continue along the highway to identify any possible spot fires west of the road. To date, no spot fires have been detected west of the Klamath River or the highway.

Firefighters continue to have success with the slow, small-scale firing operation north of the spot fire in the Buckhorn Bear area. Depending on weather conditions today, they will fire off segments of vegetation along the existing roads and dozer line working to the west toward Elk Creek Road. An alternative contingency line is also being created from Frying Pan Ridge to Grider Ridge using a grader and masticator. Both operations are expected to take a few more days to finish.

Yesterday, the Elk Creek Structure Group reopened old dozer and hand lines on the southern end of Happy Camp near Curly Jack and Elk Creek campgrounds. They also performed point protection work around structures along Elk Creek. The work in both areas will continue today.

Firefighters in the Patterson and Ti-Bar areas are removing excess firefighting equipment from areas where it is no longer needed. A masticator is finishing up a southern contingency line along Old Phone Road (14inside the 2017 Haypress Fire scar.

Infrared flights are providing information about the McCash Fire's movement on the southeast side of the fire in the Marble Mountain Wilderness. The fire continues to back slowly into the Wooley Creek drainage.

Weather: Today's high temperature is predicted to be in the mid-90s with low humidity. A cold front will move in to the area Tuesday, bringing a 25 percent chance of showers or thunderstorms. Southerly ridgetop winds are expected to increase. This could clear out the smoke layer that has helped reduce fire activity over the past week, setting the stage for increased fire behavior.

No Drone Zone: A temporary flight restriction (TFR) remains in place over the McCash Fire. Flying a hobbyist drone over a fire puts everyone at risk and hinders firefighting suppression efforts. If you fly, we must ground all aircraft due to the dangers unauthorized drones pose to firefighting aircraft. To find information about the TFR, visit https://tfr.faa.gov/save_pages/detail_1_0033.html. Remember, a TFR also applies to unmanned aircraft systems (UAS) or drones.

Smoke: Smoke from the McCash Fire and neighboring fires in northern California is impacting local communities. For air quality information go to https://fire.airnow.gov or https://bit.ly/SiskiyouWildfireSmoke.

Evacuations: For the most current and accurate evacuation information for Siskiyou County, please visit the Siskiyou County Sheriff's Office Facebook page at: https://www.facebook.com/SiskiyouCountySheriff or the county evacuation map at https://bit.ly/SiskiyouEvacMap.

All residents are encouraged to sign up for CodeRED Emergency Alert at: https://bit.ly/CodeRedSiskiyou

Road Closures: Road information can be found by calling 1-800-427-7623 or on the Caltrans website https://roads.dot.ca.gov/

Visit the following sites for specific Forest Closure information:

U.S. Forest Service Region 5 https://bit.ly/R5ForestClosures

Six Rivers National Forest https://bit.ly/SRNFNotices

Klamath NationalForest https://bit.ly/KNFNotices

For further information about the McCash Fire, please visit the following links: https://inciweb.nwcg.gov/incident/7757/