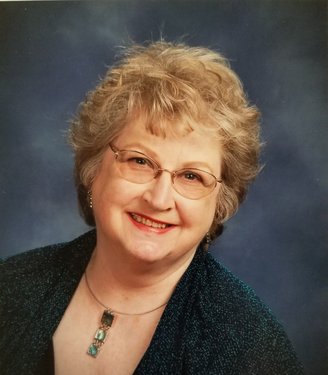 Claudia Goodman passed away at home in the loving arms of her husband and children on September 1, 2021.

Born in Glendale, California on January 17, 1943, the only child of Curtis and Shirley Bailey, she spent her school years in the Burbank and North Hollywood area, graduating from Van Nuys High School in 1960.
In 1977, Claudia moved to Humboldt County with her two children from previous marriages: Jodie Byars and Kevin O'Neal. Prior to the move, she had established a career in the Assessor's Office in Mono County as Office Manager, and continued in that role for the Humboldt County Assessor's Office until her retirement in 2004.
It was here that she met the love of her life, David Goodman, an appraiser for the county who worked in the office next door. On her birthday in 1981 they were married at the United Methodist Church with Jodie as bridesmaid and Kevin as ring-bearer. Together, they raised these children to adulthood, built a home in Bayside surrounded by a beautiful garden, and served their community through volunteering. Their love and devotion has withstood over 40 wonderful years.
Claudia made many friends through her years as member of the Lioness Club, Trustee in the United Methodist Church of Arcata and in her later years volunteering at the Arcata Senior Center making quilts with Katie's Crafters, which provided comfort and warmth to many in need. She was an active member of the Eureka Chapter of the National Fuchsia Society. Exploring her family genealogy introduced her to the Daughters of the American Revolution (DAR) and the Native Daughters of the Golden West, Arcata Parlor.
When her first grandson, Tim, was born, she flew all the way to Alaska to be there with Jodie. Tim's daughter, Khloe, was her dearest joy, like they were one when together. This summer she was excited to learn she has a great-grandson due in November.
She was preceded in death by her parents, Curtis and Shirley.
She is survived by her husband, David Goodman; her daughter, Jodie Byars; son Kevin O'Neal and his wife Jennifer Komaromi; step-son Andrew Goodman and step-daughter Patty O'Neal; grandchildren Jack and Evie O'Neal, Timothy Byars and great-grand-daughter Khloe Hutchinson-Byars.
Services will be held at Greenwood Cemetery, 1757 J Street, Arcata, CA 95521 at 11:30 a.m. on Saturday, September 11, 2021. The family would like to give special thanks to Hospice of Humboldt for their care and support. In lieu of flowers, donations can be sent to United Methodist Church of Arcata at 1761 11th St, Arcata, CA 95521 or her favorite cat rescue HART (Humboldt Animal Rescue Team) P.O. Box 253, Cutten, CA 95534.
###
The obituary above was submitted on behalf of Claudia Goodman's loved ones. The Lost Coast Outpost runs obituaries of Humboldt County residents at no charge. See guidelines here.