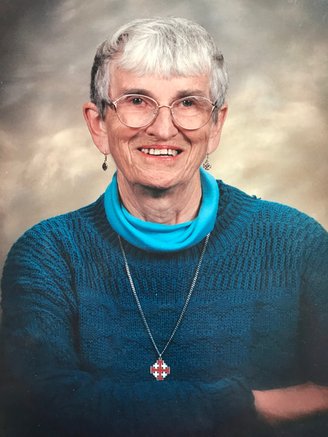 Marylee Patricia Rohde
October 9, 1930 – April 6, 2020
Marylee Rohde died quietly and at peace in Albuquerque, New Mexico on April 6, 2020. She was born in Eureka on October 9, 1930, the youngest child of Walter and Ida Connick. She grew up in Eureka and attended Lafayette Elementary School, Eureka Junior High and Eureka Senior High, graduating from Eureka High School in 1947. She was baptized at Christ Church Episcopal in Eureka and grew up in the church. She spent many happy times with her family and friends on picnics in the redwoods and at Big Lagoon. She attended Humboldt State College after graduating from high school. She met Harold, better known as Hal Rohde at a Job's Daughter's - DeMolay event. They fell in love and were married at Christ Church Episcopal on July 10, 1949. They settled in Eureka. Hal reenlisted in the Navy during the Korean War and they lived for a short time on Bainbridge Island in Washington, shortly after the birth of their daughter Katherine (Kay). When Hal was deployed overseas, Marylee and Kay moved back to Eureka. Upon Hal's return, they purchased the house on Williams Street in Eureka where Marylee continued to live after Hal's death in 1989. They raised four children there – Katherine, William (Bill), Meredith and John.
Marylee was active at Christ Church Episcopal where she taught Sunday School, served on the Altar Guild, was a member of the Guild of the Good Shepherd and was the adult leader of the Girls Friendly Society (GFS). She became involved with GFS in the Diocese of Northern California, and she coordinated and directed the GFS Creative arts camp for several summers. She sang in the Redwoods Choral and traveled with the group several times on their European tours. She was an Associate of the Community of the Transfiguration, an Episcopal Religious Order, and participated in the Associates Retreats, and the weekly gathering of Associates in the local area.
Marylee worked as secretary for St. Bernard Catholic Church, the Redwoods Halfway House and in the St. Bernard High School office. She enjoyed working with the students and faculty members.
Marylee was very interested in the history of the area as her family had settled in the area back in the 1850's. She loved to share stories of her relatives' experiences living in Humboldt County and Eureka. She was a member of the Humboldt County Historical Society and served as president for several terms. Marylee also loved books, and to read. She became involved with the Friends of the Eureka Library and served a term as President of the organization.
Marylee loved the natural world and wanted to learn all she could about the natural and cultural history of the places that she visited. She shared that love with her family and most family outings and vacations were spent hiking, camping, and picnicking in state and national parks. She and Hal continued to enjoy the outdoors as they visited their children who all lived in other states. When the grandchildren came along, Marylee and Hal enjoyed spending time with them.
In 2013, Marylee moved to Truth or Consequences, New Mexico where daughter Meredith lived. When Meredith and her husband Gary retired and moved to Albuquerque, Marylee moved to Brookdale Assisted Living in Albuquerque where she lived until her death. She attended St. Chad's Episcopal Church in Albuquerque. She enjoyed meeting new people and she participated in the social activities at Brookdale. Marylee is survived by children Katherine Rohde of Albuquerque, New Mexico; William Rohde (Nancy) of Forks, Washington, Meredith (Gary) Michaliszyn of Albuquerque, New Mexico, John (Culleen) Rohde of Centennial, Colorado: 12 Grandchildren: Alex Earring, Elizabeth Bleacher, David Rohde, Christopher Rohde, Michael Rohde, Willie Rohde, Matthew Michaliszyn, Nicholas Michaliszyn, Bridget Wooten, Sean Rohde, Brian Rohde, Kevin Rohde; and, 7 Great-grandchildren – Carson Earring, John and Anne Bleacher, Campbell and Gillian Rohde, Liam Michaliszyn, Sheridan Coyne and Connor Wooten. Marylee is also survived by her sister-in-law Elena Connick; nieces, Patricia Person, Beth Connick, May Ulibarri, Mary Thompson, Darlena Rivera; and nephews, Walt and Stephen Connick and Walter Connick.
She was preceded in death by her husband, Harold, her parents, Walter and Ida Connick, her sister, Helen Person and her brothers, Darrel and Bryce.
A celebration of life is planned for September 11, 2021, at 2 p.m., at Christ Church Episcopal in Eureka. The family welcomes friends of Marylee to join them in celebrating Marylee. Masks are required in the church. Due to the current Covid conditions, the reception has been cancelled. We are looking for options for to gather and tell the stories. Information will be shared during the service on September 11. You may also contact Kay Rohde, 307-277-3421, kayrangerrev@gmail.com or Meredith Michaliszyn, 575-740-0840 for more information.
Her remains will be scattered in Humboldt County.
###
The obituary above was submitted on behalf of Marylee Rohde's loved ones. The Lost Coast Outpost runs obituaries of Humboldt County residents at no charge. See guidelines here.