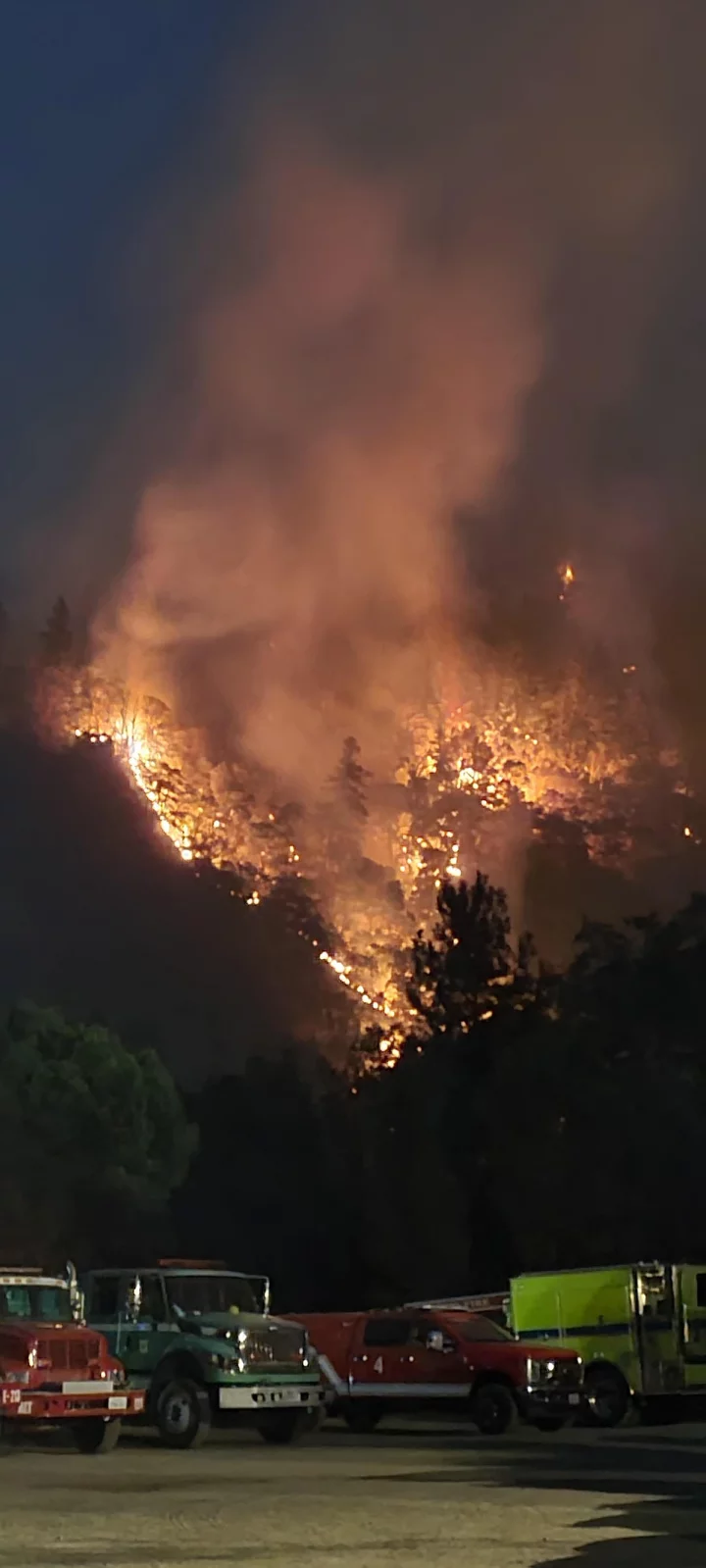 As of Saturday morning the Six Rivers Lightning Complex — a group lightning fires to the north and south of Highway 299 near Willow Creek — has grown to 15,232 acres. The good news is that, despite Friday night being the driest so far since the fires started, crews have managed to finally bring the fire perimeter to 12 percent containment.
Update the unified command of the Six Rivers Lightning Complex:
INCIDENT INFORMATION
Unified Command: Six Rivers National Forest, CAL FIRE, California Highway Patrol, Trinity County Sheriff, and Humboldt County Sheriff.

CURRENT CONDITIONS
The Lightning Complex Fire is currently 15,232 acres with 12% containment. There are 1,641 personnel assigned to the incident. USFS, CAIIMT 11 and CAL FIRE continue to work together in a unified command with a full suppression strategy to provide protection for structures, impacted communities, crucial infrastructure, and important wildlife habitat.

Last night in the area west of the Bremer Fire, firefighters performed firing operations using dozer and handlines to remove fuels to protect homes. Crews will continue to monitor and patrol the fire to look for threats to control lines.

On the northwest side of the Waterman Fire, crews conducted successful firing operations off Waterman Ridge. Today fire crews will focus on holding the Four Road, aka Waterman Ridge Road, to provide protection for the communities of Salyer Loop and Salyer Heights.

On the Campbell Fire, resources are working to keep the fire from the community of Trinity by maintaining the fire line constructed earlier along Waterman Road.

On the west side of the Ammon Fire, crews constructed dozer line and will continue working in the area today to construct handline. In the southeast corner near the Six Road off Ammon Ridge, crews successfully contained spot fires last night. They will continue to focus on this area today, establishing control lines. Firefighters will also continue to improve confinement lines along Ammon Ridge today. To the west side on Friday Ridge Road, firefighters will continue to work along the Friday Ridge system.

Fire activity is expected to increase today with lower humidities and shifting winds. Aerial firefighting support will be deployed when visibility permits over the Campbell and Ammon areas.

EVACUATIONS
An EVACUATION ORDER has been issued for zone HUM-E063-B, south of Willow Creek. Residents in this zone should evacuate now. There is no immediate threat to Willow Creek proper.

The EVACUATION ORDER for Zone HUM-E057 has been downgraded to an EVACUATION WARNING. Residents who live in this zone may begin to return home with caution but should remain ready to evacuate again at a moment's notice. Be alert to outstanding dangers upon return, including debris in roadways, gas leaks and hot embers.

An EVACUATION ORDER remains in effect for zones: HUM-E032-B, HUM-E056, HUM-E057, HUM-E058, HUM-E061, HUM-E063-A, HUM-E063-B, HUM-E077-B, and HUM-E077-C.

An EVACUATION WARNING remains in effect for zones: HUM-E032-A, HUM-E062, HUM-E064, HUM-E076-B, HUM-E077-D.
The following roads into evacuation zones have been closed. Residents may still use these roads to travel out of evacuation order zones:
· Seeley McIntosh Road at Country Club Road
· Patterson Road at Raga Hills Road
· Friday Ridge Road at Forest Route 6N06

Highways 299 and 96 are currently open but remain impacted by fire behavior.

Due to a large presence of fire personnel and machinery working to build containment lines for the Ammon Fire, residents are asked to limit travel on Titlow Hill Road/Route 1 in zones HUM-E052 and HUM-E062 to essential traffic only.

To find the latest evacuation information go to Humboldt County Office of Emergency Services (https://humboldtgov.org/2383/Current-Emergencies) or Trinity County Office of Emergency Services (https://www.trinitycounty.org/OES). For an interactive map of evacuation zones visit: https://community.zonehaven.com/. To sign up for alerts: www.humboldtgov.org/alerts.

If you are under an evacuation warning, take the necessary steps to be ready to leave.

EVACUATION CENTER Trinity Valley Elementary School 730 Highway 96, Willow Creek, CA 95573

ANIMAL EVACUATION CENTER Hoopa Rodeo Grounds 1767 Pine Creek Rd., Hoopa, CA 95546 Phone: (707) 492-2851 The Hoopa Rodeo Grounds has several single pens and larger pens for whole herds. Call directly if you need directions or help transporting your large animals. They cannot house sheep, goats, poultry, or small animals, but they can potentially help arrange for temporary foster placement. If you can foster, please reach out regarding your availability and capacity.

ROAD CLOSURES State Route 299, State Route 96, and Route 1 remain open to through traffic. Residents are encouraged to visit http://quickmap.dot.ca.gov/ to check for state highway closures. The following roads into evacuation zones have been closed. Residents may still use these roads to travel out of evacuation order zones:
· Horse Linto Creek Road at Saddle Lane
· Country Club Road at Kimtu Bridge
· Friday Ridge Road at Hwy 299

SMOKE Heavy smoke and strong inversions continue to affect the health of those who are not yet evacuated. Please check https://www.ncuaqmd.org for air quality resources.