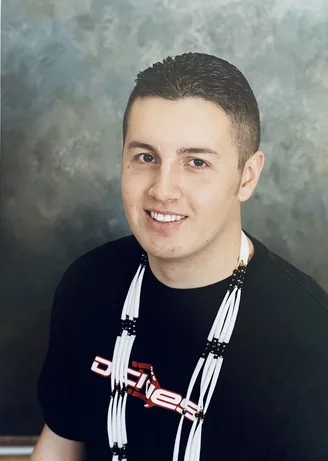 On December 28, 1985, William was born to his mother, Trina R. Byrd, and father, William H. Crutchfield Jr. William was the first born to his parents, Trina being 16 years old and Bill being 17. They all grew up with each other. For the first two years of Williams life, he had lived with his parents at Grandma Marian's house.

Grandma Marian said, every morning when he woke up, he had a Radar for her and would come out of the room with his eyes barely open and would find her wherever she was at in the house. Grandma Linda said when he was a baby and stayed with her, she would take him to work with her at the mill, where she had his play pen set up while Trina was going to school. She enjoyed spending time with William as he was her first grandbaby.
William was the second born grandchild on his father's side, and the First-born grandchild on his mother's side. He brought so much joy and uncontrollable laughter to his family. He was a very happy baby and was so very lovable. He loved his family more then anything else.
William was a very clean person. He always kept everything he had so nice and organized. He loved fashion and always dressed his best. He was always the best-smelling person in the room. William was cherished by his younger siblings and cousins. He was adored by his family.
Being the oldest of his siblings, William had three brothers and three sisters from his father and two brothers and one sister from his mother. His sister Talina said, we all looked up to William because he was the coolest big brother you could ask for. It was an honor to be William's little sister. He was the funniest and always had everything so put together. When William would call, no matter what time it was, we always answered because it was William. It would always be a great conversation. Some of the best memories are being together at the beach with our brother Mikey and his two nephews and niece who he adored so much. I will always remember laughing so hard when we went on the biggest rides at the amusement parks. I absolutely loved Williams cooking. I would always ask him to cook for me because it was better than going out to eat. William had the best taste in music, it was always upbeat and made you want to dance.
William was raised up with his brother Kason and their best memories go with the both of them.
William was very close with his cousin Loreta. Growing up they had the best of times being mischievous and running around on the beaches of Trinidad together, always laughing at everything. William always being the ringleader, with no fear he did whatever came to his mind.
William enjoyed spending time with his mom whenever he could. He would go pick her up and take her out on the town and always had good time. He was her best friend. He was also her first born.
In 2001 William had gotten the opportunity to go to Germany with his grandma. He loved every minute of sight-seeing and learning new things. One of Williams favorite things was traveling. As a Trinidad Rancheria Tribal member, he got the opportunity to travel with the Tribal Youth program to Sea World, Six Flags, Mount Shasta and Mount Batchelor where he learned how to ski and ice skate.
William had moved down south to Sacramento and got to spend time with his Sacramento side of the family. Cousin Airel said, she always loved visiting with William. He hardly allowed people in his room, his room was sacred. After her tenth time a day asking him to go into his room she would have to agree to sit on the bed and not touch anything and of course she had no problem agreeing because being there in his room, in his presence, was the greatest. Being around William was a gift, whether you got to partake closely in his life or just watched from a distance. He was such a bright soul. William would light up any room and had such an amazing energy to him.
William loved to socialize and always made friends everywhere he went. Nobody was as close to him as his siblings and cousins. William began going to school in Sacramento. He worked at multiple casinos and was a very valued employee and co-worker. In William's adult life he was always a hard worker and was proud of it. William set an example for the younger generation of what responsibility meant. He worked hard for the nice things he had.
William loved to cook. You could taste the love in his food. William started dating his husband Eddie on February 16, 2006, in Sacramento and they fell madly in love. William and Eddie finally got married February 16, 2016, after 10 years of amazing memories, because that was the date Eddie officially asked William out. William and Eddie spent years together in Sacramento with Eddie's daughters Alexia and Elexani. They spent so many days at the river bar with family and friends. He loved going to the state fair, amusement/water parks and taking long walks on the river bars of the Sacramento and the American river. He enjoyed going to old town Sac by the pier where they enjoyed eating and drinking at local restaurants. He also enjoyed going to Costco and the mall but was also happy staying home to make dinner with Eddie. William enjoyed his Sacramento life and loved his Sacramento family. Eddie was truly the love of Williams life.
William taught himself how to do woodwork and he taught himself well. He wanted his creations to be authentic. Everything he created with his hands was amazing.
Throughout William's life he enjoyed laughing, climbing trees, goofing around, camping, traveling, exploring, spending time at the beach, swimming at the rivers, hanging out with his friends and family and listening to music. William was the biggest protector to his family, and we will miss his handsome smile and his precious laugh.
William R. Crutchfield is survived by his husband, Jose Torres, and two step-daughters, Alexia & Elexani Torrez, and their extended family; father William H. Crutchfield Jr. and mother Trina R. Byrd-Taylor; grandmothers Marian Seidner and Linda Cisneros; siblings Talina & David Nelson (Kit-ka, Toh-tet and Taloa); Michael C. Taylor Jr.; Samantha R. Crutchfield (Aaralyn Morris, Aaron Phines and Lana Meyers); Julia (Honeys) & William Simms (Willie, Kepel, and Wyatt); Brendan Crutchfield (Michael); Alex Crutchfield; Megan Crutchfield; Trayce Crutchfield; Aunties: Tracy Cady-Crutchfield (Michael (Riley, Alexis, Avah, Tiah), Nathaniel (MaryJane), Carleen Seidner (James (Josiah, Trinity, and Harmony), Loreta (Tinaya, Vaskak, and Jade), Sheila (Maverick, and Chloe), Justin), Chelsea Simpson (Ashley and Tyler), Uncles: Rick & Kari Byrd, Myriah Viveiros (Airel (Travis and Zola), Ricky & Pearl (Myla and Jasmine), Michael(Michael JR. and Kolton), Jordan, and Logan(Madeline); Bob & Lisa Byrd (Seth, Tristan, Noah, Chase) and Numerous extended family members and of course all the many friends.
Preceded in death by his grandfathers William H. Crutchfield Sr., Richard N. Byrd; brother Kason H. Crutchfield; great-aunts Melva & Don Duclo, Pamela Cisneros, & Linda Byrd.
There will be a celebration of life at Tish Non Village Community Center — 266 Keisner Road, Loleta — on Saturday, Aug. 6 at 1 p.m.
###
The obituary above was submitted by William Crutchfield's loved ones. The Lost Coast Outpost runs obituaries of Humboldt County residents at no charge. See guidelines here. Email news@lostcoastoutpost.com.