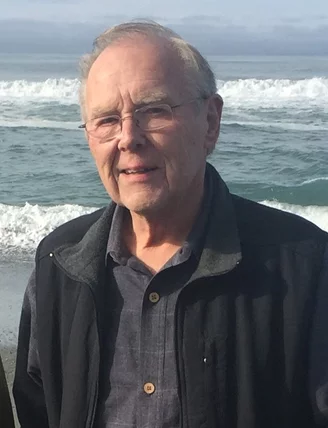 Donald McLean Johnson was born on May 16, 1938 and passed away on July 28, 2022. He is preceded in death by his parents, Carl and Jeanne Johnson; his brother, Wallace Johnson; and his beloved wife, Carolyn Johnson. He was a lifelong resident of Humboldt County and raised millions of dollars as an Auctioneer for local charities and fundraisers. Humboldt County Junior Livestock Auction, CASA of Humboldt, Humboldt State Athletics, Boys and Girls Club, Humboldt Arts Council, Ducks Unlimited, Dream Quest, Special Olympics, and many 4-H, FFA, and local schools have all benefited from his talents as an auctioneer and generous volunteer.

Don believed in two things — hard work and family. In 1948, Don's father opened The Carl Johnson Company. Don worked part-time during his youth in the Livestock auction at the store, and when he was 19 years old, he drove cross country with his grandparents to auction school in Iowa. He graduated from The Reisch School of Auctioneering and became Colonel Don Johnson. His lifelong love of auctioneering continued throughout his career and was one of many of his jobs at work. Salesman, delivery driver, furniture mover, and buyer were some of his other titles. In 1975 he added owner to that when he and his wife, Carolyn, bought the business from his parents. Being raised on a dairy farm as a child, Don loved the work ethic of farmers and ranchers and hired many young adults who had been in 4-H and FFA. If an employee didn't start with a work ethic, they'd sure learn one from him. We have received many notes and calls from the large group of employees he has mentored over the years, and all say they learned the value of a good day's work from him.
His other passion was his family. Don is survived by his two sons, David Johnson and his wife, Lisa, and Dan Johnson and his wife, Kendra. He was proud to have worked side by side with Dave and Lisa for 45 years, who helped him keep the store up to date with technology and helped usher in a new era for the store. He was in awe of Dan's business talent and watched Danco grow from just three employees to over 400. But even more than that was his delight in his grandchildren — McLean Johnson and his wife Dayna, Sydney Binz and her husband Jason, Carter Johnson, Madison Johnson, Jayden Johnson, and her fiancé Logan. Don was also blessed this year with his first great-grandchild, Memphis Johnson. He had amazing times with his grandchildren: watching them play sports, taking them to Snoopy on Ice, Oregon Ducks games, attending their graduations from college, and even weddings. His joy for them kept him going and brightened his days.
Don is also survived by his sister and brother-in-law, Carol and Rich Holland, his brother and sister-in-law, Doc and Connie Johnson, and his sister and brother-in-law, Jeanne and Bob Gregory. His nieces and nephews, Nancy and Doug Frey, Phil and Kristie Holland, Todd and Rachel Johnson, Stefan and Rachel Gregory, and their families.
At Don's request, a private family service will be held in his honor. In lieu of flowers, please honor Don by shopping at a local store. He believed in supporting small businesses and local charities to maintain the unique personality of our area, keep our economy strong, and bond us as a community. Donations can be made to The Don and Carolyn Johnson Memorial Scholarship at PO Box 4467 Arcata, CA 95518.
###
The obituary above was submitted by Don Johnson's loved ones. The Lost Coast Outpost runs obituaries of Humboldt County residents at no charge. See guidelines here. Email news@lostcoastoutpost.com.