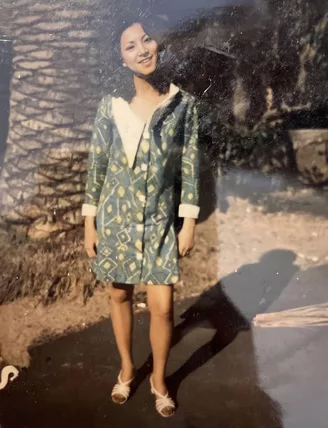 Precious mother and grandmother Flora Marie Hamanaka passed away peacefully with her family by her side on July 23, 2022, in Eureka, at 70. Flora was born on August 19, 1951, in Chicago, Illinois, to Arthur Coleman and Maria Lopez. The youngest of four, Flora, grew up in Chicago, a place notorious for its gangs, during the 1950s and 1960s when racial tensions were high. She met Glenn Tadashi Hamanaka, and they married at age 18, shortly before moving to Southern California.

Together they had Flora's only son, Glenn R. Hamanaka. Soon after, Glenn and Flora separated, and she relocated to Eureka with her son. Being a single mother in a new community was difficult, but her number one focus was her son and ensuring he grew up in a safe environment, free from what she grew up in. She managed to raise a child, work and go to college simultaneously, ultimately achieving an Associate of Arts at College of the Redwoods and numerous Certificates from Sonoma State University. Flora found law and notary work as her calling. She was passionate about helping people, especially those who were less fortunate.
Later in life, she joined and was then later baptized into the Church of Jesus Christ Latter-day Saints. Her faith in God was powerful. Through the church, she met many long-lasting friends who cared deeply for her. Flora loved to study genealogy, hike, garden and bake. She was known for her Christmas cookies, especially the butterballs. She had incredible relationships with all three of her grandchildren. They visited her daily, something you don't always see. Grandma Flora will be missed, and her life will never be forgotten. Flora is survived by her only child: Glenn (Adriana) Hamanaka of Eureka; grandchildren: Ayden Hamanaka, Nayeli Hamanaka, and Gian Hamanaka; brother Arthur (Butch) Coleman; nephews David Puccetti, Joe Puccetti, and Michael Torres; nieces Rhonda Torres and Stephanie Torres; great-nieces and -nephews Samantha Puccetti, Kaden Puccetti and Nylah Puccetti; and, of course, many loving family members in Puerto Rico, Texas, Illinois and Florida.
Flora is preceded in death by her parents — father, Arthur Coleman and mother, Maria Lopez — sister Nora Puccetti and brother Rene Torres.
A very special thank you to the incredible doctors and nurses at Providence St. Joseph Hospital in Eureka, for helping make her last days comfortable. Flora is loved more than one could imagine and will be missed by her family and friends. A celebration of life is scheduled at 5 p.m. on August 19, 2022, at Freshwater Park, in Eureka. Updates will be posted on her Facebook page (Flora Hamanaka). All are welcome to celebrate Flora's life. In lieu of flowers, please consider donating to the Humboldt Senior Resource Center in Eureka. Condolences can be sent to P.O. Box 6413 Eureka, 95502.
###
The obituary above was submitted by Flora Hamanaka's loved ones. The Lost Coast Outpost runs obituaries of Humboldt County residents at no charge. See guidelines here. Email news@lostcoastoutpost.com.