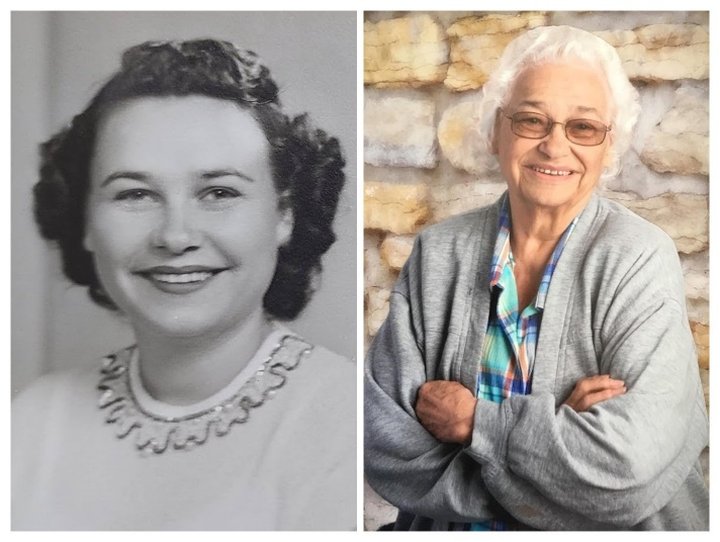 Mary Rowena Campbell-Davis
Feb. 21, 1929 – Dec. 24, 2021
Mary Rowena Campbell-Davis, our beloved mother, stepmother, grandmother, teacher's aide and foster grandparent, went Home for Christmas on Christmas Eve Day 2021. Everyone who knew her remembers Mary as the happiest person in the room. Her contagious smile and cheery nature came from her love for Jesus. She lived her faith, regularly reading her Bible, singing hymns, praying, journaling and opening her home and kitchen table to family and family friends.
A grandchild of a preacher and preacher's wife, Zachariah Henderson Campbell (1880-1957) and Rowena C Higdon-Campbell (1885-1965), she was born February 21, 1929, to William Samuel Campbell (1907-1965) and Mamie Myrtle Churchville-Campbell (1909-1994), in Blackshear, Pierce County, Georgia.
When Mary was six, during the Great Depression, her mother boarded a California-bound train with Mary and her six-month-old sister, Marlene (1936-2009), to join Mary's father in the migrant worker camps around Bakersfield, Shafter and Wasco, California. Mary recounted living in a tent in those early days. Like so many others at that time, she picked fruit and worked to support her family.
She was an active girl and young woman who, in her later years, was quick to remind folks she was "acrobatic." And she had the pictures to prove it! After graduating from high school May 28, 1948, Mary completed the Nurse Attendant's course at Monterey Union Adult School, and in 1953 began service as a Nurse's Aide on the maternity ward of the Peninsula Community Hospital (now Montage Health), Monterey Peninsula.
In 1965, she took a chance on a Humboldt County lumberjack, Lawrence Corley Davis (1922-1995), whose family once lived across the alley from her family's Wasco, California home. They were married at a little church near the McKinleyville airport, on June 8, 1965, attended by Lawrence's cousin, Herbert Wood Sr (1929-2018) and his wife, Velda Rae Jones-Wood (1931-2014). Mary instantly became stepmother to Lawrence's two children, Danny and Leslie.
With love and enthusiasm, Mary also embraced being a second mother to Danny and Leslie's older half-sister and half-brother, Sharon Kay Moody and James Floyd Moody, Jr., and, later, Danny and Leslie's younger half-sister, Teresa Marie Laughlin. Eventually, their children came to know Mary as Gramma Mary or Gramma Davis. Not surprisingly, she became friends with Althea Bernice Moon-Vorpahl (1938-2019), Lawrence's first wife and mother of Sharon, James, Danny, Leslie and Teresa, often hosting Althea and her husband, Robert Leonard Vorpahl (1942-2015), for a visit at Lawrence and Mary's McKinleyville home.
Mary welcomed her new life on their five acres, tilling and planting their nearly one-acre garden, then harvesting and canning countless Mason jars of fruits and vegetables. She milked the cow, pasteurized and sold countless gallons of milk, skimmed cream and churned it to butter in a glass hand-churn. She fed the ducks and chickens and collected countless chicken eggs over the years. Though it eventually became Danny's job, she could wield the hatchet and axe to cut kindling and firewood, and build a roaring fire in their cast iron wood stove.
In 1968, Mary blessed the family with a daughter, Rebecca Delani. Sometime around Rebecca's enrollment at Dow's Prairie Elementary School, Mary took on a new role as a teacher's aide. Her love for children and teaching, and her teachers' appreciation for her work with their students, filled Mary's weekdays at Dow's for 29 years, after which she became a Foster Grandparent and stayed to help for another 10 years before retiring!
In 1969, Mary, with Lawrence's sisters Lorene Woodward (1918-2016) and Berniece Jarnagin (1920-2019), served as caretaker to Lawrence's mother Ollie May Corley-Davis (1897-1969), before Ollie passed in September of that year.
For about two years, starting in 1969, Mary hosted Lawrence's niece, Vicki Davis, while Vicki attended Humboldt State University in Arcata. Mary treated Vicki as her own daughter while Vicki was away from her Taft, California home and her parents Milton (1925-2009) and Sally (1925-2004).
In 1994, Mary, with her Aunt Claudis (1922-2008), served as caretaker for her mother, Mamie Myrtle Churchville-Campbell (1909-1994), before Myrtle passed in November of that year. Mary was with her mom when she passed. Family members covet the quilts Mary and her mother made for them on a quilting frame hung from the living room ceiling.
When Lawrence died in 1995, Mary sold the property and moved into a McKinleyville apartment. While her new place was smaller than the Woods Lane property, her heart was no less large. After Sunday morning at McKinleyville Jesus Name Pentecostal Church, Leslie and her boys, Larry, Sean and Scott, and James's daughter Michelle and her boys, Douglas, Dylan and Dustin — and, sometimes, their friends and other family members, would gather for dinner at Mary's. Crafts or games like Scrabble, Yahtzee and Aggravation followed at the dining room table.
Cut from the same cloth, in 2004, Mary's daughter Rebecca headed east to Long Lane, Missouri, to take a chance on a dairyman and country entrepreneur named Gary Howard. (But that's a story for another time.)
In late 2015, Mary followed Rebecca to Missouri to live out her golden years near her granddaughter, Ellen Rose. After the morning service at Cedar Ridge Free Will Baptist Church, it was common to have Sunday dinner with Rebecca, Gary and Ellen, and Gary's mother and sister, Elna and Gail, at Mary's place. When she could no longer attend church, Mary enjoyed sitting at her kitchen table, faithfully reading her Bible, singing, praying, journaling, and doing crossword and word puzzles to keep her mind sharp.
In the summer of 2021, Dan and Leslie traveled separately to visit Mary as her health began to decline. Though she only faintly remembered them, her broad smile, cheerful heart and Godly nature welcomed them as if they lived next door and visited often. When handed an old hymnal, Mary sang out, "Blessed assurance, Jesus is mine. O' what a foretaste of glory divine…" Without doubt, that is her story, that is her song!
On the afternoon of Christmas Eve Day 2021, Mary laid down for an afternoon respite, and went Home for Christmas. Rebecca, Gary and Gail were at her side when she left us.
Today, we have assurance, she is at rest with her Savior, happy and blessed. She no longer watches and waits. She is above, filled with His goodness and lost in His love.
In every way, Mary showed love for Jesus; for her husband, Lawrence; for Rebecca and her husband, Gary; for Dan and his wife, Deb; for Leslie and her husband, Greg; for Sharon and her husband, Larry; for James; for Teresa and her husband, Kirk; for Michelle — and for all their children. Also, for her long-time friend, Carol Stubbs, and for 39 years of Dow's Prairie students and teachers — especially Lora Cunningham.
While she lived, she put her whole heart and soul into serving others. Indeed, she touched many lives, and she will be sorely missed by all who knew her.
Mary's family is forever grateful for the thoughtful care provided to her while she made her way Home, especially from family friend Anita Evans and St. Croix Hospice of Bolivar, Missouri.
The family invites you to join them in honoring Mary at a graveside service at Greenwood Cemetery, Arcata, at 1 p.m. on Wednesday, January 5, 2022; arrangements by Paul's Chapel. She will be buried there with her husband Lawrence, near his father and mother, James Albert Davis (1890-1959) and Ollie May Corley-Davis (1897-1969). Mary's stepson, Dan Davis, will officiate. In lieu of flowers, the family asks that you generously donate to your local Hospice or memory care facility.
###
The obituary above was submitted on behalf of Mary Campbell-Davis's loved ones. The Lost Coast Outpost runs obituaries of Humboldt County residents at no charge. See guidelines here.