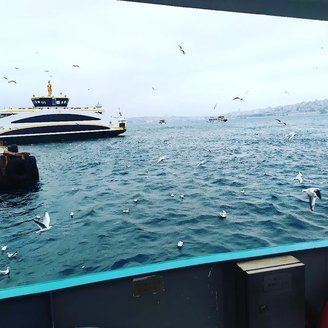 The other morning on the ferry, I stubbornly stood outside on the deck, shivering, pacing as the boat lurched across the choppy waves, inching slowly to the European pier. The seagulls crested in the dull, chilly waters, before scattering in a great burst as more boats passed. Most of the passengers stayed inside the warm recesses of the cabin. The surprising spring of last week was long gone. It was going to be a cold week.

Every year around this time I get to thinking about my first winter in Prague, my first year of teaching. The cold winds hitting you when you step outside, the darkness of the early hour, the sight of other forlorn, sleepy and miserable-looking people huddled on the bus or metro. Time and circumstance has accustomed me to such weary conditions – and I've always been a morning person, weather or no.
But that winter of 2004-05 was quite different, I was quite different. Having spent the previous decade in California, where the proximity of the coast at least offers the illusion of fair winters, notwithstanding the sight of very real snow in the mountains up on the horizon, and where one needs only to keep dry and out of the offshore winds, I was ill-prepared for the realities of a long winter in a landlocked country in the heart of Europe. There, the ground becomes hard-bitten, and everything is frozen, angry ice cycles hanging jaggedly and occasionally falling and smashing in a car window or some unfortunate person's head.
I didn't have the right kind of shoes, or boots, for one thing. January in Prague most winters means a foot of snow on the ground, even in the city center, and the footing is treacherous. Out in the villages it's much colder and the snow is deeper. Having already exhausted what money I'd brought from America on touristy things and late night pub crawls, as well as on finding a place to live, I had very little for such necessities as a proper coat, sweaters, woolen underwear, etc. I layered what clothes I had in curious and resourceful ways, and shivered my way down the hill to catch the tram to the metro.
"That's not a very substantial looking jacket," one of my first flatmates, a cheerful American girl, couldn't help but remark as we stood together at the stop, while the winds ripped easily through the corduroy blazer I was wearing, bolstered with a zipped up wool training jacket on the inside. Hatless, my ears were beginning to freeze. I nodded, pretending an indifference to the cold. Truth be told, the American girl was not a very substantial flatmate – she bailed the week after I moved in, having failed to tell me when I moved in that she had already booked a flight back to the States, leaving me to scramble to find another flatmate in a strange new country.
In those early days, I had yet to secure work. I was sending CVs around to the various schools, and had gone to a few interviews. Other teachers I knew seemed to land jobs so easily, were smugly employed and too busy to help. As for myself, I was beginning to sweat as I mentally counted down each withdrawal from my ever-dwindling savings back in America. What was I going to do when that money ran out? One thing I learned that first winter is that it's never a good time to worry about money, but it's especially not a good time in the middle of a cold, hard winter.
Presumably, if the worst comes along in summer, one could always sleep on a bench in the park (which I actually did once, some time later, when I moved out of one apartment and had to wait a day before moving into the other. Having always considered the romance of sleeping and waking along the shores of the Vltava, I thought, why not? So I crashed on a bench, shaded by trees, with a view of the castle lit up in the night sky; alas, in the middle of the night I was rudely awakened by a sudden summer downpour, and ended up sleeping under a bush at a nearby church in Old Town). But the wintertime does not allow for such options, no matter how romantic or desperate.
All this time, I was bolstered and comforted by the romance of my situation, that there I was in Prague, this glowing romantic old city, and that I was on an adventure, the kind I had always wanted. Plus, straightened circumstances were not new to me. My first winter in Eureka back in the early '90s had been similarly desperate, as I struggled to look for work in the middle of one of the North Coast's famously wet winters, slogging through the rainy Eureka streets and of course nobody was ever hiring. People always say that winter is a bad time to look for work. "Maybe in the spring!" they say, with false cheer. Well, some of us can't afford to wait that long.
My predicament in Prague, while troubling, was not unfamiliar, just dressed up with the Old World setting. I may have been cold and hungry, but the view was nice. Look at all that culture, all that history! Yes, the scenery was free. I'd walk across the Old Town square, past the tourists, and smugly remind myself that I was not one of them. They all gathered each hour to watch the puppets come out of the astronomical clock, while I'd stroll down to the Vltava and over to the Smetana statue near the bridge or over to Wenceslas Square.
And the beer was cheap. Several pints of Pilsner-Urquell or Gambrinus in a warm pub helped keep the snow and winds outside at bay, with all of the people inside talking in loud voices … places like the Marquis de Sade, or Chateau, or the places near Mustek.
Relief came with a text message one afternoon from Martın, an Irish friend whom I'd known in the teacher training course. He was on his way back to Prague, and did I know anyone who was looking for a roommate?
With Martin back in town, I had someone to help with the rent, and a solid buddy to help brave the long winter. Martin was just 21, but seemed older, with his shaved head and ironic mirth in his merry blue Donegal eyes. He was back in Prague mainly for kicks, having managed to get his old boss to say he'd had to lay Martin off due to economic woes, which made him eligible for the dole. So he was living in the Golden City on the Irish taxpayers, bless him.
With this assurance that each Friday his bank account would be topped up, Martin had no money worries. To his credit, he was generous, both with his money and sympathy.
"It's not easy," he'd say, shaking his head, commiserating as I shared my frustrations. Like a true Irishman, he'd order us another pint. "Remember," he'd say. "Everybody dies, not everybody lives!" Or: "We live on a rock that floats in the sky!" and other Celtic philosophies that seemed apropos. In such moments, I'd casually joke about Martin's Irish luck, to which he'd wryly reply: "The luck of the Irish doesn't extend beyond the glorious Irish isle!"
Still, Martin's presence did seem to have its effect. Things always just seemed to happen when he was around. At the flat, there was an another American, whose presence I had scarcely noticed. He was an introvert who was almost always stoned and stayed in his room most of the time, which is why I hadn't got to know him, or to even know he was there most of the time. He too was heading back to the States, as a matter of fact.
One evening, he materialized from his room, made a rare appearance on the sofa, looking a bit bleary eyed as always, speaking in his murmured monotone. Martin and I were sitting in the living room, having consumed a modest supper of mashed potatoes and the Czech rolls called rohliky. He overheard us talking and said, "You can have my job if you want it," in his quiet way.
"Seriously?" I asked, my heart skipping a beat.
"Yeah," he said. "Just come down to the school. I'll introduce you to the director."
He wrote down the address and directions to the school, and retired to his bedroom for the night. The next day or thereabouts, I found the school. It was a typical language school, not far from Namesti Republiky, a well-known square in the center. I got the job on the spot, and was even more elated when later that day, the director texted me with the details. Full time, and we were to be paid weekly – every Friday.
Martin shared my excitement. "Full time, plus pay every Friday," he remarked. "Beats a kick in the balls, doesn't it?"
Indeed, it did. We went out for drinks to celebrate, and that evening I met Marja, girl from Finland. She and her friends, a large group of fellow Finns, invited Martin and I to join them. Marja was 23, with pale yellow hair and bright, warm intelligent eyes. We passed a very pleasant evening together. Martin was happy for me, I was happy for myself, as Marja and I left and went for a walk. A fresh snow was falling and the lights of the city seemed full of a passionate beauty. Being Finnish, Marja was well stocked and equipped for the winter nights, and took it as a matter of fact thing. It was very comfortable to walk beside her, and to realize that, at the moment, the cold didn't feel bad at all, and that I was going to make it through the winter all right.
Many years later, here in Istanbul … the winters here are different each year. Some years we get snow in the city, other years just cold rains; some arrive early and stay long, while others arrive late and leave early. This year has been fairly mild, though it's chilly when those winds come ripping off the waves of the Bosphorus, especially on the ferryboats in the early morning. Many things have changed – I have changed. Here, I have a wife and son, and we have a small, comfortable flat. I have a university position. These days we worry about inflation for sure – it's at nearly 40 percent now – but touch wood, we do not worry about the cold, and we do not worry about not having a place to get out of it. I think of our simple domestic life, the routine, and of my work at the school.
Perhaps I do sometimes miss the adventure, that time in all our lives when we were younger, poorer and more open to such possibilities, come what may. Whatever the reason, these winter days always, at some point, take me back to that first winter in Prague, and to many others.
###
James Tressler, a former Lost Coast resident, is a writer and teacher living in Istanbul. His new book of stories and portraits, "Building For The Apocalypse," is available now at Amazon.