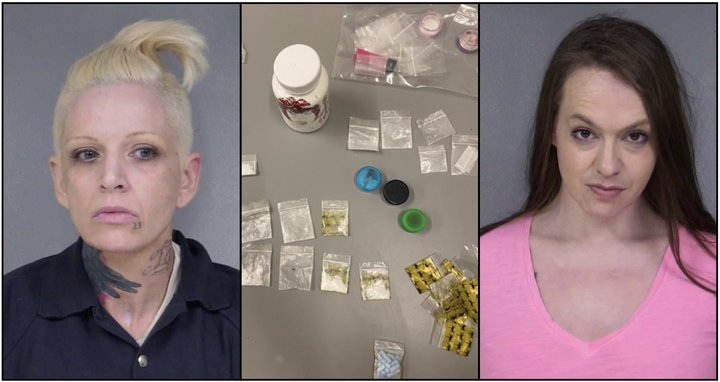 Humboldt County Drug Task Force press release:
Since early January 2022 the Humboldt County Drug Task Force (HCDTF) had been investigating Amy Spindler (45 years old from Eureka) for fentanyl sales. As a result of their investigation agents received a search warrant for Spindler.

On January 20th, 2022 HCDTF agents contacted Spindler outside of her vehicle at a gas station in the 2800 block of Broadway St. in Eureka. Spindler and her passenger, Rebecca Chapa (37 years old from Eureka) were detained without incident. Agents served the search warrant and located multiple packages and containers of fentanyl and Xanax as well as cutting agents in the vehicle.

Agents advised both suspects they were under arrest and advised them that if they had drugs hidden inside of their clothing it would be a felony to transport it into the jail. Chapa admitted to having additional fentanyl inside of her shirt and she was allowed to retrieve the fentanyl out of her shirt and give it to the agents. Spindler denied having any drugs hidden on her person.

Both suspects were transported to the jail and booked for the following charges:

H&S 11351 Possession of fentanyl for sale
H&S 11378 Possession of controlled substances for sale

During the jail booking Spindler was found to have fentanyl hidden inside of her shirt. Spindler added a felony charge for the following:

PC 4573 Bringing drugs into a jail or prison

Anyone with information related to this investigation or other narcotics related crimes are encouraged to call the Humboldt County Drug Task Force at 707-267-9976.