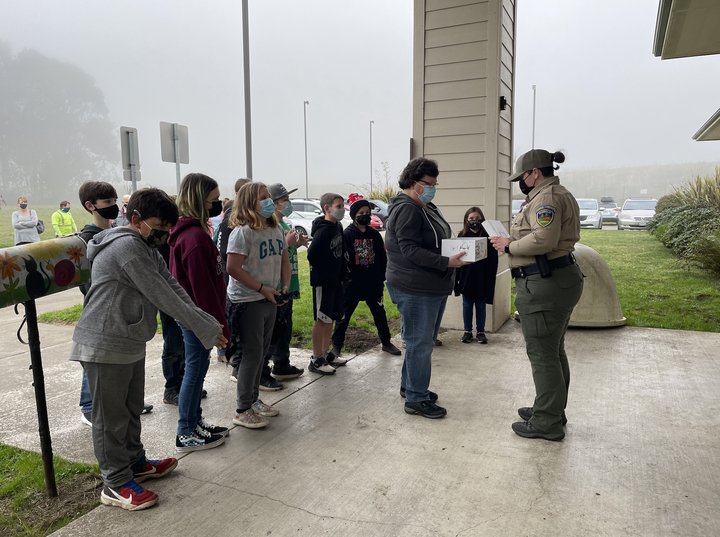 ###
Fuzzy-warm energy overpowered the mild January chill on Tuesday afternoon in McKinleyville as a fourth-grade class from Morris Elementary School donated $425 in change to the Humboldt County Animal Shelter.

"We all kind of love animals, huh? Yeah, we're kind of fond of animals," said teacher Heidi Conzelmann, surrounded by her students, who nodded enthusiastically in agreement. "You guys are pretty impressive, doing all of this fundraising. We're pretty darn proud of you kids," Conzelmann told her students.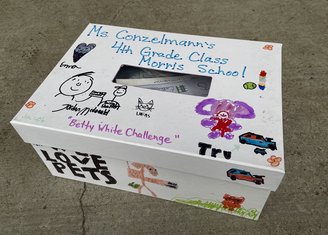 Students collected coins and bills for three weeks as participants of the Betty White Challenge, a fundraising effort to benefit animal shelters across the country in honor of the late actress and animal welfare advocate, who would have celebrated her 100th birthday this year. Some students emptied their piggy banks for the cause, a few told the Outpost, and others dipped into their wallets.
One went for a more unusual – but certainly reliable – collection route. "I just found change all over the floor in my dad's room!" he said.
After raking in all that change, students rolled the coins and tucked the money safely in a decorated donation box, which weighed in at 23 pounds. One student proudly said the class found a penny from the 1930s, which was pretty neat, it sounds like.
After handing off the money, the fourth graders learned some facts about the shelter, which is a safe haven for all types of animals, including dogs and cats, but also snakes and fish, said animal control officer Taylor Pedersen.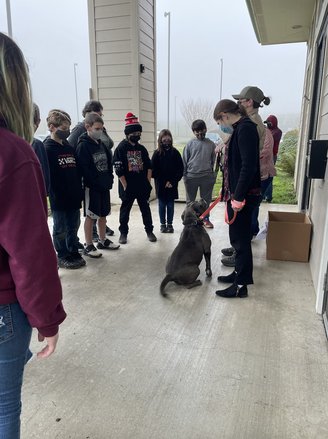 "We help all sorts of animals – no matter cold blooded, warm blooded, we help 'em!" said Pedersen.
But the real fun began when Sapphire, a sweet pit bull, came out to meet the students, who quickly swarmed the dog in a cuddle frenzy that was so wonderfully chaotic the encounter was impossible to properly photograph.
The money will go toward the shelter's emergency medical fund.
"We do a fundraiser every year, but continual donations like this are really great for making sure that all of the animals that come in that need a little bit more expensive care, get that expensive care," Pedersen said. "Because of donations like this, we don't really turn animals away for these kinds of things. So – broken hips, broken legs – we've done a lot of expensive surgeries with these kinds of donations and so it's really really appreciated."