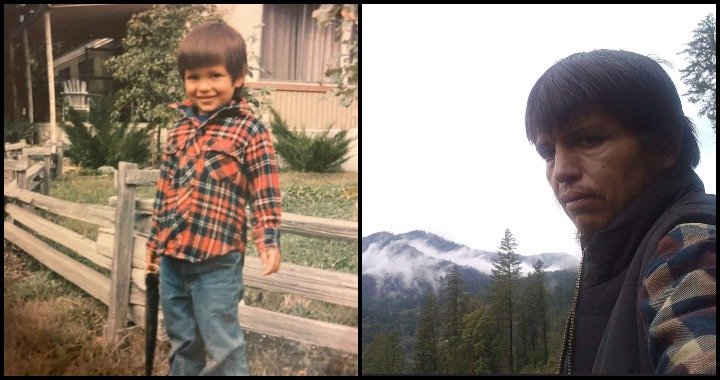 Alfred "Ross" Nolan Colegrove III was born on June 6, 1979 in Hoopa to the Late Alfred "Riggie" Nolan Colegrove, Jr. and Vonice Marie Colegrove. He left this earth to be with his creator on January 20, 2022 at St. Joseph Hospital, surrounded by family.
Ross was a very strong man and his strength showed through up until the minute he left this Earth.
Ross loved to push himself. He loved going on long runs in the valley. He would run from one end of the valley to the other. Pushing himself the whole time as if he were training for the Olympics. His love for running started at a very young age, taking home several 1st place medals from participating in the "Coyote Run."
He was also an avid fisherman, hunter, gatherer and Brush Dancer. His love for singing Indian songs will live on forever in the hearts of everyone that knew him. His highlight in life was sharing his songs with friends and family. Recently his biggest joy was singing his songs to his new grandbaby, Aaliyah Rose.
As a young boy Ross loved fishing for trout with his dad and his grandparents. Ross loved spending time with family in the outdoors, camping at Fish Lake. He would spend the whole day on the lake trying to catch the biggest trout or bull frog.
He participated in many wrestling and karate tournaments. Ross always did better than his best at everything he did, bringing home 1st place medals and trophies from all of the events he took place in.
Growing up Ross took pride in singing and dancing in the ceremonial dances. It was a huge honor for him to dance in the pit where he shared songs and loved jumping in the middle. He also loved teaching his little cousins and nephews how to jump in the middle. Ross participated in traditional Indian Card Games as well as playing sticks.
Ross had a strong connection with each one of his friends. He had so many friends that he loved and that loved him back.
Back in school you would never see Ross alone. He always had the boys with him. He was admired by so many. In school his sisters remember they couldn't go anywhere without being surrounded by the girls asking, "where's your brother?" Each one of his cousins and friends were like brothers and sisters. Ross was very reserved and very shy and always very serious. Although once in a while you would see him dancing at one of the "teen dances" with his cousin/sister, Ilene. He would say, "Ilene, you're the only one that can get me to dance."
Ross graduated Hoopa Valley High with the class of '98, where he met his high school sweetheart, Jana Mae. They went on to get married and had three beautiful babies together, Alfred, Maeble and Grace. Ross took pride in his family and loved each one of them more than you could imagine. Ross and Jana stayed strong for 9 loving years. Later moving on but staying very close and remaining family and the best of friends.
Ross loved spending time with his children. They were truly the highlight of his life. He loved creating gifts for his children from his love of carving. His babies remember Dad's delicious cooking. Ross loved cooking for his family. One of his specialties was "spuds and eggs."
Later in life Ross met the second love of his life, Terra Matilton. They shared a special love for each other and their little princess, Jaylee. Ross would carve little gifts for Jaylee and leave them at the gate for her. They were little treasures, little pieces of him. Terra remembers the day when Ross showed up at her work with a homemade cake on her birthday. Truly shows what a thoughtful man he was.
Ross loved and took pride in each one of his children. His great legacy will live on through each one of them.
Later in life Ross spent his time living on the family homestead at Beaver Creek in Hoopa. The closest place to heaven on earth. Ross loved his time on the homestead. Just him and the mountains where he would go on long hikes hunting and gathering Indian Tea, Tanoak Mushrooms, Huckleberries and then walking to the Trinity River where he would spend his days fishing. Ross loved sharing his abundance of gathering with his Elders, Family and Friends in the Valley. Ross was never stingy; he would invite you into his home and give you the shirt off his back. What was his was yours.
One of Ross' greatest joys in life was giving. He would carve beautiful, Hair sticks, Acorn Paddles, Eel Hooks and walking sticks. He loved to draw and was a very detailed artist. Anything he made, he made for someone he loved.
Ross was and forever will be one of the "Smoke House Boys". Most of Ross' favorite moments growing up was hanging out with boys at the smoke house filled with salmon.
We love you, "Brother," we will carry you with us always. We always have and always will Love and admire everything about you. You will always be our hero! Your love and strength will go on forever through each one of us. Until we meet again…
Alfred was preceded in death by his father, Alfred "Riggie" Nolan Colegrove, Jr., his grandparents Al and Mable Colegrove, Fran and Cecil Jensen, Roy Charles Perry, His great grandparents Lorencita "Boots" Masten and Aymee "Nana" Perry, Sisters, Candi Dee Tracy and Kathleen "Kathy Ducks" Colegrove, Brothers, Mark Nelson, Michael Kelsey, Uncles, Bryan "Stoney" Colgrove, Johnny Colegrove, Lionel Colegrove, Larry "Dunners" Masten, Stanley "Stan the Man" Ferris, Aunties, Alfreda Pratt, Mare Cee Colegrove, Carmelita "Unce" Fambrini, Lorencita "Gosey" Masten, Delores "Dee" Clark, Cousins Delmer Ray Ferris, Randy "Ratsy" Clark, Merwin Clark, Sr., Charlene Baldy, Cliffton Wallace, Becky Dean, Omar Dean, III., Omar Dean, IV. and Mare Cee Robbins and Jules Tripp.
He is survived by his best friends and soul mates Jana Mae Claymore and Terra Matilton, His mother, Vonice Marie Colegrove, Children, Alfred Nolan Colegrove, IV (Danielle), Maeble and Grace Colegrove, Jaylee BriAnna Matilton-Colegrove , Granddaughter, Aaliyah Rose Colegrove, Siblings, Cecil and Trinie Inong, Perry "Diggs" Colegrove, Aymee Rose Colegrove, Rocky and Joanna Colegrove, Deserri Colegrove, Shelli and Gary Dempewolf, Rachelle Bradberry, Vonice Ilene Nelson and Tim Perry, Jr., Tashona and Shay-lynn Moon, Aunties and Uncles, Debra Haskin, Cindy Gagne, Tesi and Robert Vaughn, Goobie and Roberta Perry, Greg Perry, Ilene Colegrove and Gary and Kathy Colegrove, Nieces and Nephews, Christian, Terracita and Anthony Maloney, Honey Marie Colegrove-Inong, Dean and Kela Colegrove, Raymous Risling, Alicia McCovey, Victoria Tory-o's Rousseau, Joni Marshall, Candee, Lance and James McCovey, Jefferey and Alex Hodge, Shayna, Ashley and Gary "Bunchie" Dempewolf, Jr., Nolan Colegrove, Michelle and Tasha Bradberry, Ashtyn, Justin, Jack, Micheal and Roxy Colegrove, Katherine, Madeline, Michael, Alfred, Mechelle, Mikole and Ernie Kelsey. Alfred was blessed with a very long line of great and great-great nieces and nephews and very close cousins whom he loved and cherished very much!
Pallbearers are: Christian and Anthony Maloney, Jake, Jack and Michael Colegrove, Gary "Bunchie" Dempewolf, Jr., Lance and James McCovey, Alex and Jeffery Hodge, Nolan Colegrove, Dean Colegrove and Raymous Risling.
Honorary Pallbearers are: Rocky and Perry Colegrove, Trinie Inong, Gary Dempewolf, Sr., "The Smokehouse Boys", Jake Blake, Barry "Beez" McCovey, Jr., Boyd Ferris, Stanley "Jumper" Ferris, the late Delmer Ray Ferris, Greg Perry, Timothy "Goobie" Perry, Sr., Thomas Perry, Shaun Colegrove, Wyatt Colegrove, Rowen Moon, Timothy Perry, Jr., Alex, Travis and Tristin Perry, Gary Colegrove, Sr. and, Jr., Andrew Stephens, Robert Vaughn, Billy Lavine, Sr. and Jr., Roman and Lorenzo Lavine, Johnny Randall, Jr., Mark Duane Nelson, Jr., Sterling Nelson, Ryan and Asher LaPointe, James Wallace, Darren Masten, Mathew Swanson, Lonnie and Al Kenny Dean, Sonny, Jim Dean, Bradley Hostler, Eric Casteneda, Agapito Perez, Avery Ferris, Mason Ferris, David Billy, Jr., Dale Ferris, Bob McConnell, Robert McConnell, Jr., Stuart McConnell, Tsewenaldin VanPelt, Koy Koy McConnell, Isha-Kom and Maykaych McConnell, Kekyau and Kay Cam, Tsenikyaw VanPelt, Stoney McCoy, Sr., Jack Worthen, Daniel Joe Worthern, Sae-Gep Best, Grizz Robbins, Ben Ray, Jr., Gunner Ray, Spike and Richie Guyer, Nolan Colegrove Jr. and Sr., Billy, Brandon and Anthony Colegrove, Byan Colegrove, Lonny Colegrove, Alphonso Colegrove, Royal Lee Colegrove, Delevin and Corbin McCovey, Riggs Ulrich, James McCovey, Jr., Lionel and Anthony McCovey, Larry Tracy, Rudy Colegrove, Jr., Robert Scott, John Marshall, Anthony Bennett, Sr., Allen Bennett, Anthony Bennett, Jr., Douglas Lincoln, Sr., Douglas Lincoln, Jr., Jimmy Myers, Truett Lincoln, Alex Hodge, Jr., Manz Clark, Doobs Clark, Jr., Rodney, Merwin, Brennen and Brently Clark, Ricco Tello, Darrell McCovey, Richie Dean, Richard P. Dean, Sebastian Swanson, Dave Drake, Jr. and Sr., Michael and Ulysses McLaughlin, Rick Bradberry, Loren and Kenny Norton, Clifford Houston, Sling Lewis, CJ Lewis, Norman Lewis, Sr., Bronson Lewis, Norman Lewis, Jr., Mike Ferris, Deacon Ferris, Spam Ferris, Lonnie Ferris, Logan and Delmer Ferris, Uncle Bucky Jackson, John Marshall, Jerome Jackson, Joe Jackson, Justin Jackson, Glenn Moore, Kevin Orcutt, Mike Orcutt, Daniel Pratt, EFC, Carl Colegrove, Jr. and Sr., Joe "Eel" Ferris, Don Sugi Colegrove, Howard Lewis, Alex Pratt, John Robbins, Rowdie Robbins, Ronnie Robbins, Mike Hostler, George Tracy, James Bowen, Loren Hostler, Jasper Tripp, CawTep Sylvia, John Matilton, Bro Beck, Harvey "Buck" Crewes, Dave McCoy, Jim McCoy, TR, Marshall and Billy Maloney, RobRoy Latham, Sport, Cory and Roger Surber, Jordan Hailey, Robert Colegrove, Sr., Wolf, Panther and Christian Colegrove, Carlyle Colegrove, Harry O', O's and Sam Campbell, Jed Morris, Ralphy Peters, Jr., Sam Jones, Alek and Willie Lamebear, Paul Abarr, James, Ram, Joe and Maui Smith, Frances Colegrove, Tyler Colegrove, Terry "Scruff" Ballard, Terris Ballard, Sherman Norton, Jeff Hodge, Sr., Page Matilton, Michael Baldy, Sr. and Jr., Ronnie Navarro, Josh McManus, Philip Donahue, Lyle "Custard" Jackson, J.D. Ridenour, Hank Masten, Corky VanPelt, Shane Ulrich, Alvin Moon, Gabe Moon, Little Pete White, Danny and Jake Gayton, Ed Masten, Boozer Hostler, Jr. and Sr., Eric Blake, Allen Freemen, Lance Baldy, LeRoy Baldy, Sonny Hescock, Steve Ferguson, Rudy Colegrove, Sr., Rick Hall, Jr. and Sr., Cowboy Billings, J.J. Jackson, Muss Colegrove, Jr. and Sr., Everett Colegrove, Dean and Bunner Wheeler, Mickey Carpenter, Jr. and Sr., Perry Dale Sanderson, Andrew Myers, Darrell Moon, Wes Crawford, Dana Jensen, Freddie Marshall, George Moon, Lonnie Box, Larry Alameda, Elmo Marshall Moon, Dustin Latham, Michael Gabriel, Gordon McCovey, Gary Juan, Jr., Jiggs McCovey. We know Ross had so many close friends. We did our best to name all of you. We deeply apologize to anyone we did not mention. Please know that Ross loved each and every one of you!
Viewing will be held at Paul's Chapel in Arcata at 1 p.m. on Thursday, January 27, 2022, a wake will be held on Friday, January 28, 2022 at 7:30 p.m., at the First Baptist Church in Hoopa, and services will be held the following day at the cross on Bald Hill at 11 a.m. Burial will directly follow at the Colegrove Family Cemetery and a potluck gathering for friends and family to share memories will be held at the Hoopa Fire Department. The family would like to thank everyone who always helped Ross out and checked on him over the years. We would also like to thank the nurse that stood by Ross' side at St. Joseph Hospital. The family would also like to thank John John Robbins for always being there for Ross, no matter what, no matter when and no matter why. He knew he could always count on you for anything he ever needed.
###
The obituary above was submitted on behalf of Ross Colegrove's loved ones. The Lost Coast Outpost runs obituaries of Humboldt County residents at no charge. See guidelines here.