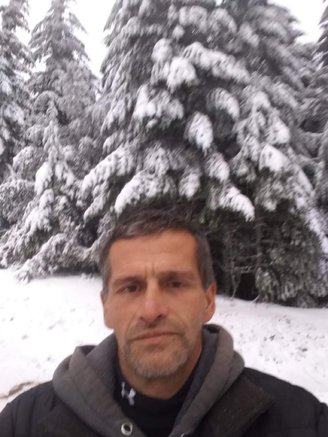 in Loving Memory or our Friend and Brother
Eric Glen Cook, aka "Beadman"
born 12-31-1969 passed 12-27-2021
Eric was born Jan. 31, 1969 to Pansy Moore and Tony Cook in Shelton, Washington. When he turned 10 the family relocated to Eureka, Montana. He spent time growing up with his aunts Della & Lola.
In 1999 he moved to Happy Camp to live with his aunt Lola and cousins Jeff and Amanda. That's how his life of being part of the river communities started. Through the years he met and made a lot of friends and some adopted family members.
Since 2005 he spent most of his time and lived in and around what he knew as home in Orleans. He often traveled to the Weitchpec and Hoopa areas to work, see friends or sell/trade goods for his beadwork. He loved to play horseshoes and cribbage and had friends up and down the rivers he would travel to play with. He was a fan of crossword lotto scratchers and really enjoyed his occasional trip to the casinos on the coast. He had somewhat of a lucky hand on scratchers, which is maybe what drove him to play them.
He was known for his beautiful beadwork. He had a real gift at it. There's not many that haven't had the pleasure of receiving at least one of his many creations. He made, specifically, his famous beaded acorn necklaces. The idea was given to him by his brother Jesse Coon when he randomly asked if it was something he could do. No one knew what a hit they would turn out to be. Jesse got the first ever one made and Eric went on to make countless dozens. They can be spotted all up and down the rivers.
He was also known for his nonstop hard-working hands that barely had an idle moment. Daily he was busy doing something for people no matter the task he rarely complained. You could see him working in the 100 degree weather or the cold wet rainy days of winter. Nothing stopped him. He would pick blackberries all summer then on to huckleberries and mushrooms. He took pride in his work and his ever daunting task of cleaning the huckleberries he'd harvested.
He carved himself into more hearts than he knew, and his passing has affected the river communities and beyond. He had a very kind heart. He would give without question or expectations in return. His aunt Lola says he was a man of his word & had a heart of gold that would've helped anyone. He was one of God's angels. He has a wonderful sense of humor and enjoyed a great laugh.
He had an adopted family in Jesse & Isha Goodwin and children Jesse jr., Ishuuk & Eric. He spent a lot of time with them and almost every holiday. The kids enjoyed his presence and often laughed, played, worked & even fought together. He enjoyed having the same name as their youngest and would joke regularly about being able to blame each other for different things, as no one knew which Eric. He had another adopted sister, Witweat Cenname and family, and brother Pim Cenname.
He is preceded in death by his grandmother Mary Benson, mother Pansy Moore, stepdad a Rick Parker and good friend Holly Bishop. He is survived by his brother Wade Parker of Shelton, Washington, Aunt Della Stoddard of Vader Washington aunt Lola Wiley of Ashland Virginia, uncle Donald Stoddard of Florida and many cousins and good friends Carol Gault and Malinda Bennett and many more please forgive us as there's so many to list you know who you are. Honorary Pallbearers: special friend Brian Tripp (BDT), Jasper Tello, Pim Cenname, Jesse sr. Jesse jr., Ishuuk, Eric goodwin, Matt Douglas, Thomas Lawrence, Kevin wilder, Sonny Mitchell, Bubba King, Robert hodge, Rebel, Nick, Terrance McCovey, Dewey Jones, Tyler Conrad, Jess Charles Mclaughlin, Travis Gayle, Victor Starrit, Danny Bishop, Mike Gurule, Joe Gurule, Gurgeet Singh.
Special thanks to Verna Reece and the staff at Orleans Medical Clinic for their help in these unfortunate circumstances. To all who donated and helped with arrangements — thank you all.
Graveside services will be Saturday January 29 at 1 p.m. at the Starritt Cemetery on School House Road in Orleans. We will not be gathering with food at this time because of Covid and hope maybe this summer to have a celebration of life if things are settled down to safely gather. We ask any who plan to attend to please practice Covid restrictions for everyone's safety please come share your stories and pay your respects as he is put to rest.
###
The obituary above was submitted on behalf of Eric Cook's loved ones. The Lost Coast Outpost runs obituaries of Humboldt County residents at no charge. See guidelines here.